We are living in a "Golden Age of Opinions." With the internet and all of its children (blogs, social media platforms, the dreaded comment sections, the list goes on...), every member of the human race can vocalize their view to the world. Now, I'm all for free speech, but the straight-forward access to proclaiming your beliefs has opened the flood gates for public shaming.
I want to preface this by saying I do not in any way condone the words of our nation's Republican nominee. Today I posted this photo of Billy Bush with my young brother, Thomas, who was diagnosed with and then lost his life to leukemia.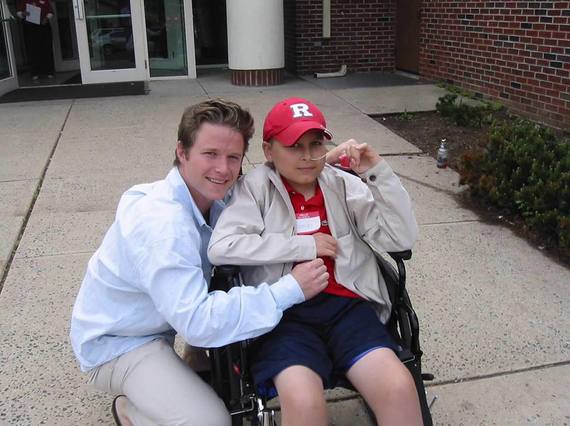 Billy Bush with my brother Thomas.

The photo was taken at my little brother's bone marrow drive on May 2nd, 2004. Some wonderful mothers from our school, St. Patrick's in Chatham, NJ, helped organize the drive in honor of Thomas. Billy, a member of the community, came of his own accord and, from that moment on, maintained a beautiful relationship with Thomas and our family. Billy visited our home, bearing autographs and notes from Thomas' favorite stars. He gave Thomas a shoutout on air during a broadcast of Access Hollywood. He even stayed in touch after my brother's passing and assisted me in breaking into the entertainment industry, and supported my family in forming our nonprofit, The Thomas Peterpaul Foundation.
When I saw the hatred being spewed at Billy, who is not only a public figure, but also a loving father and husband, it saddened me. It seems like every day, there is someone new being scorned in the media or by random tweeters, but when you know the target it strikes a chord.
So, I wanted to take a stand.
In all honesty, due to newsfeeds bubbling with hatred and pigeonholing, I was nervous to post anything that could remotely be tied to the 2016 election (disclaimer: I never do). However, my father sent me the aforementioned photo and was as adamant as I was about protecting our friend, Billy Bush. Upon posting it, I received both support and backlash from friends and strangers. Suddenly, people began arguing on my post. My instinct was to jump in and diffuse, but in the end I resulted in taking the photo down. I did not want to censor anyone or disavow my own beliefs, but removing the post was more diplomatic.
To speak to the issue, was it wrong for Billy to not take a stand against he-who-must-not-be-named's vile words? Yes, but think about his circumstance (at this one, yes ONE, moment of this life). Billy had recently been promoted to a Co-Anchor for Access Hollywood. It was over a decade ago, in a different time. Part of Billy's job included creating an environment in which talent would feel comfortable enough to open up. The recording was of a private conversation in which Billy never said anything demeaning (as some might have), but simply nodded at his guest's words. It's similar to someone in customer service going along with a firey customer in order to simply get their job done. Likely, Billy did not agree with Trump, but he needed to do his job, which that day was to wrangle an incredibly tan and incredibly crude ego-maniac.
Use this instance, and all of the others like it, to please think before you post anything hateful about someone online. Especially, when you do not have all of the facts. Billy is an exceptional man with a beautiful family and he does not deserve to be caught in the crossfire of this ugly election.
May we all promote only kindness and love, and focus on what truly matters: peace.
Calling all HuffPost superfans!
Sign up for membership to become a founding member and help shape HuffPost's next chapter