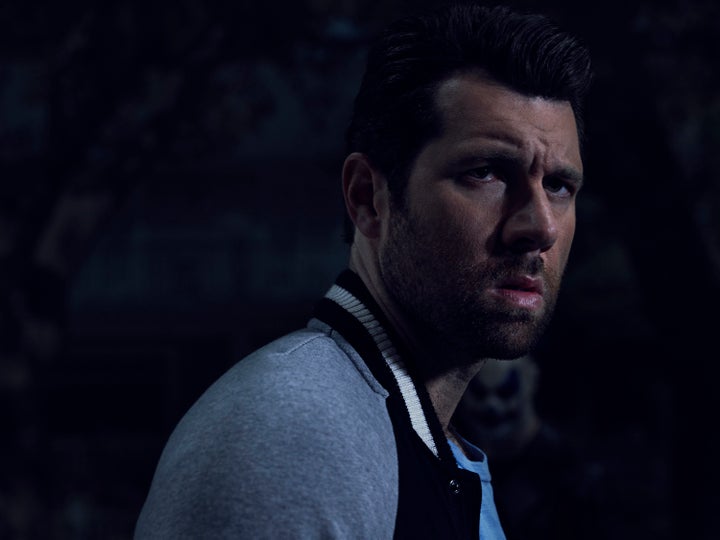 He launched his career asking unassuming strangers questions about Debra Messing and Julianne Moore in his signature shrill on "Billy on the Street," only to perfect it later on "Parks & Recreation." Over the course of his arc on the NBC sitcom and three seasons of "Difficult People," we've seen that Eichner is just as nimble of a performer as he is an interviewer, though his characters tend to lean into his real-life persona: unapologetic, hilarious and pop culture-obsessed.
He should feel right at home in "American Horror Story: Cult," which produces more yelps per minute than any other show on air, but here, they aren't played for laughs. The comedian made his debut on FX's horror anthology series Tuesday night as Harrison Wilton, next-door neighbor to Sarah Paulson's Trump-hating and clown-fearing protagonist. The second chapter in the election-themed installment not only marks a further descent into her troubled psyche, but also a new one for the actor who's trying his hand at more serious material, sans his go-to counterpart Julie Klausner.
The real question now is: Can Eichner really act?
We've only had a taste of his "AHS" character, a beekeeper with a scarily prolific gun collection, but it's already a match made in peak TV heaven. Eichner's knack for comedic timing and the power of his slightly manic glare make him an undeniably compelling addition to the show. There's something about watching a traditionally comic actor go dark that makes things that much more terrifying ― think Robin Williams in "One Hour Photo" ― and Eichner is certainly up for the task.
It also doesn't hurt that he's one-part of a gay fantasy TV draft dream team with "Popular" favorite Leslie Grossman at his side. The two play husband and wife (and co-vice presidents of the Michigan chapter of the Nicole Kidman fan club, naturally), who've been best friends since high school. Despite their lack of sexual attraction for each other ― Eichner's character is gay ― they followed through on a pact to marry each other if they hadn't already found a spouse by age 35. The two seem to revel in playing against type, burying the characters of days past in the sheer insanity that is a season of "American Horror Story."
Watching Eichner do away with his typical bag of tricks might startle fans who find comfort in his confrontational comedy, but the role actually falls more in line with his original career path. Before he was Hollywood's comedian of the moment, Eichner attended Northwestern University's famed drama school with hopes of becoming a dramatic actor.
"I'm not sure people knew that acting was in my bag of tricks," Eichner told The Washington Post in a recent interview about the role. "But no one grows up saying 'I want to do "Billy on the Street."′ That was just a funny idea I had, and thank God it got me in the door. But when I was growing up, I wanted to be some combination of Nathan Lane and John Malkovich."
Now, Eichner is skewing closer to this peculiar combination, and there's no better fit for an actor looking to redefine themselves than an "American Horror Story" role. The series, in many ways, is the ideal testing ground for those hoping to expand the public's perception of their talents. With its dedication to genre-mixing and a tendency to be all over the map tonally, "American Horror Story" is a come-one, come-all affair. Creator Ryan Murphy and his cohort are all about taking chances, throwing everything at the wall to see what sticks and enlisting unlikely actors like Lady Gaga to join in on the fun. And if Gaga's turn is any indication ― she picked up a Golden Globe for her performance ― out-of-left-field castings can make for cult favorites.
Now, it's Billy Eichner's turn to be taken, well, seriously.
"American Horror Story: Cult" airs every Tuesday on FX.

You can be highbrow. You can be lowbrow. But can you ever just be brow? Welcome to Middlebrow, a weekly examination of pop culture. Read more here.
Popular in the Community