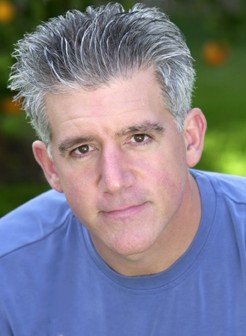 The boys in tights may get all the press (and deservedly so) in Stephen Daldry's Tony Award-winning musical adaptation of Billy Elliot, but anyone who has seen the show knows veteran character actor Gregory Jbara subtly steals the show as the boy's proud (eventually anyway) papa.
Jbara, who took home the Tony, Drama Desk, and Outer Critics Circle Awards for the role, has been waiting his whole life for a role that he could really show off his skills and shine in. He found it with "Elliot," and don't think for a second he doesn't know and appreciate that.
"This role was a complete roast beef dinner," he said. "It's my coming of age thing...no more goofy or silly roles."
Jbara has chewed up scenes on Broadway in Dirty Rotten Scoundrels and Chicago (as Billy Flynn), and made appearances on such television shows as Fraiser, Without a Trace and Ally McBeal, but the Julliard graduate's coming out party is clearly ongoing at the Imperial Theater. I spoke with him recently about his career, working with the amazing Billies, and what the future could bring.
Did this show get you from the get-go? In other words, did you realize how amazed audiences would be?
Yes. I can remember all the things we built as we put the show together. The clarity with which the creative team knew what they ultimately wanted on stage [was] remarkable. I don't know if you heard the story, but when a show goes into rehearsal, there is a meet and greet, and then you sit around a table with the director... they sing the songs from the show. Well, the first read through wasn't until two weeks into rehearsal. The first two weeks were devoted to trying out all the new things they wanted to do to conceive the show.
When you see the money that was spent, you could create the environment that was needed. This is a complex show. I've never been part of show that has had such momentum before.
You just lost one of the Billy's in the show - Kiril Kulish - how difficult was it to lose one of these kids after spending so much time with them?
I've been in the business for 25 years. People come and go and say goodbye, but I never knew the devastation until Kiril gave his final performance. I had the privilege of playing his dad on stage. I was very surprised how saying goodbye was. I told the Billy from the Sunday matinee that he must never leave the show. He must stop growing now. I told him "don't get taller, because I can't take another goodbye from one the Billy's." It's a special experience. The beautiful side of this is that I have the privilege of doing this show and feeling that way to my young stage colleagues.
Growing up, did you have any similarities to the Billy character?
When the movie first came out ten years ago, I definitely identified with the Billy Elliot character. Growing up in the Midwest, suburban Detroit, a very working-class environment, everybody worked at the Ford Motor Company or General Motors. I had many wonderful experiences with the Fine Arts and for college, just wanted to go for acting. I can remember my folks expressing a desire for me to have a career in which I could feed myself. I ultimately found out acting was my passion and managed to focus to get the training that would ultimately lead me to Julliard. That was a huge turning point even for my parents.
I dropped out of college in my third year, and became a cook at a seafood joint. I was doing a childrens theatre tour and my folks were completely disappointed. I don't think I would have the courage to come to New York if it wasn't for the Julliard training program. It was very similar (to Billy Elliot): Now, being a father of two sons myself, I had an understanding for the father. It gave me a greater understanding of my father's struggle.
How long did it take you to nail the accent?
You've got Monty Python, the Beatles..you've got a certain way of understanding. This accent wasn't common place for Americans. We used the film as a reference tool. The actor who played my part in the film is actually Scottish, and even with a dialect coach, it was really just doing the Scottish accent. Stephen Daldry and Julian Webber ran extraordinary workshops...something I've never experienced before in my life. The accent that we're doing is tempered with music. It's probably the hardest part of doing the job--keeping the Jordi accent.
Is getting a Tony a vindication for working so hard for this role and for so long?
What I know is that having had the privilege for working in New York for over 25 years, and living in LA for the past 10 years, I feel that I have paid my dues and have proven my worth for being a New York stage actor I think. I am regarded as a one of a peer community. I think it is wonderful. When I took the job in Dirty Rotten Scoundrels I was told by the producer that [a Tony nomination] was possible. I can remember during the Tony season that the five actors who did get nominated in that season challenged themselves and did work harder. They had so much more to do in terms of what they brought to their productions. My work was an easy job and fun.
Two days after I got the Tony Award, I had an offer to play Rob Patterson's father and Lena Olin's husband in the movie Remember Me. I've not had a straight-off offer for jobs, but this was a whole group of people that I didn't know. I think the Tony Award put me in the spotlight. I shot that during the course of the show while I still played at night. It's going to open in the first week of February.
What else is next for you?
I've only been auditioning for TV or film work back home in LA. If I could sleep at home and see my kids and share the bed with my wife--that's the ideal. Until something comes together for me in LA, I'm staying with Billy Elliot.
Support HuffPost
The Stakes Have Never Been Higher
Popular in the Community