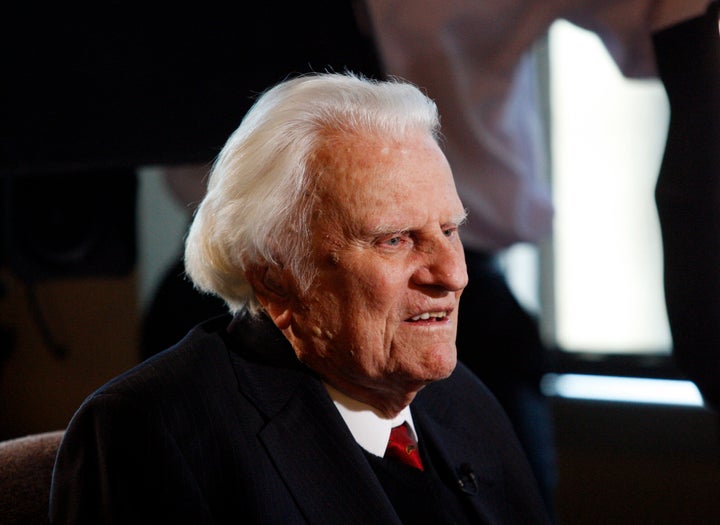 Billy Graham has reportedly been hospitalized for a pulmonary condition.
The 92-year-old Evangelical preacher was admitted to Mission Hospital in Asheville, North Carolina, near his home in Montreat, according to MSNBC.
Graham is being treated by hospital staff and is stable, reports MSNBC. "Initial testing suggested pneumonia, and further diagnostic studies showed his heart was normal," Mission Hospital officials said in a statement.
RALEIGH, N.C. (AP) -- Evangelist Billy Graham was alert and resting comfortably Wednesday evening after being admitted to an Asheville, N.C. hospital for the treatment of pneumonia, doctors said.

The 92-year-old Graham arrived Wednesday morning at Mission Hospital after he suffered a health episode overnight that included sweating, coughing and breathing difficulty, Graham spokesman A. Larry Ross told The Associated Press on Wednesday. "But he was never in distress or an acute situation," Ross said.

"Throughout his stay, he had remained alert and in good spirits and with his humor intact," Ross said. "He signed his own admission papers."

Testing suggested he was suffering from pneumonia, and diagnostic tests showed his heart was normal.

Dr. Shaw Henderson, a pulmonologist, said Graham was being treated with antibiotics and was "clinically stable," according to a statement from the hospital.

Graham's primary physician, Dr. Lucien Rice, said in the statement that no date had been set for Graham's release, but that he "is resting comfortably and is fully alert."

Age-related conditions such as macular degeneration and hearing loss have kept Graham at his home in Montreat in western North Carolina in recent years, Ross said. But he said Graham has remained in good health overall.

Franklin Graham, who heads relief agency Samaritan's Purse, along with the Billy Graham Evangelistic Association, is in North Korea through the end of the week, spokesman Todd Shearer told the AP. He's monitoring his father's health but doesn't plan to return home early at this point, Shearer said.

For six decades, Graham led a worldwide crusade-based ministry that packed stadiums with believers and allowed him to counsel every U.S. president since Harry Truman.

Graham rarely appears in public now, but he did come out in December for a visit from former President George W. Bush at Graham's namesake library in Charlotte. Graham, who was in a wheelchair, hugged Bush before leaving the former president and former first lady Laura Bush in the library book store for a book signing.

In October 2008, Graham was hospitalized after he tripped and fell over one of his dogs.

Earlier that same year, Graham had elective surgery on a shunt that controls excess fluid on his brain. The shunt was first installed in 2000. It drains fluid through a small tube, relieving excess pressure that can cause symptoms similar to Parkinson's disease.

Graham has also suffered from prostate cancer. He was hospitalized in 2007 for nearly two weeks after experiencing intestinal bleeding.

His wife, Ruth Bell Graham, died in June 2007.
Evangelist Billy Graham, who is hospitalized at Mission Hospital in Asheville, NC. near his home in Montreat, had a comfortable night and was able to sleep well, his nurses reported today. Mr. Graham is listed in fair condition.
Mr. Graham's pulmonologist, Shaw C. Henderson, MD, confirmed this morning that he does have pneumonia, as indicated by initial tests, and that his temperature is normal. Dr. Henderson said that Mr. Graham is doing well and is being encouraged to resume his normal activities, including his ongoing program of physical therapy. No discharge date has been set.
During his stay, Mr. Graham has engaged in watching television and joking with hospital staff. He was visited last evening by his eldest daughter, Gigi, and met this morning with his pastor, Dr. Don Wilton.
Through his spokesperson, A. Larry Ross, Mr. Graham expressed his appreciation for the media interest in his condition and his gratitude for the outpouring of love, concern and prayers of so many individuals across the country.
Popular in the Community