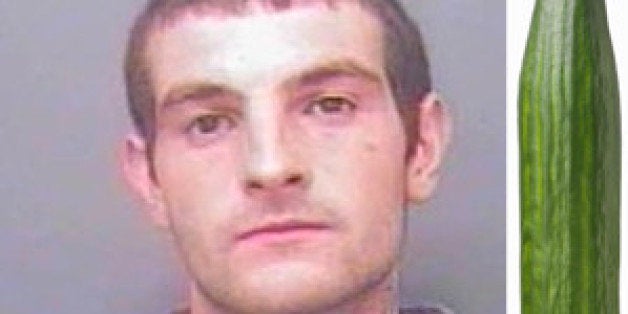 We've got a MUNCH he shouldn't have taken a bite of that cucumber if he didn't want to get caught.
His DNA was found on the vegetable which lead to his arrest and eventual guilty plea last week, according to the Hull Daily Mail.
"He was caught by a cucumber," Judge Michael Mettyear said during Donnelly's court hearing.
Donnelly also burgled the home next to the greenhouse. His actions left the homeowners so distraught, they told police they'd have to move.
Donnelly, who has previous burglary and theft convictions, was sentenced to two and-a-half years behind bars.
Perhaps Donnelly can take some comfort in knowing that alleged burglars have left far more damning items behind.
Last month, an alleged thief in Portland, Ore. was all set to make off with cash from a Wells Fargo bank when he realized he left the keys to his getaway vehicle in the bank.
And that oversight seems downright reasonable compared to what a Massachusetts burglar allegedly did. Zachary Tentoni was accused in June of leaving his birth certificate at the scene of the crime. Who carries around their birth certificate?
Related
Popular in the Community