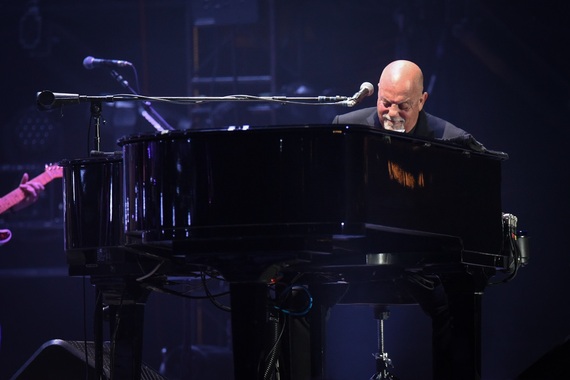 Billy Joel performed on July 9 at Philadelphia's Citizen's Bank Park in front of a sold out crowd for the third year in a row. The artist explained his popularity despite not have a record on the charts since 1993. He said, "I don't have anything new but then I think of how many concerts I have gone to and they say they are playing something new and I say oh shit."
The highlight of the high energy concert that lasted approximately 2 and half hours was "Prelude/Angry Young Man." He introduced the song by saying, "We haven't done this song in a while so I hope we don't screw it up." Billy Joel didn't have to worry. He literally morphed into the angry young man while banging out the beginning of the song. His piano playing was extraordinary, maybe even better than I remembered it. After the song ended, the drained performer said, "We used to open the show with this song now I know why we don't."
It is true Billy Joel, at 67 years old, doesn't have the singing range that he once had, but he has brought in Mike DelGuidice, who also plays the guitar, to sing the notes that he can't hit anymore. They were so in sync that it was hard to differentiate between them at certain points during the concert. In fact, the whole band, which includes Dave Rosenthal, Mark Rivera, Crystal Taliefero, Tommy Brynes, Andy Cichon, and drummer Chuck Brugi, was strong. The crowd went wild during the solos of horn players Mike Rivera and Carl Fischer.
As expected, there were plenty of baby boomers at the concert who mouthed every word of every song. It is a testament to Billy Joel's strong catalog that were so many millennials at the concert. One recent college graduate, who is volunteering for the Democratic National Convention, said, "Allentown is my favorite song because it talks about how hard it is to find a job. I am going through that struggle now." It should be noted the song "Allentown" on the "Nylon Curtain" album was released more than 30 years ago in 1982, but yet a 22-year-old found it still relevant today.
Perhaps, we need the older artists, who were the soundtrack of our youth, to help us understand the turbulent times that we live in now. The audience cheered his introduction to "Keeping the Faith". He said, "I would be remiss if I didn't acknowledge what a shitty week it is. If I had a gun, I would shoot the TV. You have given me and my people a lot of love through the years. We will get through this. Just keep the faith."
One of the few things that Billy Joel and Taylor Swift have in common is that they typically write songs about the real relationships in their life. It might be fun to figure out who is the woman that inspired him to write "Sometimes a Fantasy". Billy dropped a few clues in his introduction to the song. He said, "I had a thing for this girl in Philadelphia, Debbie. We only talked to each other on the phone.
At one point during the concert, the man that wrote "The Entertainer," yelled, "I love this job." That might be the real reason why he delivers stellar concerts year after year and his fans never tire of seeing him.
Photo courtesy of Steve Garfinkel
REAL LIFE. REAL NEWS. REAL VOICES.
Help us tell more of the stories that matter from voices that too often remain unheard.