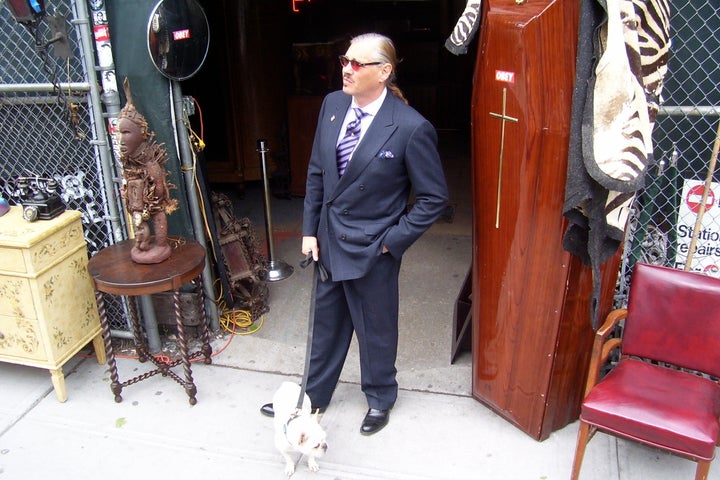 It's the end of an era at Houston and Bowery.
For nearly three decades, an unassuming tent full of antiques has sat at this unofficial crossroads of downtown Manhattan, luring in passersby from New York's former skid row. And on Friday night, its current caretaker, Billy Leroy, will pull the plug on his colorful big top.
Times do indeed change, however, and Leroy (who is set to star in the Travel Channel's upcoming "Baggage Battles") will close the tent to make way for a permanent retail space at one of New York's most sought-after corners -- a fate predicted by the independent film "Dirty Old Town," in which Leroy stared and loosely depicted himself. But unlike that fictional portrayal, Leroy's landlord, Tony Goldman, is helping plan a grand farewell, along with Jenner Furst, Daniel B. Levin and Julia Willoughby Nason, the filmmakers behind "Dirty Old Town."
"Bowery and Houston is the crossroads of the world," Leroy said. "Even though Billy's is closing -- beware. The ghosts of 'Ye Olde Bowery' still roam."
In keeping with that theme, on Friday night, the "funeral" for Billy's will kick off with live musical performances and "eulogies" from members of the downtown arts scene. The following day, the tarps that make up the tent's shell (the "flesh") will be placed in a coffin and the metal framework (the "bones") will be painted red and remain on display until further demolition. Goldman has pledged to keep the new retail space free of chain stores, and in a gesture to help show his support for the block, invited renowned street artist RETNA to paint the adjacent "Goldman Wall" at Houston and Bowery this month.
"I am just grateful to have had the chance to capture the tent in it's dark and mystical splendor," Furst said. "It was more than just an antique store -- it was a lighthouse for lost souls. Walking through the ripped tarps and fabric door was like walking into a tear in the lining of the universe."
WATCH a sneak preview of the "funeral" for Billy's Antiques & Props, which begins Friday at 7 p.m.:
Related
Popular in the Community