If Disney ever decided to do a live action version of Winnie the Pooh, Billy Magnussen would be a great Tigger. His natural enthusiasm and boundless amounts of energy is infectious and was perfect for his role as the other prince in Disney's latest film, Into the Woods. Like the movie, you don't always get what you want and you don't always want what you get, but we're all the better for the occurrences that brought Billy to the project.
Magnussen was born in Queens, New York, but grew up in Cumming, Georgia. He was an acting major at the University of North Carolina when, with one credit left to obtaining his MFA, he headed for New York City to make his Broadway debut in the short-lived 2007 revival of The Ritz. He then spent the next few years appearing in a number of film and television shows including two years as Casey Hughes on the CBS daytime drama As The World Turns.
In 2012, he was cast as Spike in Christopher Durang's play, Vanya and Sonia and Masha and Spike. The play premiered in Princeton, New Jersey before heading to New York City. It starred David Hyde Pierce and Sigourney Weaver and after a sold-out three month run at Lincoln Center moved to a limited Broadway run. The show nearly closed twice, but extended past it's original scheduled closing after winning the 2013 Tony Award for Best Play. Vanya and Sonia and Masha and Spike also secured Magnussen a Tony Nomination for Best Featured Actor in a Play. Magnussen may have felt lucky to have been in this determined little play, but little did he know that it would lead to bigger things.
His agent told him that Disney was doing a film adaptation of Stephen Sondheim's musical Into The Woods and he needed to audition. Magnussen went in and landed the role of Rapunzel's Prince.
When Magnussen went to the first reading of Into The Woods, he spoke to Meryl Streep, who he had met previously when she came to see Vanya and Sonia... "When Meryl came to see the play," said Magnussen. "She came backstage afterwards. I got to meet her then and she was so incredibly nice and delightful to me." It was at the first reading that Streep told Magnussen that she assisted him in getting the audition. She told Rob Marshall, the director of Into The Woods, that he needed to see him. High praise indeed when an 18-time Oscar nominee recommends you for a job.
It was an ambitious project to get suggested for too with Stephen Sondheim's prestige and so particular about his music. "You have to treat [Sondheim's] work with care," said Magnussen. "He was very hands-on, very attentive, and very much there during the filming. He made sure we understood the show was primarily a love story."
And although Magnussen was familiar with Rob Marshall's work, including seeing Chicago and Memoirs of a Geisha, he had never collaborated with him. "Working with Rob was such an honor," said Magnussen. "He let me have a voice. Filming this movie was such a collaborative project and that is the most exciting thing. He had this huge vision," continues Magnussen. "He created a playground and choreographed it, but he let us live in it and have a voice."
What a big playground it was too! Into The Woods was primarily filmed in England at the Shepperton Studios in six different sound stages, on their backlot, and in various locations throughout England. "Filming at the studio was crazy," said Magnussen. "One of the awesome things was when we first went into Shepperton Studios, Marvel's Guardians of the Galaxy was finishing up filming, and we saw all kinds of spaceships from the movie in the parking lot."
Disney built an entire forest on one of the Shepperton Studio sound stages. The forest, a character itself, had three roles to play: act one -- a light and airy place, full of hope; act two -- a mysterious maze full of intrigue; and finally in act three -- the forest is destroyed, draped in fog. "The art direction on the film was amazing," said Magnussen. "There was a guy stapling every leaf onto each tree!"
In this particular fairy tale too, princes ride horses. "Before this film I never rode," says Magnussen. "I had three to four months of riding lessons where I built up a relationship with my horse. You should have seen the horse's resume, it was better than mine!" he laughs.
Billy and Chris Pine (Cinderella's prince), duet on one of the funniest songs in the movie, "Agony." Although a portion of this scene was filmed in the studio, the majority of it was filmed on location. "We had a few rehearsals the previous month, but for the most part we were outside on location and played around on the waterfall for two days," says Magnussen. "It was great working with Chris. Even though we goofed on each other, he is such a giving actor."
Into The Woods is one of those films loaded with one great actor after another. "Working with those people and on that film was like theatre summer camp," says Magnussen. "It wasn't about egos. It was about everyone wanting to make the best possible movie we could. Actually, the first time I saw the musical on stage was a couple of weeks ago at the Roundabout [Theatre Company]. There's so many layers in the show, being a part of such a high-profile movie production of it was great," said Magnussen. "It was an amazing challenge."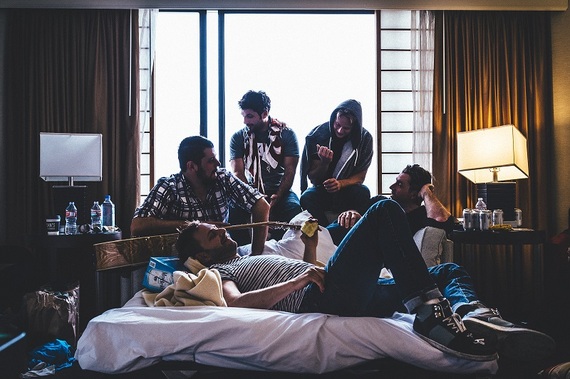 Reserved For Rondee: Trevor Vaughan (on bed), L to R: Nick Fokas, Warren Hemenway, Billy Magnussen, Tom Degnan
Photo: Courtesy of Reserved For Rondee
When Billy isn't in front of the camera or on stage, he can be found behind a guitar playing with fellow performers Tom Degnan, Warren Hemenway, Trevor Vaughn and Nick Fokas in their band Reserved For Rondee. Next up for Magnussen are three other films: The Great Gilly Hopkins, I Smile Back, and another Disney film, an untitled Cold War spy thriller from Stephen Spielberg starrring Tom Hanks and Alan Alda.
Even though many of the characters in Into The Woods didn't get their wish, Magnussen did.
REAL LIFE. REAL NEWS. REAL VOICES.
Help us tell more of the stories that matter from voices that too often remain unheard.