WASHINGTON -- When Billy Tauzin stepped down as the high-profile head of the pharmaceutical lobby in 2010, The New York Times penned his political obituary, highlighting the deal he had made with the White House that helped ease the passage of Obamacare.
"The agreement that Mr. Tauzin struck on health care -- capping the drug industry's costs at $80 billion over 10 years and turning a perennial foe into a Democratic ally -- was in some ways a fitting climax to a career of such capers," the Times wrote.
But Tauzin, in a tearful farewell address to the Pharmaceutical Research and Manufacturers of America, waxed lyrical about the life-saving work being done by drugmakers and promised that he would keep up the fight he'd been waging on their behalf for more than a decade in Congress and at PhRMA.
"I'm not abandoning this journey, don't ever believe that. I'm just changing lanes in a long, long course," he said. "If you know me, as I think you do, you have to know you haven't heard the last of me, or my work."
It turned out the Times was half right. Tauzin's career as a champion of Big Pharma was indeed over. But, as he promised, the industry hadn't heard the last of him.
Now, Tauzin is weighing in against his old allies. In July, he quietly announced he had become co-chair of a new lobby group squaring off with the pharmaceutical industry, called the Medicine Access and Compliance Coalition (MACC). It's a collection of health care providers advocating for lower drug prices through what's known as the 340B program.
The federal program, established in 1992, is intended to give a financial boost to hospitals and clinics that serve poor populations, by requiring drug companies to sell them discounted drugs, which are then provided to indigent patients but can also be sold at a markup to privately insured patients. Drugmakers have never been wild about the program, which costs them $7 billion to $10 billion a year (a relative drop in the bucket for them -- overall drug spending is north of $300 billion a year in the U.S.). But an obscure new rule has had a far-reaching impact on that program, touched off an intense battle between Big Pharma and the hospitals, and attracted the scrutiny of Congress. It's the sort of environment made for Billy Tauzin.
Tauzin rejects the idea that his new coalition is pitted against the drug lobby. "There are a couple of companies who are working to get rid of the [340B] program. Most of the companies and PhRMA take the view that it's the law. They don't oppose it. They do oppose some of the abuses in the program, which is exactly what MACC was created to reform," he told HuffPost. "MACC is designed to hopefully get the support of PhRMA in establishing standards, best practices, integrity in the program."
Originally, only hospitals and other health care providers that did not have an in-house pharmacy were eligible to contract with an outside pharmacy and sell discounted drugs through them as part of the 340B program. But in March 2010, as the Affordable Care Act was signed into law, the Health Resources and Services Administration opened up the program to multiple outside pharmacies, even for providers that had their own in house. According to HRSA, as of July 2013, there were 2,072 hospitals with more than 7,500 associated outpatient facilities that participate in the 340B program. The pharmacies they contract with are allowed to sell the discounted drugs at higher prices to insured patients -- which angers both insurers and the drug industry.
The hospitals contend they need all the help they can get to provide for underserved populations, and the pharmacies say their involvement is a legitimate boost to the providers. But Big Pharma complains that hospitals having little to do with the poor are gaming the system to obtain cheap drugs they can sell at a hefty profit, sometimes using for-profit chain pharmacies they don't even own.
Last week, Sen. Chuck Grassley of Iowa, the top-ranking Republican on the Senate Judiciary Committee, sent a letter to the drugstore chain Walgreens demanding answers about its use of the 340B program, thereby indicating that congressional interest in Tauzin's newfound field, at least on the Republican side, is intensifying.
"The intent and design of the program is to help lower outpatient drug prices for the uninsured. It is not intended to subsidize pharmacies that team up with covered entities to turn a profit," Grassley wrote, noting that of more than 7,000 contract pharmacies, 5,400 are Walgreens. (A Walgreens spokesperson said that the pharmacy has followed the law and will quickly reply to Grassley's letter.)
One former Tauzin colleague during his time at PhRMA, who is now working against him, complained that his involvement with the hospital coalition makes it appear as if the group's effort has PhRMA buy-in, when the opposite is the case.
Tauzin's switch from pro- to anti-PhRMA is the fourth major shift in his career, quite possibly a record for Washington flexibility. Elected to the House of Representatives in 1980 as a Democrat from Louisiana, Tauzin switched parties after the 1994 electoral wave brought the GOP to power; he was allowed to keep his seniority. The move enabled him to become chairman of the House Energy and Commerce Committee. From that perch, he led the successful charge for the controversial Medicare prescription drug benefit in 2003. Barely a year later, he became a poster child of the revolving door by quitting Congress to work for PhRMA at a multimillion-dollar salary. In 2009, he took what had been a partisan Republican organization and flipped it into a Democratic ally, cutting a deal with the administration and spending $150 million to prop up Obamacare.
Tauzin's final -- or, at least, his most recent -- flip began in July 2011, when he registered to lobby on behalf of CaptureRx, which helps 340B clients maximize revenue from the drug companies and the federal government. The firm's software promises to "lower drug costs through innovative pharmacy benefit management," according to one company document. CaptureRx paid Tauzin Consultants $50,000 for three months in 2011, according to lobbying disclosure forms.
CaptureRx constitutes the basis of the lobby group announced in July, the Medicine Access and Compliance Coalition, which represents 340B providers around the country. "MACC is the first and single largest 340B drug program user group of its kind," the coalition declared at its launch.
(Even while working against drugmakers in general, Tauzin is still taking money from some of them specifically. In 2012, he reported being paid $120,000 by Endo Pharmaceuticals and $240,000 by EMD Sereno for lobbying services. A request for comment sent to MACC was not returned; attempts to reach Tauzin directly were unsuccessful.)
Over the past several months, the drug industry's active campaign against the 340B program has been heating up, according to K Street sources who work with PhRMA. Earlier this year, PhRMA produced a white paper outlining its critique of the program -- which the hospitals and providers have countered.
Tauzin's coalition was joined in the fray last week by a new political action committee, Friends of 340B, which lists as its treasurer John Coster, a former lobbyist for generic drug makers and chain pharmacies who now works for Safety Net Hospitals for Pharmaceutical Access. Another 340B lobby group, SNHPA was created in 1993, the year after the law was passed.
The potential for 340B abuse is indeed lucrative. Hospitals and pharmacies, for instance, are supposed to bill Medicaid no more than the cost of buying and delivering a drug. But state Medicaid offices, according to a 2011 report by the Department of Health and Human Services inspector general, have no legal way of knowing what that cost was and instead must rely on the pharmacy's word. And 25 states, the IG found, had no written policy governing reimbursement at all.
Consultants like CaptureRx have stepped into the breach, suggesting how to maximize revenue. An operative working against the providers pointed HuffPost to one presentation from a company called MedImpact outlined the ways in which hospitals might be missing out on opportunities to profit from the 340B program and promised hospitals that it "can work with any wholesaler, pharmacy, or claims processing switch. This allows us to provide your hospital with the lowest prices, maximum flexibility and revenue."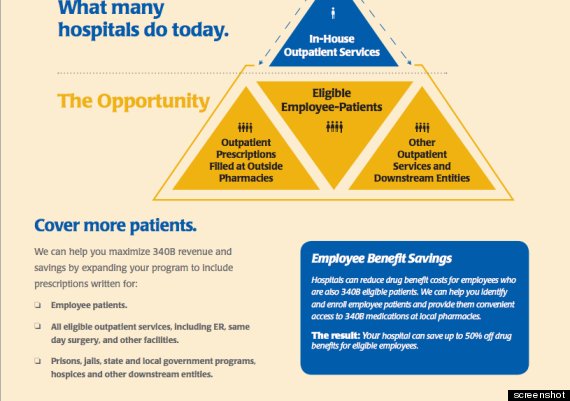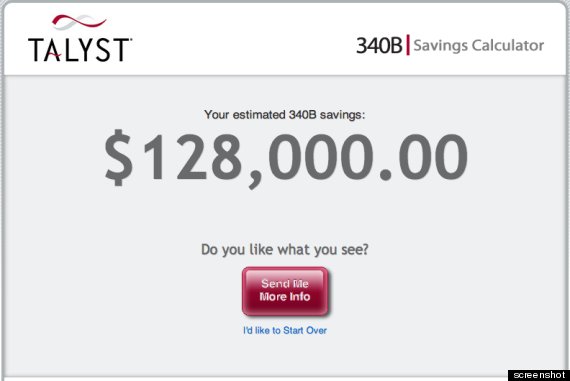 If 340B providers are audited -- the first such occurred in 2012 -- and found to have bilked drugmakers or applied for double rebates, the only penalty they face is to give the money back. "If after audit, notice and hearing, a covered entity is found in violation of diversion or duplicate discounts, the covered entity is liable for repayment to manufacturers," David Bowman, a HRSA spokesman, told HuffPost.
But the potential for Big Pharma to abuse the system is also present and has been documented. While drugmakers can audit providers to make sure they're not getting ripped off, the providers can't audit the drug companies to make sure they're not being overcharged. A 2006 HHS IG report found significant overcharging when it surveyed the situation. The hospitals wonder why HRSA is able to find the resources to audit providers, but can't come up with the funds to look at drugmakers' behavior.
Backers of the program argue that Congress intentionally expanded 340B to help hospitals that are serving patients with little means. "340B is not, and never was intended to be, a simple pass-through benefit to patients," reads a statement on the website of Safety Net Hospitals for Pharmaceutical Access. "If Congress and the president had wanted to create a federal prescription drug benefit for indigent uninsured patients in 1992, they could have. Instead, Congress and the president created the 340B program to help safety net hospitals, community health centers, HIV/AIDS clinics, and others that provide much of the nation's free and reduced-cost health care with some relief from prescription drug costs that were spiraling out of control. Providers use 340B savings to better serve their vulnerable patients."
Whether you support such a policy or not, it at least contains an internal logic and was created with bipartisan support. But if drugmakers are now taking a hit so that Walgreens can make a profit, where is the policy benefit? The entry of consultants and for-profit pharmacies into the equation could certainly tilt the perception and politics of the program.
Grassley pointed with suspicion at a Walgreens PowerPoint slide that offered to show individual pharmacies and hospitals how to "generate revenue from 340B patients." In his letter, he noted that Walgreens employs a "Senior 340B Inventory and Reconciliation Analyst," Timothy Hong, whose LinkedIn page says that 340B is "a relatively new area within Walgreens and is projected to add a minimum of $250 million in incremental revenue over the next 5 years." Walgreens, Hong boasts, "optimizes client's 340B program, so they can be more profitable while lowering Walgreens liability."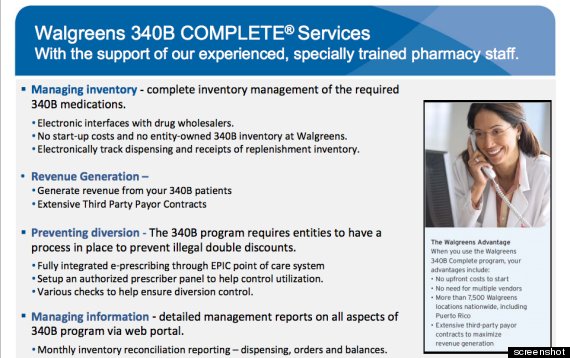 Grassley had previously asked three North Carolina hospitals to provide details about their 340B participation. The Duke University Health System, not what is typically considered part of the social safety net, said that it spent $66 million on 340B drugs in 2012 and sold them for $136 million -- up from $83 million in revenue in 2008. Five percent of its program participants were uninsured, while 67 percent were privately insured, with the remainder on Medicaid or Medicare.
But even at Duke, the cost of treating the poor and uninsured adds up. Charity care cost the hospital $69.1 million in 2012, it told Grassley.
The problem appears to arise from a lack of clear 340B regulation. The Government Accountability Office worried in 2011 that "guidance on program requirements often lacks the necessary level of specificity to provide clear direction" and that "most [covered entities] reported that they generated more 340B revenue from patients with private insurance and Medicare compared to other payers."
Bowman, the spokesman for HRSA, said the agency "is in the process of developing regulations for the program and is expected to publish an NPRM [notice of proposed rule-making] by June 2014. The regulation will clarify the definition of an eligible patient."
The inability of Congress to function in any reasonable way these days means that power in Washington has devolved to small agencies like HRSA, which are left as the only referees. It's doubtful any policymaker would draw up the current parameters of the 340B program if building it from scratch, but that's not how the U.S. political system makes policy today. Nobody knows that better than Billy Tauzin.
UPDATE: -- Billy Tauzin responded Tuesday with the following statement. (As the story notes, HuffPost attempted to contact him before publication.)
Had Huffington Post DC Bureau Chief Ryan Grim, in his article dated August 13, 2013, contacted me prior to writing his story (left a voicemail, sent an email, spoken with anyone on my staff), as is pretty standard for most journalists, I would have been happy to discuss the 340B program with him. He would have learned that his basic premise is wrong: that PhRMA and I are not at all at odds, as I have since explained to him.

He might have learned, for example, that the amendments adopted in the Patient Protection and Affordable Care Act to the 1992 340B drug discount program were worked out to PhRMA's satisfaction, actually limiting a proposed overbroad expansion of the act. Secondly, he would have learned that the Medicine Access and Compliance Coalition (MACC) has been organized specifically to encourage reforms in the 340B program to promote integrity, compliance, transparency and best practice standards, core components of the coalition's mission statement conveniently left out of his description, and that CaptureRx is one of the leading companies promoting those reforms. In fact, CaptureRx's technology eliminates the opportunity for double discounting, diversion, and some of the other abuses that PhRMA has and continues to correctly oppose. That is why MACC has invited PhRMA companies to be a part of its Standards Review Board and has offered to work with 340B critics in Congress to fix those problems in the program.

No, Billy Tauzin has not switched sides at all when it comes to PhRMA. I am and remain a strong supporter of the bio and pharmaceutical research companies of America and the enormously good work they do on behalf of American patients. That is why, during my tenure at PhRMA, we instituted the Partnership for Prescription Assistance program providing not just discounted but totally free critical drugs to patients who could not afford them, a program that when I left PhRMA in 2010 had provided those drugs to over 6 million American patients (you might remember Montel Williams and the big orange bus on television). The 340B program is a Congressionally mandated drug discount program designed to assist that same population: medically indigent, underinsured and uninsured patients in America. The attack against the program (and me personally) in the Huffington Post was clearly an attempt to discredit both the program and my work with MACC to promote proper reforms to the program. Admittedly, there are some who would prefer not to have a 340B drug discount program.

My understanding of where most PhRMA companies are is that they recognize this discount program, like the Medicaid discount program, is American law and they simply want the program properly administered and abuses within the program properly ended. That is precisely where MACC and I personally stand.

While the story has a wrong premise, we appreciate the focus on the issue of 340B reform and remind the Huffington Post that CaptureRx actually endorsed the PhRMA endorsed White Paper on the 340B drug discount program, published in early 2013 (See the CaptureRx website for verification).
The story has also been updated with a separate comment from Tauzin.
HuffPost Readers: Do you work at a hospital or pharmacy that's ripping off a drug company, or a drug company that's ripping off the hospital? We want to hear about it. You can send any documents or information here. Let us know if you want to remain anonymous. We will never publish your name or any identifying details without your permission.
Calling all HuffPost superfans!
Sign up for membership to become a founding member and help shape HuffPost's next chapter
BEFORE YOU GO
PHOTO GALLERY
Out-Of-Touch Politicians