WASHINGTON -- It was two days after Christmas in 2012 when the police in Biloxi, Mississippi, showed up at Joseph Anderson's door. It had been a hard couple of years for the 52-year-old, who had three heart attacks and a stroke in a single week in 2011.
Anderson, who has trouble walking, and was living on Social Security and food stamps was jailed for seven days before he got in front of a judge -- and rang in the new year behind bars.
His crime? Owing the City of Biloxi $170.
Anderson's girlfriend, Qumotra Kennedy, found herself in a similar situation earlier this year. Her trip to jail came in July after a police officer pulled over her friend for allegedly running a stop sign. Kennedy had buried her father a few weeks earlier. She spent five nights in what she described as a "filthy and nasty" jail before she got to see a judge. Kennedy said even though the cell was cold she was only given one sheet, and that it smelled of urine.
The American Civil Liberties Union filed a lawsuit on Wednesday against Biloxi on behalf of Kennedy, Anderson and another man, alleging that the city's municipal court structure is unconstitutional and has "instilled fear and panic amongst the poorest residents of the City and the surrounding region." The ACLU believes there are many others who have been unfairly jailed by the city of Biloxi, and lawyers are seeking to make the federal civil rights lawsuit a class action.
"Indigent people who owe money to Biloxi, including people who are homeless or disabled, feel pressured to divert funds for basic necessities— food, medication, utilities, and transportation—to avoid jail and the devastating impact of incarceration on their families, loved ones, jobs, and housing," the lawsuit states.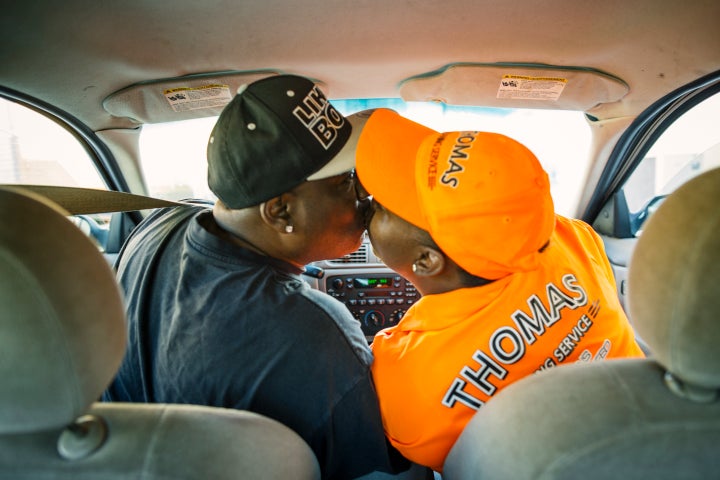 These type of policies have drawn significant attention in recent months. After the death of Michael Brown, the municipal court system in Ferguson, Missouri, and the surrounding St. Louis County came under close scrutiny, resulting in significant reforms. Civil rights attorneys have also filed lawsuits against cities with so-called "pre-set bail" policies, which mandate monetary amounts that people must pay to be released from jail no matter their individual circumstances.
"It's essentially a jailhouse shakedown. Cities across the country, like Biloxi, are scrambling to generate revenue, and they're doing it off the backs of poor people," Nusrat Choudhury, an attorney with the ACLU's Racial Justice Program, said in a statement. "Being poor is not a crime. Yet across America, people are being locked up because they can't afford to pay traffic fines and fees. This lawsuit seeks to dismantle a two-tiered system of justice that punishes the poorest, particularly people of color, more harshly than those with means in flagrant violation of the Constitution."
Biloxi is a struggling city. The percentage of individuals living below the federal poverty level "more than doubled" from 13.3 percent in 2009 to 27.5 percent in 2013, according to the lawsuit. But at the same time, the portion of the city's budget that came from fines and forfeits went up by 26 percent from fiscal year 2008-2009 to 2015-2016.
To collect on that revenue, Biloxi relied on the services of a for-profit company that charged poor people $40 per month to collect their debt. Employees of the company, the lawsuit alleged, "routinely threatened poor probationers with arrest and jail when they reported for probation 'supervision' without money to pay toward their debt or with less than the amount of money required to meet the payment schedule set by the Biloxi Municipal Court."
That's what Kennedy said happened to her. Already struggling to provide for her family, Kennedy's arrest was a major setback. When she was finally released from jail, she found out from her boss that he had laid her off from her part-time job.
"He told me that he's sorry, he had to let me go because I missed too many days," Kennedy said. She said she doesn't understand why the city wouldn't let her do community service, and said there are a lot of people in her shoes.
"My work is not steady, and it's hard to find a job right now, the way the economy is out here," Kennedy said. "I can't pay something I ain't got."
Read the lawsuit filing in full below:
Popular in the Community