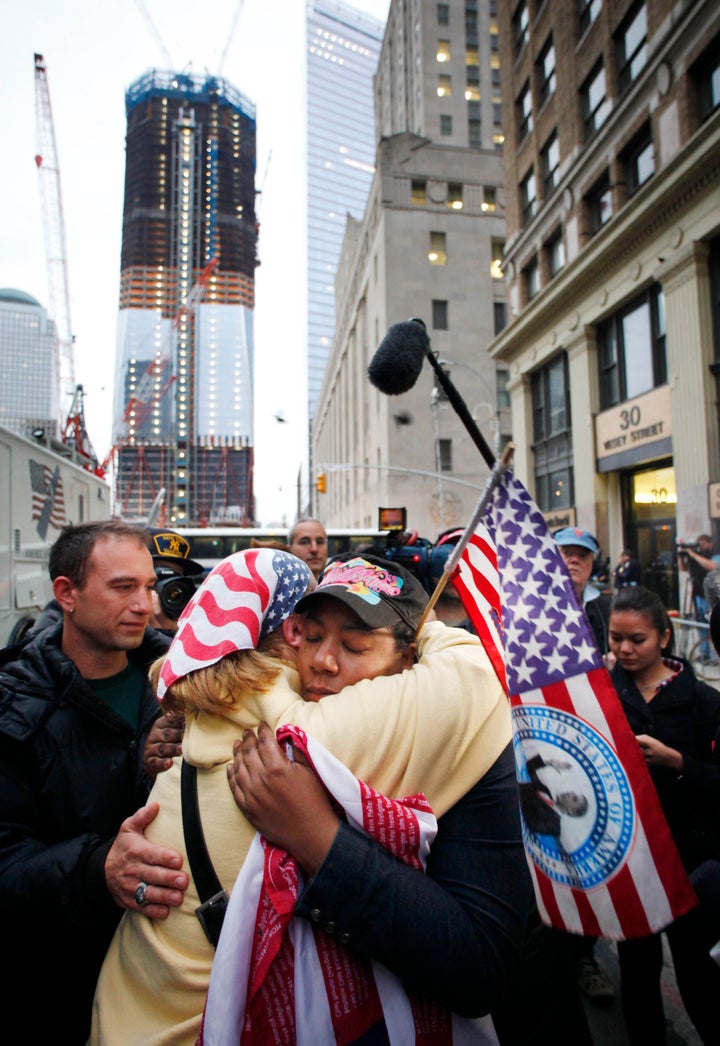 This post has been updated.
Osama bin Laden's death has decreased the risk of doing business around the globe and especially in the Middle East, providing a needed boost to the broader economic recovery, economists said Monday.
The leader of the al Qaeda terrorist group is dead, President Barack Obama announced from Washington late Sunday. The news has been a tonic for financial markets: the price of a barrel of oil fell; Japanese stocks rose to a post-earthquake high and U.S. stock futures surged. We live in a new and potentially less dangerous world, headlines are declaring. It's a change that promises more investment in Middle East countries, cheaper transportation costs and less risk the U.S. economy will tip back into recession.
"There's a lot of positives out of this," John Silvia, chief economist of Wells Fargo, said in an interview Monday morning. "It lowers the risk premium of anything. It generally decreases what we would call event risk -- in other words, a sudden outbreak of terrorism."
"It will last as long as it's perceived there's no bin Laden junior coming along," he added.
Stocks across the world rose on the news of the terrorist leader's death. Japan's Nikkei 225 Stock Average gained 1.6 percent, reaching a high not seen since a devastating earthquake and tsunami struck the northeastern cost in March, Bloomberg News reported. The Stoxx Europe 600 index posted an eighth day of gains, and Standard & Poor's 500 Index futures rose in London.
"The nation finally caught a break," Mark Zandi, chief economist of Moody's Analytics, said in an email Monday morning. "At the very least, this will lift the collective psyche and rally financial markets for a bit, and confidence is vital to any recovery."
[UPDATE: 9:40 a.m. -- Stocks had a strong opening in New York, with the S&P 500 up 0.29 percent, and the Dow Jones Industrial Average up 0.33 percent. Both indices pared immediate gains.]
[UPDATE: 12:55 p.m. -- Stocks began falling late morning and have now erased the day's gains. The Dow is down to the level of Friday's close, and the S&P 500 is down 0.1 percent compared to Friday.]
The good news comes during a period of economic strain. The price of oil has skyrocketed in recent months as protests across the Middle East turned violent, stoking investors' fears that the supply from that crucial region would be compromised. Brent crude, a global benchmark, was up 50 percent compared to last year, as of Friday. As the price of oil rose, the price of gas followed, and a gallon of regular gas in the U.S. now costs an average of nearly $4, according to the American Automobile Association.
High energy prices were leading economists to slash their forecasts for U.S. economic growth. Consumer confidence, an important economic indicator, plummeted in March. High gas prices were causing Americans to cut back on driving, and, as business contended with increased transportation costs, some were forced to scrap plans to hire new workers. Further, high gas prices take a profound psychological toll, making people feel poorer.
Energy prices rose to highs not seen since 2008, when months of high oil prices helped drag the economy into recession.
But, at least for now, that trend has reversed. In the U.S., a barrel of crude for June delivery fell from near $114 to just above $112 on Monday. The general feeling among investors seems to be that there's now less risk of an oil supply disruption. Some tension that has accumulated over the last few months has apparently now eased, bringing the price of oil down.
The dollar, which had reached a three-year low, began to climb.
"One interpretation is that bin Laden's death means that Al Qaeda will be in disarray for some time, leading to relative calm with respect to new terrorist threats, which in turn reduces the potential for disruption in oil supply," Andrew Lo, a finance professor at MIT, said in an email early Monday. "Financial markets will likely react positively to this news in the short run, but the repercussions may be more complex over time as we learn how bin Laden's death affects his organization and, consequently, the political economy of the Middle East."
It's too soon to say what the long-term economic effects of bin Laden's death will be, economists noted. Bin Laden himself did not much affect oil prices while he was alive, said Nariman Behravesh, chief economist of IHS Global Insight, in an email Monday morning. But for now, the terrorist's death has apparently given investors a sense of optimism, which has propelled financial markets upward.
Over the longer term, it could make secular Middle East countries like Turkey more attractive to investors, noted Silvia, the Wells Fargo chief economist. The so-called risk premium of doing business there could be lower, as a major terrorist attack now seems less likely. An influx of investor money could give the region an economic boost.
But fundamental economic problems remain. Greece, which requested a bailout last year and has been crippled by debt, still struggles. Portugal, Ireland and Spain and the other relatively weak countries in the Euro zone still confront the prospect of painful and lengthy economic recoveries, as the high value of the Euro makes it difficult to undertake the monetary easing that a country with its own currency can implement.
Bin Laden's death is "not going to be the answer to what's going on," Silvia said.
Further, the status of al Qaeda remains uncertain. The leader's death could even spark a surge of terrorist attacks in the short run. The State Department issued a travel alert Monday morning, warning of the potential for anti-American violence. The alert lasts until August 1.
_____________________________________________________________
Watch: Stock Markets React to Bin Laden's Death
_____________________________________________________________
Related
Popular in the Community