As more details of Bin Laden's life "in hiding" take shape, we may find ourselves with more questions than answers. A quick round of Internet research reveals that he lived in a beautiful climate, in a town along a well-traveled tourist route, near some military sites that included an advanced hospital. He lived in a luxurious neighborhood, a short drive from a golf course and an airport.
And if all that weren't enough, the most hunted man on the planet was also just down the road from a Red Onion Restaurant. There he could presumably enjoy a standard Red Onion appetizer like Thai-Style Steamed Mussels with Lime Leaf, Chilies, Coconut Milk and Mint, followed by a choice of entrees like Grilled Blackfish with Watercress Sauce over Celery Root Puree and Wild Chanterelle Mushrooms. (But remember, Sheikh Osama: No substitutions!)
(Satellite photo of reported Bin Laden compound; more images below.)

Abbottabad, an hour's drive from the beautiful tourist town of Nathiagali, has its own airport. That would have made it convenient and easy for visitors to come to Bin Laden, and for him and his team members to leave quickly if they had warning of an attack. And while all of this is preliminary information, it paints a picture of a life lived in luxury, in the shadow of a major military base.
Local reports first indicated there had been a helicopter crash and the sound of heavy gunfire near the Pakistan Military Academy on the Kakul Road. The Military Academy is described as "Pakistan's West Point." Students of military uprisings may remember that a number of coups have been instigated by officer cadres who formed alliances in military academies.
The Frontier Force Regiment, which is based in Abbottabad, contains 67 armored and artillery battalions. It fought in several battles with India over the disputed province of Kashmir, and served as part of the multinational coalition that battled Iraq in the 1991 Gulf War. The Abbottabad base also features the Army Medical Center, a full hospital capable of treating virtually any kind of health problem. (If Bin Laden suffered renal failure, as was widely rumored, this would have been an ideal location.)
The COMSATS Institute of Information Technology was close to Bin Laden's reported compound. A large percentage of 9/11 conspirators were engineers, and Al Qaeda has relied strongly on computer technology. Again, this may be coincidence, but it adds to the impression that Bin Laden was in a prime location from which to lead Al Qaeda worldwide.
We don't know if Bin Laden ever left the house. But if he did, he theoretically could have taken a stroll in the local park, stopped off at the base for dialysis treatment, played a round of golf, then ended the day with some steamed mussels and grilled blackfish. And if Osama didn't care for the menu at the Red Onion, he could always go the Mona Liza, an older local restaurant. "Try their tuti fruity or chicken karahi," suggests an online reviewer.
Abbottabad is located in Khyber Pakhtunkhwa, the northwest province that borders Afghanistan and the disputed regions of Kashmir and Punjab. That makes it a nerve center for international conflict ... and commerce. Life Afghanistan, the region is primarily Pashtun. There are an estimated 1.5 million Afghan refugees there. By locating there, Bin Laden seems to have been "hiding in plain sight."
The implications of Bin Laden's luxurious life, in a resort town near a military base, are deep and significant. They could affect relationships between the United States and Pakistan, between the Pakistani military and the government, and even among various branches and factions within the military.
The location of Bin Laden's capture adds weight to reports that elements of the military and intelligence services have been helping Al Qaeda all along. That could also hamper Pakistan's efforts to control its own internal terrorism problem. A wave of recent terror attacks have been directed against Sufis and their shrines. Extremists have also carried out several recent assassinations, including that of Salman Tasneer, the governor of neighboring Punjab.
And Bin Laden's capture certainly has implications for the Red Onion in Abbottabad. If its prices are anything like those in the Woodstock Red Onion, how many other people in town could afford to bring a large party to a joint that charges ten bucks for an appetizer and twenty-five for an entree?
___________________
A personal note: For anyone who might feel this is an overly flippant tone about a serious and morally complex matter, maybe it's a defense against our own feelings about 9/11. Until a few weeks before the attack, I worked a couple of blocks away. My wife would have been in the building that morning if she hadn't woken up with the flu. I knew people who died that day. I found a photo pass to WTC 2 in my pocket a years after the towers fell.
I also spoke with Muslims in my neighborhood in the dark days after the attack. They were living in terror and facing constant threats because this act had been performed in the name of their religion, despite the fact that it violated Islam's basic tenets (as more than 6,000 imams and scholars have affirmed). So maybe the humor's a distancing mechanism brought on by all these emotions.
And on a related note: We cannot confirm reports that Donald Trump won't believe that Bin Laden is dead until he sees the death certificate.
(This post is based on my independent research, is a personal work, and is not the result of any professional affiliation. It was updated several times as additional information came in.)

From an online review: "Red Onion, the famous restaurants chain in Pakistan has presence in Abbottabad as well. Their food is really good and interior impressive. Every dish is served with onion rings covered by red sauce.
One weekends they have roof top barbecue along with live music. But their service is a bit slow. Still you can call it one of best restaurants in Abbottabad."
Location of reported Bin Laden compound: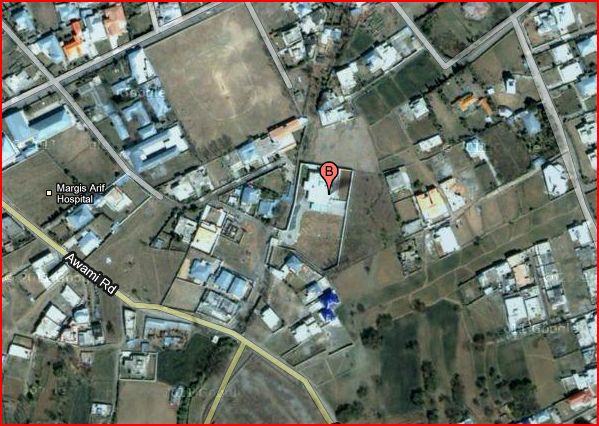 Reported location of gunshots and helicopter crash: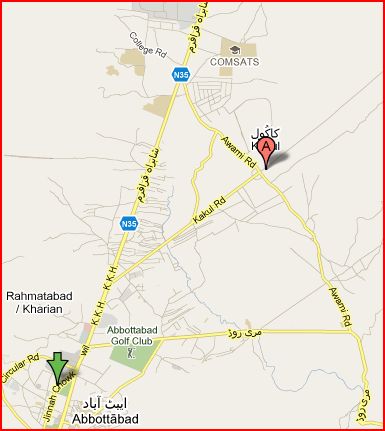 Military sites in Abbottabad: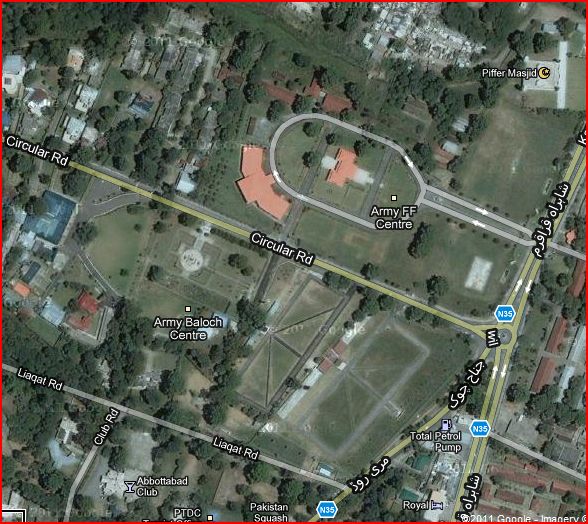 The drive from residential Abbottabad to the golf course: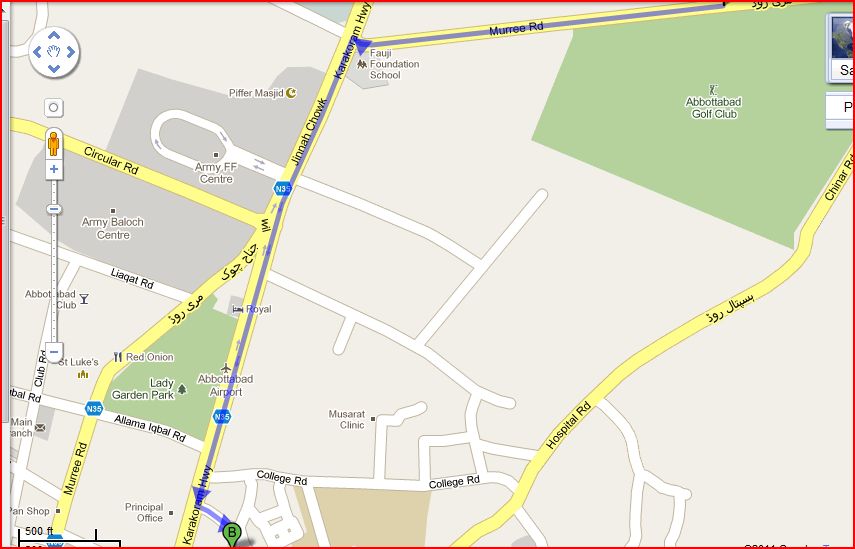 Aerial view of the Red Onion in Abbottabad: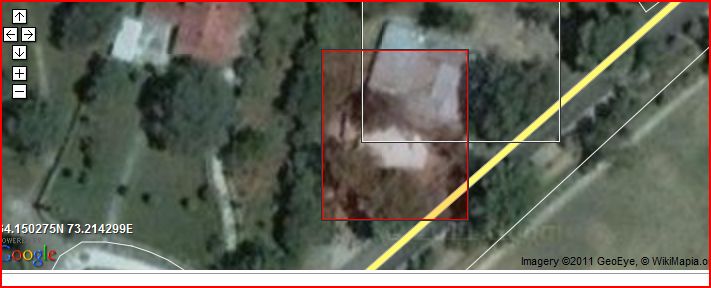 A local writes: "If you come to Abbottabad then you should not miss a trip to beautiful Shimla Hills to get over view of entire valley and nearby hill resorts. You can trekk , walk or hire a local suzuki. Children can enjoy rides in park while elders can have a cup of tea or coffee along with snacks in open air restaurant."
Support HuffPost
The Stakes Have Never Been Higher
Popular in the Community