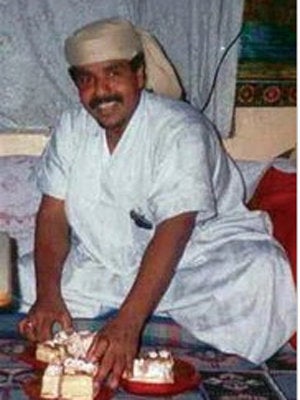 Citing "several US sources," CNN reports that Salim Hamdan, a former driver for Osama bin Laden, who was convicted in a trial by Military Commission at Guantánamo during the summer for providing material support for terrorism, is to be flown out of Guantánamo on Monday, to serve the rest of his sentence in his native Yemen.
At the end of his trial, a military jury refused to convict Hamdan on the more serious charge of conspiracy, and gave him a five and a half year sentence. His judge, Navy Capt. Keith Allred, then decided to take into the account the time that Hamdan had already served since he was first charged, which meant that he was eligible for release by the end of the year.
Furious at the result, the Defense Department (which had been seeking a 30-year sentence) resorted to claiming that Allred was not entitled to reduce Hamdan's sentence for time served, and called for the jury to be reconvened, but Allred dismissed these claims in a terse judgment on October 30, when, having "read the filings and legal citations, as well as reviewing the sentencing hearing transcript" (as the Wall Street Journal explained), he declared, simply, "The prosecution motion to reconsider, reassemble, reinstruct and re-announce a sentence is denied."
If confirmed, Hamdan's transfer to Yemen to serve the last month of his sentence will bring to an end an ugly rumor that the administration failed to quell at the time of his sentence: the suggestion that, if the authorities so desired, they could continue to hold Hamdan as an "enemy combatant," even after his sentence was completed. As I noted in a recent article, for the administration even to contemplate doing so, after prosecuting him in a special court of its own devising, was "a notion which would surely shame all but the most hardened dictators."
And if confirmed, Hamdan's release also brings the closure of Guantánamo one step closer, as I explained at the time of his sentence:
If one of Osama bin Laden's drivers gets a sentence of seven years and one month in total (five and a half years plus the 19 months of his imprisonment before he was charged) in a system specifically established by the administration to try and convict "terror suspects," it is surely now inconceivable that those who planned the whole post-9/11 detention policy can maintain that they can still continue to hold ... any of the 130 or so prisoners in Guantánamo who have not been cleared, and who are not scheduled to face a trial by Military Commission, beyond the end of the year.
Calling all HuffPost superfans!
Sign up for membership to become a founding member and help shape HuffPost's next chapter