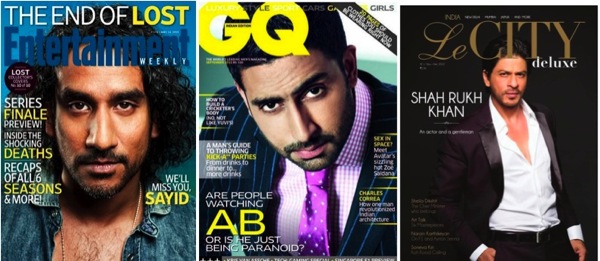 In "My Horizontal Life" Chelsea Handler chimes, "I don't know what it is about accents that makes me want to get undressed and high-five myself." Now replace accents with handsome, sexy and talented Indian actors; Shah Rukn Khan, Abhishek Bachchan and Naveen Andrews. If these names are not familiar except to their loyal Bollywood and "LOST" fans they should be. Shah Rukn Khan is "The King" of Bollywood. Abhishek Bachchan is Bollywood royalty. Master thespian Naveen Andrews was named as one of People's 2006's World's Most Beautiful.
A definite see "My name is Khan"is a thoughtful film about prejudice after 9/11 starring Shah Rukn Khan. According to Anne Thompson in Indiewire, Shah Rukn Khan's latest film "Chennai Express" has shattered that film's box office record. Married to the world's most beautiful woman, Abhishek Bachchan is part mogul, action star and hip hop artist. Abhishek's father Bollywood legend Amitabh was in Baz Luhrman 's "The Great Gatsby" remake starring Leonardo DiCaprio. I hope we won't have to wait as long for Abhishek to make his Hollywood debut. I predict Abhishek Bachchan will be the new George Clooney. We all love Naveen Andrews as Sayid from "LOST". But it's been too long since he's had a leading man role in a love story as memorable as "The English Patient" with Juliette Binoche. Perfectly cast Naveen's in the new film, "Diana" as surgeon Doctor Hasnat Khan who was Princess Diana's great love.
OK Hollywood let's look at it from a monetary standpoint. The global cultural market is too huge to ignore. Deadline has been on watch for showbiz in India cross over. Citing stats from MovieMojo.com, The Times of India has ranked "Chennai Express" #13 at the U.S. Box Office. Starring these talented actors in mainstream films will make it rain.
REAL LIFE. REAL NEWS. REAL VOICES.
Help us tell more of the stories that matter from voices that too often remain unheard.