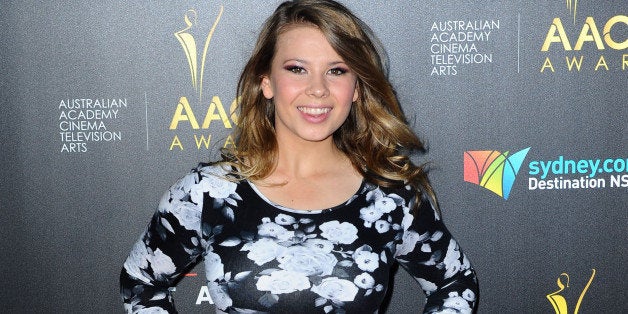 Bindi Irwin has a message for young girls out there: cover up.
The 15-year-old environmentalist and daughter of the late "Crocodile Hunter" Steve Irwin spoke with News Corp Australia about hoping to send a positive message to teens in terms of how to dress.
"I'm a big advocate for young girls dressing their age," Irwin said. "I mean, for me, I look around at a lot of young girls that are my age and they're always trying to dress older. Whether it's wearing revealing clothes or hardly wearing any clothes at all, I feel really bad for them. It kind of has the opposite effect in some ways ... it kind of does the opposite where it makes you look younger and like you're trying too hard."
Although her daily wardrobe might not require too much deliberation -- Irwin often wears a khaki uniform for her work at the Australia Zoo -- she hopes others consider taking a second to think about their style choices.
"I almost wish I could tell young girls, 'Look, in 10 years when you look back at yourself, you'll cringe honey, honestly,'" she said. "A lot of times I want to grab these girls and say 'Look ... in 10 years you'll regret this. Just dress like who you are. Don't try so hard. A pair of jeans and a T-shirt is just as gorgeous and even makes you look classier' ... The way I choose to dress, I want to influence other people around me I suppose."
She will turn 16 on July 24.
Popular in the Community