 KARACHI, Pakistan May 9 (Reuters) - Even among the colourful cast of mullahs, labourers and idealists standing in Pakistan's elections this Saturday, Bindia Rana stands out.
She and a handful of others are the first of Pakistan's transgender "hijra" community - which includes transsexuals, transvestites and others - to register as candidates.
Dressed in a long, checked outfit with black lace sleeves, her red hair piled on top of her head, she resembles the hoopoe, the flamboyant and industrious bird crowned with a shock of red feathers that she chose as a campaign symbol.
Often ridiculed or attacked, hijras are treated as misfits in Pakistani society.
"Transgender people get our first threats from our own family," Rana told Reuters during an interview in her tiny apartment in the crowded port city of Karachi. She is a candidate for the Sindh provincial assembly from one of the city's constituencies.
"I always tell the transgenders to endure the things that their family says to them," she said. "It's more difficult to tolerate nasty things said by the world."
The Supreme Court ruled in 2011 that hijras could get national identity cards as a "third sex," neither man nor woman. Now that they have legal standing, at least four members of the community are standing for elections.
Many hijras in Pakistan and in neighbouring India are attacked, raped or forced to work as sex workers to support themselves. Others beg for alms at traffic lights or on the streets.
Rana, 45, wants to change some of those injustices. After years of working as a dancing girl, she became a social worker dedicated to protecting her community.
Rana's lowest point came five years ago, when she and friends held a public collection to help a colleague with cancer. They stood all day in the heat, but she only got $1 from a small girl who came forward and asked what they were doing. After listening, she solemnly handed over a note.
"I can't forget that girl and one day, somehow, I will repay that gesture," she said.

Rana is unlikely to win in the poll. Besides the difficult position of hijras in Pakistani society, her lack of funds makes campaigning impossible.
She is standing against some of the biggest parties in the country - her opponents include a former minister for the Muttahida Quami Movement, which has a stranglehold on city politics.
"Due to the power of the larger and stronger parties, we are asking for trouble," she said. "They will not cooperate with us."
Rana herself is not confident of victory. She's too poor to print many posters to raise her profile, although there is one proudly displayed above the thin mattress on the floor in her bedroom. Threats have kept her from holding meetings - the more she campaigns, the more hate-filled phone calls she gets.
She doesn't know who is threatening her, and sees no point in calling police - everyone who is campaigning is getting threats.
"Even if I die, I don't think that I will get any justice," she said. "No one's murderers can be brought to task in Pakistan."
More than 100 people have been killed in election-related violence, most by Taliban bombings. In Karachi, the city she calls home, a traditional way of campaigning is to show up at the scene of a bombing and offer financial help.
"I don't even have enough (to buy) tissues to hand to the victims so they could wipe away their tears," Rana said.
Instead, she has the support of family and friends she has made during her career. Her family, after initially criticising her life as a hijra, has come to accept it. Her sister has promised to bring her friends to the polling station to vote for her.
And even if she's not elected, in a way she's already won just by standing. She had to lodge a case in the Supreme Court to get her nomination papers accepted after doubts over her gender. The ruling in her favour opened the way for future candidates.
"That really was the best day of my life!" she said happily, as the afternoon sun flooded in through the single small window in her apartment.
"I got respect from my community and all the people I know. Now I feel that I even if I die, my name will live on." (Writing by Katharine Houreld; Editing by Raju Gopalakrishnan)

Related
Before You Go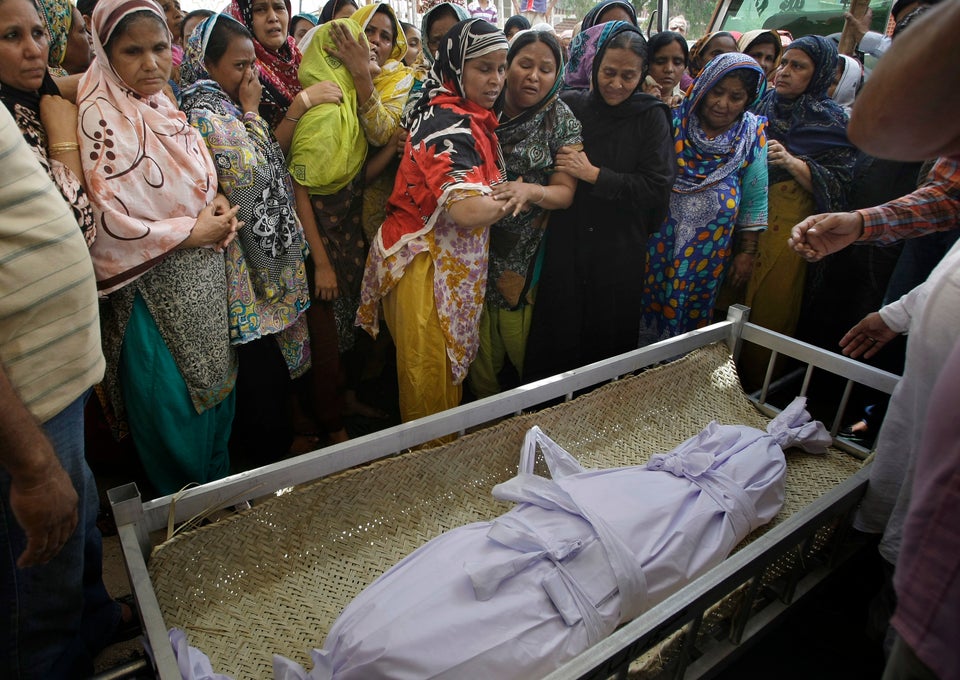 Pakistan Pre-Election Violence (WARNING: Graphic Images)
Popular in the Community