Love Illustrated is a HuffPost comic series that captures the realities of modern love.
A study published last year in the Journal of Social and Personal Relationships suggested that the more hours couples spent watching TV together, the closer they felt with their partners and the more satisfied they were with their relationships.
Netflix-and-actually-chill may be positive for your relationship, but it's not so great for your social life, as the cute comic by YoMeryl below illustrates: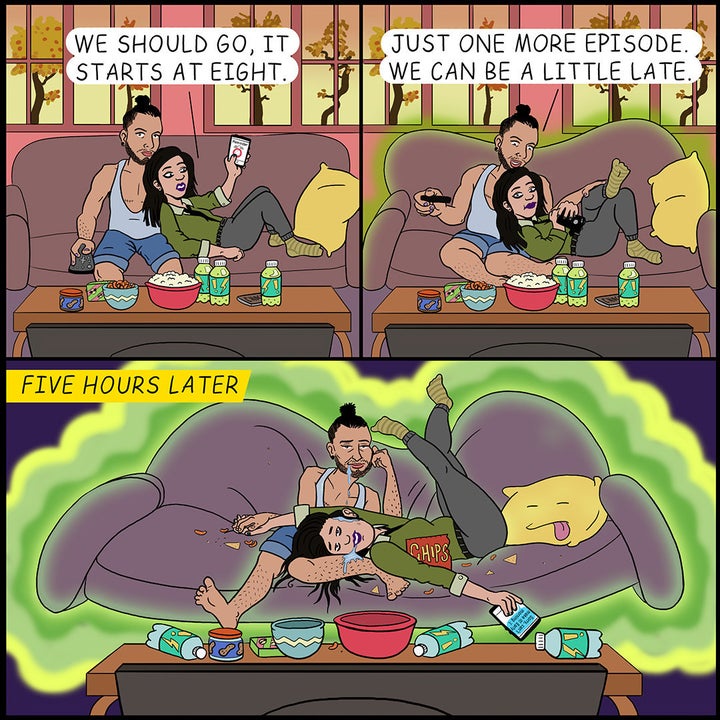 The comic was produced by Sarah Zucker and Bronwyn Lundberg, a Los Angeles-based married couple and the creative force behind YoMeryl. (Lundberg illustrates and animates their work and Zucker serves as the writer and director.)
The pair have been together for five years, and in that time, they've lost plenty of hours to the TV. Right now, they're binge-watching "The Crown."
"Our couch has a stronger gravitational pull than Jupiter," Zucker told HuffPost. "Going out and seeing people and doing things is fun, too; at least, that's what we say to ourselves before we realize the couch has fully taken hold and our life force is dwindling."
Creatrs is a collective of Tumblr's most talented artists. HuffPost has partnered with Tumblr — which is also owned by Oath, HuffPost's parent company — to create this original illustrated series.