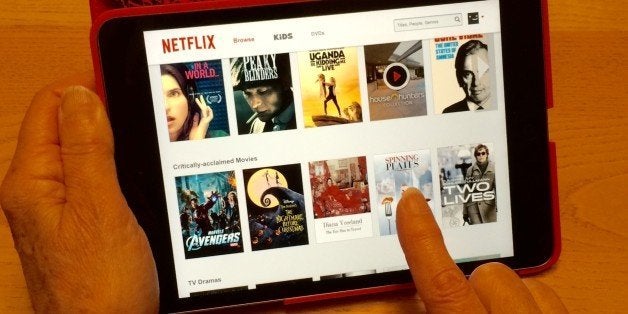 We are becoming a nation of blue-faced zombies, hunkered down in front of our screens and watching our stories.
Fifty-percent of adults now identify as binge-viewers, meaning they're watching multiple episodes of a TV show back-to-back, according to a new study of 1,000 adults with pay TV subscriptions released by accounting firm PricewaterhouseCoopers. The percentage was even higher for those under 35.
More than half of survey respondents admitted they binged more frequently in 2014 than they did last year, and 60 percent said they string three or more episodes together at least once a month. More than half of millennials say they do so daily or weekly.
Netflix popularized binge watching, a fact the company is proud of, but it's not just Netflix fueling this trend. The survey notes that an explosion of quality drama on cable, Netflix and other streaming sites is driving more viewership.
Sixty-one percent of those surveyed agreed with the statement, "there are too many shows to watch, and not enough time to watch them."
"They are binge-viewing just to keep up," Matt Lieberman, director of PwC's entertainment, media and communications practice, told The Huffington Post in an emailed statement.
Binge watchers are also big proponents of the second-screen: Sixty-two percent of the people surveyed use their mobile phones while they're watching TV.
Viewers are also turning to multiple outlets just to access the shows they want, according to Lieberman. If you want to power through "The Good Wife," for instance, you might need a Hulu Plus subscription because it's not available on Netflix. If you're looking for "Orange is the New Black," on the other hand, you need Netflix. In other words, people are willing to pay extra to access as many shows as possible, even if they're overwhelmed by the choices.
"We heard stories of consumers filling up their DVRs with their favorite series and also starting/stopping online subscription services just to get to their favorite content," Lieberman said.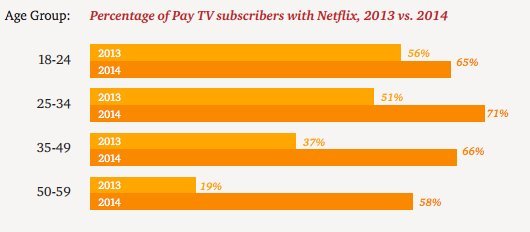 Responses to PwC's recent survey indicate that more and more cable subscribers are also signing up for Netflix subscriptions.
As Netflix subscriptions rise -- the service saw a 20 percent increase in paid U.S. subscriptions this year -- pay TV's subscriptions are falling. PwC notes that there was a 6 percent drop in cable subscriptions in 2014 for those under the age of 35. Middle-aged folks, 35-49 years-old, didn't cut the cord, though. And there was about a 1 percent uptick in subscriptions for those between 50 and 59 years old.
Though they're not rapidly cutting the cord now, respondents to the PwC survey indicated they're interested in jumping ship down the line: Only 42 percent expect that they'll have cable TV service in 10 years.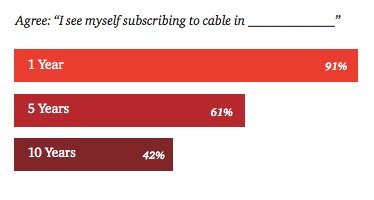 The future of cable according to the PwC survey.
Popular in the Community