After shopping for a bounty of beautiful and vibrantly colored fruits and vegetables, it gives me joy to display them like master paintings throughout the kitchen. However, more often than not, these treasured perfections inexcusably lack in flavor. One can be assured that if the taste is deficient then the nutritional value is equally as compromised.

So what's the story behind the smoke and mirrors? Over the course of the five-month bio-nutrient soil study that I've been conducting on an organic farm in Thermal, Ca (near Palm Springs), I've had the privilege to access cutting edge scientists doing groundbreaking work. They are revealing the secrets of the delicate waltz of varied organisms that live in a healthy soil. If organisms are thriving in a nutrient rich soil, you can be guaranteed both an explosion of flavor in your produce and exponentially enhanced nutrition... gratis, free of charge, bonus! This is because, every vegetable and fruit has a "maximum capacity nutrient density" that is the full realization of its DNA potential. Everyone wants more inherent nutritional value, not the hollow visual appeal of genetically modified produce, which is altered for its salability factor and shelf life.
Who is this underground cast and crew of organisms and what do they bring to the table, literally? These creatures are the living containers of natural fertilizers. They break down organic matter into nutrients in a form plants can absorb. These organisms act as miners for the plants in exchange for sugars from the plant roots for their own dietary needs. They mine far beyond the reach of the roots to deliver a nutrient dense food supply otherwise not available to the plant in its immediate vicinity. Correspondingly the vitality of the plant is passed on to us when we consume it, promoting our health and well-being. This new type of bio-nutrient dense farming aims for the highest concentration of vitamins, minerals, antioxidants, phyto-nutrients and proteins. If the soil is not a highly functional biological system, the produce will not provide the nutritional value it is fully capable of, even though it may look terrific. This is a reflection of depleted soil, battered by conventional farming practices.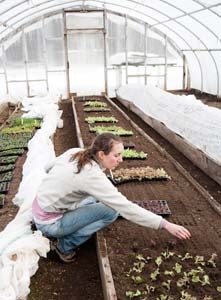 In the last blog, Rebecca Kraus, a reader, asked for information on adding nutrients to the soil. Here's a brief overview of how to orchestrate the waltz played out a few inches below the soil surface. First, two soil tests will help you understand the condition of your soil. The first test is a comprehensive analysis. The second test measures the biology of the soil: select total mass of bacteria and fungi, the miners in your garden soil. Based on the results, you can then request the lab's recommendation for organic amendments to bring your soil into biological balance. The cost is minimal compared to cost of buying and applying unnecessary amendments.
After adding the proper amendments, you should maintain your soil throughout the year. One way to do this is to add at least three inches of compost in the fall and/or early spring. During the growing season for your region, use green manures like lawn clippings over the beds to suppress weeds and provide a quick source of nitrogen and sugar. Though don't use them if they formed seed heads before cutting otherwise you'll be planting grass in your beds! Hay is another source of nitrogen and sugar and also suppresses weeds. Keep the clippings or hay a couple inches away from where the stems meet the soil. Do not use brown manures such as wood chips or dried leaves, as they will compete for nitrogen. During the off -season in winter, growing cover crops reinvigorates the soil. It protects the over-wintered crops from cold, discourages soil runoff and reconditions the soil come spring. In early spring, the cover crops can be turned into the soil as another green manure to prepare your beds.
For people who don't have time to track down local resources for organic compost, mulch, fertilizers, seeds and plants, these can now be purchased online to be delivered directly to your door. William-Sonoma has just launched a new Agrarian division, that provides products to create your successful food garden. Their offerings are comprehensive, from chicken coops to raised beds to probiotic amendments. How exciting... that a company of this stature is making a substantial commercial commitment to the agrarian life. I was thrilled to see in their catalog, various soils and amendments produced by Stone Barns Center for Food and Agriculture.
Stone Barns supports initiatives to create a healthy and sustainable food system. Their aim is to improve both conventional farming practices and the way America eats. I volunteered at Stone Barns last year to learn about amendments, seeding, transplanting and making beds in their 25,000 sq ft glass green house. During their compost workshop, I also came to appreciate the fine quality of the compost that they produce at their farm. So, how enticing to see an assortment of Stone Barns amendments, soils and compost in the Williams Sonoma Agrarian Catalogue.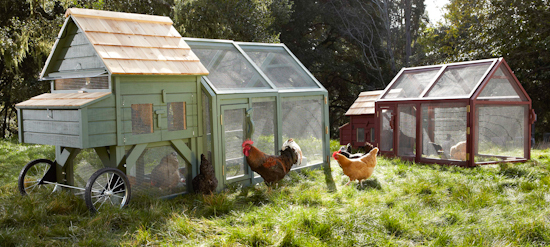 I will soon have the results of my bio-nutrient soil study. The raw data from the study is now trickling in from the labs, and the scientific analysis will surprise you. In a few weeks, I will provide more news on this new frontier of bio-nutrient dense farming.
The utmost in nutrition that we so desire for ourselves is found originally in the soil. Ultimately, a healthy biologically balanced soil should be the objective for our crops, for our gardens, for our families, for all living things.
Here's to a healthier planet... Julie
Related