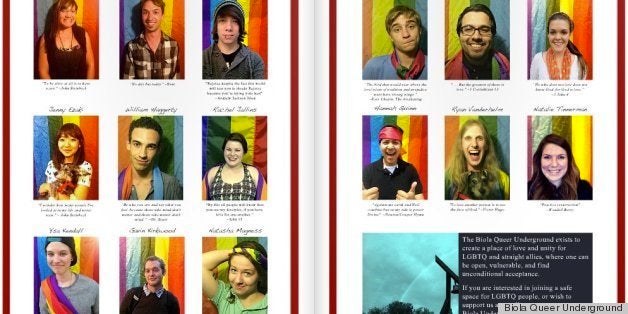 This week I was introduced to an online yearbook published by students of the Biola Queer Underground, an unsanctioned student organization at Biola University, a conservative Christian college outside Los Angeles. The photo layout in the publication features 15 brave students who used this creative medium to come out to their friends and faculty as lesbian, gay, bisexual, transgender or queer (LGBTQ) on the eve of graduation. Their goal was to "stand in the gap" for current students who cannot come out for fear of being expelled.
I want to applaud them and suggest that Jesus would be proud of them. They understand Jesus' "third way" of nonviolent resistance to oppression and exclusion, and they are living this approach out, loud and proud. They are at the epicenter of an epidemic of freedom on their campus and in their own lives. Stigma imprisons us. Truth liberates us. Coming out is an act of love for oneself, one's neighbor and God (Mark 12:30-31). We simply cannot live out Jesus' trifecta of love while hiding in a closet and being afraid. When we come out in love, the world gets better for everyone.
The Biola Queer Underground students are trying to right the wrongs on their campus, but they are suffering reprisals as a result of their efforts. Sadly, one of the people leading the charges against the Biola Queer Underground is the chair of biblical and theological studies at Biola, Dr. Erik Thoennes. This award-winning faculty member could be leading a revolution of compassion as exemplified by Jesus Christ, but instead he is using his power and privilege as a white, heterosexual male to publicly liken the sin of racism to the "sin" of being queer. In an open campus forum and panel discussion on human sexuality, Thoennes singled out the Biola Queer Underground, reading the group's mission statement and substituting the word "racist" wherever the word "queer" occurred. He concluded his castigation of the students and their mission with his opinion that although Biola faculty and students are free to condemn racism, they feel "far less freedom" to condemn the "sin" of being queer. In other words, a majority of white heterosexual Christian men (75 percent of the faculty at Biola) feel victimized when sexual and gender minorities seek relief from overt discrimination, according to the professor. When a student present at the forum asked why there were no pro-LGBTQ Christian voices on the panel, Thoennes answered, "Because we think it's sin. I wouldn't want a pro-racist person on this panel if the question were racism." (You can hear all of Dr. Thoennes' comments here.)
Jos Charles, a Biola alumnus and an affiliate of the Biola Queer Underground, has penned an open letter outlining the problems with Dr. Thoennes' comparison and asking him to dialogue publicly with the Biola Queer Underground students about racism, homophobia and transphobia. Charles begins by naming the oppressive conditions on campus for LGBTQ students and the harm that Dr. Thoennes did in equating them with racists:
[At Biola] professors shame queer students with slurs and tolerate bullying in the classroom. Campus security polices whether same-gender couples can hold hands or publicly express their gender identities. The Biola Queer Underground frequently has their event posters removed by administration. At Biola, queer oppression is institutionalized. ... Dr. Thoennes' comments institutionally encourage attacks -- whether it's through a half-joking slur or physical assault. Dr. Thoennes cheered on our oppression. He took the bully's side.
Charles then dismantles Dr. Thoennes' claim of being oppressed by not "being able" to practice prejudice against LGBTQ people:
Thoennes implied that cisgender, heterosexual students and faculty are "victims" of the BQU. His attempt to shift himself to "victim-status" is clear in phrases such as "feel[ing] far less freedom" to call queerness sinful than racism and his considering LGBTQ people "a tidal wave of opposition." The analogy drew on a racist trope of queer people as white and people of color as straight. Queer students of color were doubly ostracized by the comparison.
After calling Dr. Thoennes out for this inflammatory analogy, Charles makes a truly insightful statement, pointing out the common patriarchal roots of racism, homophobia and transphobia:
[Dr. Thoennes] spoke of homosexuality and racism as both active, conscious choices; however, not only is homosexuality not a conscious choice, neither is racism. To treat racism without discussing privilege, material exploitation, and power, is a distortion. It removes racism from its historical context, a context that has largely benefitted white Christians like Dr. Thoennes.
If Christians are going to discuss topics like race and sexuality we have to start from acknowledging Christianity's historically held center of power, which has been key in the spreading of racism, homophobia, transphobia, and patriarchy.
And there's the rub. We may object to Dr. Thoennes' and the Biola administration's homophobia and transphobia, but the problem is deeper than the policies of one school. Dr. Thoennes could make the same statements outside the Biola campus and get by with them; in fact, he'd be commended for "standing up for his values" by other conservative Christians.
We need an unbridled movement of clarification about what it really means to be Christian: an epidemic of freedom to tell the truth as Jesus tells it, not as the church distorts it.
In Jesus and Nonviolence: A Third Way, author Walter Wink describes this "third way" that Jesus modeled (you can read about it for yourself in the Bible in the book of Mark):
The movements of Jesus seem to be a blitzkrieg. The word immediately appears eleven times in chapter one alone. Jesus' teaching threatens the authorities. They demonize him, overestimate his following, view him as seditious and evil. They mistake his proclamation of the coming Reign of God as a manifesto for military revolution. Jesus wades into the hostile belly of the powerful and privileged of Jerusalem, setting simple truth against unequaled force. The threatened authorities resort to death as deterrent, only to discover that the cross gives birth to an epidemic of freedom. The movement that should have died became a world religion.
Christian LGBTQ people and their allies are on the move in a blitzkrieg, creating an epidemic of freedom, a movement that makes no sense to some people: Why would people condemned by the Church stay in it and try to make it better?
Because Jesus calls us to do so.
The Biola Queer Underground students have heard this call. They are lifting themselves out of oppression and following the "third way" of Jesus Christ by (1) identifying wrong in their local community, (2) personalizing the wrong, (3) focusing intensely on it and (4) bearing the truth in love. They are models for all of us. And if we choose, we can take the same four steps in our own families, churches and communities.
My prayer today is that people all over the world will send their expressions of encouragement to the 15 brave students at Biola. You can do so by commenting on this blog post, and I will compile your statements of support and encouragement for them.
"For Jesus is our peace, who has made the two groups one and has destroyed the barrier, the dividing wall of hostility between us."
--Ephesians 2:14
REAL LIFE. REAL NEWS. REAL VOICES.
Help us tell more of the stories that matter from voices that too often remain unheard.