I've been shamefully walking around with a lot of dead skin cells, and I needed to go beyond my Clarisonic cleansing brush. Enter: Biologique Recherche Lotion P50 V.
This lotion is unlike any other I've come across, as it is penetrates deep into the skin to exfoliate, tone and hydrate. No wonder it's touted as being a "facial in a bottle." Plus, esthetician and owner of Rescue Spa Danuta Mieloch told me that if I smoothed this onto my skin faithfully I would end up with a glowy complexion like Halle Berry.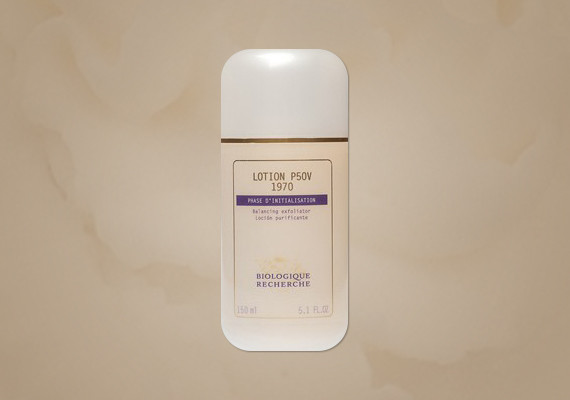 Biologique Recherche Lotion P50 V, biologique-recherche.us.
I've used the P50 V Lotion after washing my face with the Lait U cleanser twice a day for the past month. Saturating a cotton ball with the yellow-hued exfoliator, I then pressed it into my skin to pick up any leftover dirt and debris. (Yeah, it was pretty filthy.)
While the initial tingling sensation (thanks to active ingredients like onion extract and salicylic acid) caught me off guard, I couldn't be more excited about the gradual brightening of my face, neck and décolletage. And I got results so fast, I've cut back on my usage of P50 V Lotion to just nighttime. Because washing my face before bed is what really matters...
Rating: 4 out of 5. Once you get over the slightly scary tingling sensation, you're on your way to some seriously radiant skin.
*Biologique Recherche provided a sample of this product for review purposes.
Related