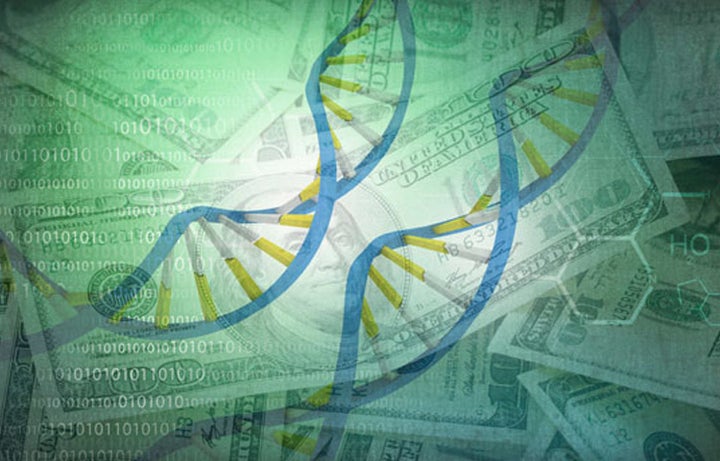 The Nasdaq biotech index (IBB) has held a 10th day straight of the recent uptrend after falling earlier in November. Much of the market's attention has been on the bitcoin boom but a real opportunity could be presenting itself with other industry outside of this new cryptocurrency trend. Many hedge funds are also beginning to recognize this latest biotech move.
Theorem Group, for instance, reported a SC 13G form with the SEC for GT Biopharma, Inc. (GTBP). The filler owns 7.1% or 3,540,130 shares of the company and at a current price of roughly $4.80, that's no small sum. Why such an investment in a company like GT Biopharma? Many would say that the simple reason comes down to potential.
When you look at other companies taking a similar approach to cancer therapy, efficacy and affordability is key. Earlier this year the FDA approved cell therapy, Kymriah from Novartis. This one time treatment doesn't come cheap. Kymriah, which costs $475,000 for a one-time dose is also limited to who can use it. The drug is a prescription cancer treatment but can only be used in patients up to 25 years old.
They will also need to have acute lymphoblastic leukemia that is either relapsing (went into remission, then came back) or refractory (did not go into remission with other leukemia treatments).
GT Biopharma (GTBP) is the result of the merger between Georgetown Translational Pharmaceuticals and Oxis International. Now, the company is developing a pipeline of key therapies that have both near-term and mid-term potential marketability. The company is creating numerous oncology therapies with its lead therapy, OXS-1550 gaining attention for the same reasons that Novartis' drug did. The big differences are that it's less costly and a more widely effective cancer immunotherapy.
The low cost of OXS-1550, roughly $12,000.00 per patient is a significant savings when compared to another competitive therapy, "CAR-T" with a price per patient of around $500,000. To be specific, (GTBP)'s OXS-1550 is targeting the recent FDA approved cell therapy of Kymriah.
When you talk about a $12,000 treatment compared to a $475,000 treatment, it's not just about price but efficacy. Because this is a drug and not a "per person engineered therapy like CAR-T," it allows OXS -1550 to be sold to hundreds of thousands of patients per year with the goal of a similar outcome.
While it's no surprise that some of the biggest hedge funds have invested in Novartis, for example, some are beginning to see the true potential that GT Biopharma may be ready to offer. With the company building a team of industry vets, this continues to support the case in my opinion.
Dr. Clarence-Smith has come on board to captain the ship at GT Biopharma. Her track record of successes has been vast and her discoveries have led to several companies being acquired for their therapies. Though there is no "Midas touch," if Dr. Clarence-Smith were a pro baseball player, her "batting average" could put her in the hall of fame.
As the head of CNSdevelopment at Sanofi (SNY), Hoffmann-La Roche and Otsuka (OTSKF), Dr. Clarence-Smith developed, secured approval for and supported the launches of significant neurological treatments. This includes Abilify® (aripiprazole), which is a $7 billion peak-year sales pharmaceutical drug used in the treatment of schizophrenia and bipolar disorder.
More near-term proof of her ability can be clearly demonstrated with her work at Chase Pharmaceuticals. Dr. Clarence-Smith co-founded Chase Pharmaceuticals Corporation in Washington D.C. and served as Chairman of the company's Board from 2008 to 2014. The pharmaceutical company was acquired by Allergan, PLC in 2016 in a deal that with milestones could reach $1 billion.
Dr. Thomas N. Chase has also joined the GT Biopharma team. As I highlighted previously, Dr. Chase has more than 40 years experience in the discovery and clinical development new drugs for central nervous system disease, first at the National Institutes of Health, then as President and CEO of Hamilton Pharmaceuticals and of Chase Pharmaceuticals. Dr. Chase is an adviser to the board of GT Biopharma.
Furthermore, as recently as November 16, GT Biopharma (GTBP) announced that Shawn M. Cross has accepted the position of President and Chief Operating Officer. GT Biopharma Executive Chairman Anthony J. Cataldo said, "The addition of Shawn to our executive management team is important to continuing to advance the accomplishments we have achieved throughout this year. Shawn's experience in advising publicly traded emerging biotech companies, in key strategic arenas, provides timely expertise at this stage of the Company's growth and serves as a major milestone for the Company."
His 20 years of experience includes positions as Managing Director, Head of Biotechnology Investment Banking at Deutsche Bank Securities Inc. as well as Managing Director and Head of Biopharmaceutical Investment Banking at Wells Fargo Securities, LLC.
It should come as no surprise, again, that hedge funds are beginning to take notice. With a strong pipeline of additional therapies, (GTBP) could be one of the biotech stocks to watch as the biotech industry as a whole has started to see a lift heading into 2018.
Disclaimer: The author was not compensated personally for this article nor does he own any shares. The author of this article owns both MarijuanaStocks.com & BiotechStocks.com. MarijuanaStocks.com is owned by MAPH Enterprises LLC & has not been compensated for mentioning content on GTBP but BIOTECHSTOCKS.com is owned by MIDAM VENTURES LLC., a Florida Corporation that has been compensated $850,000.00 by a GT Biopharma Inc. for a period beginning August 1, 2017 and ending Oct. 1, 2017 now extended to Jan 1, 2018 to publicly disseminate information about (GTBP formerly OXISD). We own zero shares.
Popular in the Community