A flurry of legislation filed this week aiming to address college sexual assault suggests Republican lawmakers have ignored conservative pundits' insistence there is no campus rape epidemic.
The House Campus Safety and Accountability Act, spearheaded by Rep. Carolyn Maloney (D-N.Y.), includes 18 original co-sponsors, seven of which issued statements Thursday mentioning how the bill was bipartisan.
The 9 Republicans and 9 Democrats who have signed onto the bill are Maloney, Patrick Meehan (R-Pa.), Cheri Bustos (D-Ill.), Ted Poe (R-Texas), Suzanne Bonamici (D-Ore.), Susan Brooks (R-Ind.), Gwen Moore (D-Wis.), Renee Ellmers (R-N.C.), Lynn Jenkins (R-Kan.), Shelley Moore Capito (R-W.Va.), Tom Reed (R-N.Y.), Lucille Roybal-Allard (D-Calif.), Kristi Noem (R-S.D.), Bobby Scott (D-Va.), Lois Frankel (D-Fla.), David Joyce (R-Ohio), Gary Peters (D-Mich.) and Ann McLane Kuster (D-N.H.).
Wednesday's Senate version was equally divided with four Republicans and four Democrats presenting the bill. As of Thursday afternoon, Sens. Barbara Boxer (D-Calif.) and Lindsey Graham (R-S.C.) had added their names as co-sponsors.
"This bill represents a rare thing in Washington -- a truly collaborative, bipartisan effort -- and that bodes well for our shared fight to turn the tide against sexual violence on our campuses," McCaskill said at a press conference announcing the legislation.
Meehan, a Republican, also attached his name to a separate college sexual assault package, co-sponsored with Rep. Jackie Speier (D-Calif.) and introduced late Wednesday.
McCaskill and Gillibrand suggested they'd try to get a vote in the Senate this year. However, advocates are preparing to carry on a push for the laws into the next session of Congress.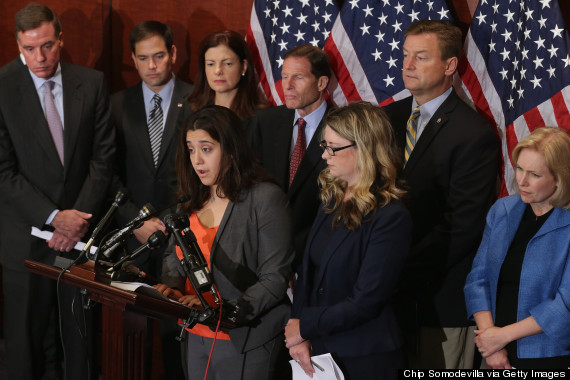 WASHINGTON, DC - JULY 30: End Rape on Campus co-founders Andrea Pino and Annie Clark, both survivors of sexual assult at the University of North Carolina, are joined by (L-R) Sen. Mark Warner (D-VA), Sen. Marco Rubio (R-VL), Sen. Kelly Ayotte (R-NH), Sen. Richard Blumenthal (D-CT), Sen. Dean Heller (R-NV) and Sen. Kirsten Gillibrand (D-NY) during a news conference about new legislation aimed at curbing sexual assults on college and university campuses at the U.S. Capitol Visitors Center July 30, 2014 in Washington, DC. With strong bipartisan support in the Senate, the bill would require schools to make public the result of anonymous surveys about campus assaults and impose significant financial burdens on universities that fail to comply with some of the lawÕs requirements. (Photo by Chip Somodevilla/Getty Images)
Calling all HuffPost superfans!
Sign up for membership to become a founding member and help shape HuffPost's next chapter
BEFORE YOU GO