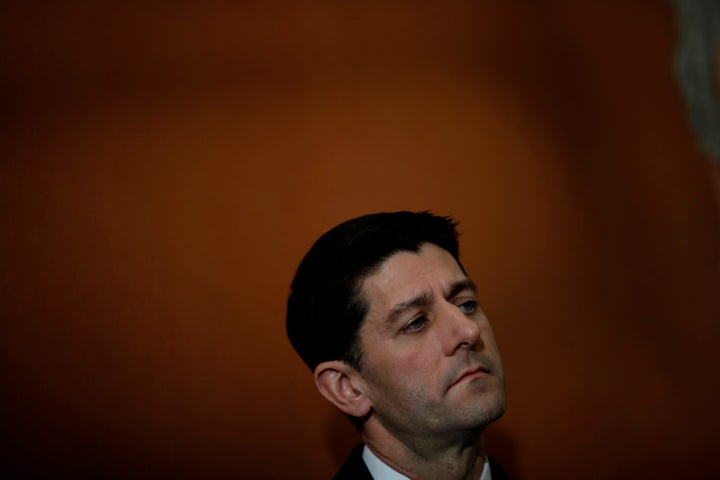 WASHINGTON ― As leaders from both parties closed in on a bipartisan agreement to raise overall spending caps, keep the government funded and potentially raise the debt ceiling, the most ardent Republicans and Democrats were trying to sink the deal Tuesday before it was even struck.
House Republicans passed yet another stopgap spending bill Tuesday night ― this time, one that would fund the Pentagon until October and other programs for six weeks ― by a vote of 245-182, with 228 Republicans and 17 Democrats voting yes, and eight Republicans and 174 Democrats opposed. Without a deal, the government is headed for another shutdown on Friday.
But the House measure isn't expected to go anywhere in the Senate. The idea wasn't so much to "jam" the Senate as it was to softly volley over legislation allowing lawmakers to strip the extended military funding and send it back to the House with a deal to significantly increase spending caps for two years ― adding more than $80 billion for defense per year, and $60 billion per year for non-defense programs ― while also possibly raising the debt ceiling.
"With those kind of spending numbers?" Freedom Caucus Chairman Mark Meadows (R-N.C.) responded when asked if he would vote for the deal. Meadows made it clear he wouldn't support it, and he estimated that Republicans would need at least 90 Democratic votes to get such a bill passed in the House.
When asked why Republicans would trust House Minority Leader Nancy Pelosi (D-Calif.) to come up with that many votes, Meadows said we were using the wrong term.
"Republicans?" he asked incredulously, refusing to acknowledge them as party colleagues.
When the question was narrowed to just Speaker Paul Ryan (R-Wis.), Meadows said he guessed Ryan had a deal because it seems to be happening.
Meadows was hardly the only conservative to speak against the tentative deal. Former Freedom Caucus Chairman Jim Jordan (R-Ohio) suggested headlines for HuffPost to make it clear he opposed the legislation. Rep. Dave Brat (R-Va.) said he hoped at least 200 Republicans would vote against such a deal. And Rep. Scott Perry (R-Pa.) suggested that Congress couldn't afford these caps increases.
"We're broke!" Perry said.
But the most liberal Democrats were just as animated Tuesday. Rep. Luis Gutierrez (D-Ill.), perhaps the strongest immigration advocate in Congress, said that if Pelosi made such a deal, it would be "a complete betrayal."
"That would be tantamount to me, tomorrow, walking away and saying you can close down every Planned Parenthood facility in the country," Gutierrez said, adding that he may never go to another Democratic Caucus breakfast if Pelosi cut a deal on spending caps without an agreement on the Deferred Action for Childhood Arrivals program for so-called Dreamers.
Other Democrats signaled reservations about accepting a spending cap deal without DACA, but most who spoke to HuffPost tried to remain open to the idea. Democratic Caucus Chairman Joe Crowley (D-N.Y.) said he would have to see what the deal looks like.
"I think DACA is not only a moral issue but an economic issue for our country," Crowley said. When pressed on whether he needed movement on DACA to vote yes, he repeated that he'd wait to see what the deal looked like.
Rep. Ro Khanna (D-Calif.) said he might oppose a deal on spending caps on the merits of increasing defense spending by so much, and he suggested he wanted action on DACA but was noncommittal ― as were John Lewis (D-Ga.), John Larson (D-Conn.) and Mark Takano (D-Calif.).
Aides reported Tuesday night that, while they were close to a deal, they were still negotiating ― and the sudden shifts from the bases in the GOP conference and the Democratic Caucus may give leaders extra pause. But the prospect of no deal was just as perilous for lawmakers, as the Senate would still reject the House-passed "cromnibus" ― a portmanteau of "CR," shorthand for "continuing resolution," and "omnibus" ― and either send back the bill as another six-week continuing resolution for spending on all government programs or send nothing back at all.
If they did send back a clean, temporary extension, that bill could still face trouble in the House, as conservatives and some defense hawks have already staked out the position that yet another stopgap bill is unacceptable for the military.
So the clearest path toward preventing another government shutdown is still for Republican and Democratic leaders to find an agreement on the spending caps ― a deal that is certain to draw opposition from factions of both parties.
For Democrats, the prospects of a shutdown appeared less precarious Tuesday after President Donald Trump said he'd "love to see a shutdown" if Congress couldn't agree on immigration. For many Republicans, still believing they got the better end of the last lapse in funding less than three weeks ago, there's little reason the GOP should agree to such large increases in government spending on the non-defense side. Many Republicans believe if Senate Democrats block the House-passed bill to keep the government open and fund the military until October, it would come back to hurt them in tough races this November.
But there were still some centrist lawmakers in both chambers who liked the broad outlines of the deal and hoped it would come together quickly.
As Sen. Lindsey Graham (R-S.C.) said Tuesday, "I think most people are not in loving-shutting-the-government-down mode."