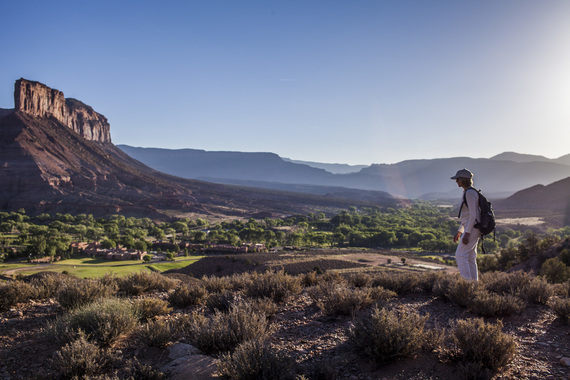 A hiker enjoys the Entrada trail on land owned by the Bureau of Land Management in Colorado. © Erika Nortemann
Despite last-minute efforts of senators from both parties, Congress last night allowed the Land and Water Conservation Fund (LWCF) to expire, halting 50 years of providing nature's benefits to Americans.
This was a colossal mistake. And we at the Nature Conservancy (TNC) are going to do something about it.
For the first time, TNC trustees from all 50 states and both political parties will visit Capitol Hill on Tuesday to tell their legislators that they need to fix this mistake as soon as possible.
TNC is a mainstream, pragmatic and nonpartisan organization. We want Congress to get this right. The U.S. cannot lose sight of its commitment to conserving public lands -- a uniquely American trait for much of our history.
More than a century ago, Americans decided conserving our natural resources was a national priority. Our National Park System was born, protecting federal lands in the mountains and deserts and quickly capturing the imaginations of the American people.
Initially most of this heroic work occurred in the West. As those western protected lands grew in popularity, it became clear that for all Americans to reap nature's benefits, the government would have to create more parks -- in the East, in cities and along coasts.
So Congress established the LWCF with bipartisan support in 1964. The fund -- which uses no taxpayer dollars -- generated up to $900 million every year from offshore drilling fees paid by oil and gas companies. The money was invested to grow and strengthen outdoor recreation areas and to support other important conservation programs.
In the decades that followed, LWCF produced tangible, lasting results for the American people.
For example, LWCF has supported projects in 98% of U.S. counties. The program helped create 3 million acres of parks, wildlife refuges and recreation areas from coast to coast. It supported creation of more than 29,000 recreation facilities, matched by local funds and driven by local priorities.
And the program evolved to help productive forests remain in private hands and protect historic battlefields. LWCF gave better access to the outdoors to millions of Americans, from hunters and fishermen to urban families.
And -- very importantly -- we now understand that land and water conservation has many other critical benefits, including protecting water supplies, reducing air pollution and shielding communities from the impacts of storms.
While many Americans may not know the LWCF by name, they definitely support its work. Record numbers of families are visiting local, state and national parks. A 2012 public opinion poll conducted by TNC found that 82% of likely voters supported reinvesting funds from oil and gas fees into land and water protection. This support transcends party and regional lines.
Americans cherish the grace, power and beauty of our land. We share a passion for outdoor recreation and value the idea of a National Park System. And we believe that these natural, recreational and historic resources should be accessible to all.
Congress should move quickly to repair its mistake and reauthorize the LWCF to ensure that critical funds continue to be invested in protecting our treasured wild places, in rebuilding once-beautiful city parks and in saving America's historic landmarks.
Related
Popular in the Community