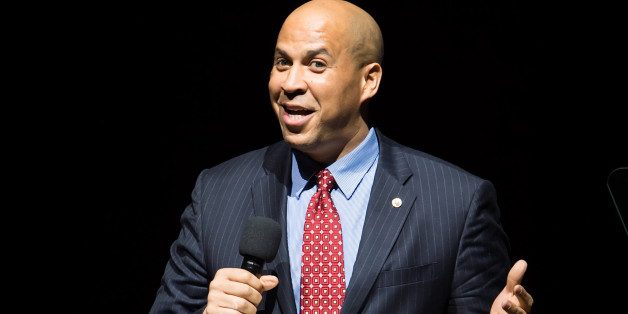 Republicans and Democrats in Congress may finally agree on something, and they want Americans to know about it.
This was the message repeated again and again on Thursday at the Bipartisan Summit on Criminal Justice Reform, where a group of lawmakers, activists and political operatives from different ideological backgrounds gathered to discuss ways to reform America's criminal justice system.
Hosted by former Obama administration adviser Van Jones and former House Speaker Newt Gingrich (R-Ga.), the event focused on the growing efforts at the state and federal level to tackle mass incarceration. Featuring a diverse lineup of speakers including Sens. Cory Booker (D-N.J.) and Mike Lee (R-Utah) and Attorney General Eric Holder, panelists spent the day discussing reform ideas that have broad bipartisan support, including reduced sentencing for nonviolent crimes, prisoner reentry programs and improved mental health treatment access for inmates.
Even the participants seemed amazed at the rare area for bipartisan cooperation.
"Maybe this is the biggest bipartisan gathering in this city in the past three or four years," Gingrich said after the summit.
"The stars are aligning. Did you ever think that you'd have [Jones] and the Koch Brothers together? Did you ever think you'd have Newt Gingrich and I sitting down trying to find solutions to problems?" Rep. Elijah Cummings (D-Md.) said.
The summit comes at a time when several new bipartisan criminal justice bills that have previously died in Congress may be gaining support. During a 20-minute conversation with Gingrich, Booker highlighted his efforts with Sen. Rand Paul (R-Ky.) on the REDEEM Act, a bill that proposes a number of reforms including placing limits on solitary confinement for minors and allowing some nonviolent criminals to seal their criminal records. Booker also praised Lee's Smarter Sentencing Act, cosponsored by Sen. Dick Durbin (D-Ill.), which would grant judges more sentencing discretion in nonviolent drug cases.
"There's a lot of good legislation and a lot of good energy," Booker said Thursday.
Many criminal justice reform efforts sit in a political sweet spot where Republicans and Democrats can agree without compromising traditional party principles. In a video shown at Thursday's event, Lee appealed to fiscal conservatives by noting the high financial costs of mass incarceration and how the tough-on-crime laws that led to increased sentencing demonstrated the harmful consequences of big government overreach.
Despite the optimistic bipartisan tone, some worried that the 2016 elections would derail progress on reform issues. Democrats like Booker and political strategist Donna Brazile urged legislative action this year before 2016 elections dominate politics.
"Before we even get into this presidential election, let's make this one of the top issues in America," Booker said.
But others said that the momentum of 2016 may drive a wave of support for reform. Gingrich told reporters at the summit that Republican presidential candidates will likely support some ideas to reform the criminal justice system.
"When it comes up in [presidential] debates, it'll be variations on the theme, and the general theme will be 'yes, that's right,'" Gingrich said.
REAL LIFE. REAL NEWS. REAL VOICES.
Help us tell more of the stories that matter from voices that too often remain unheard.
BEFORE YOU GO
PHOTO GALLERY
Scenes From Capitol Hill