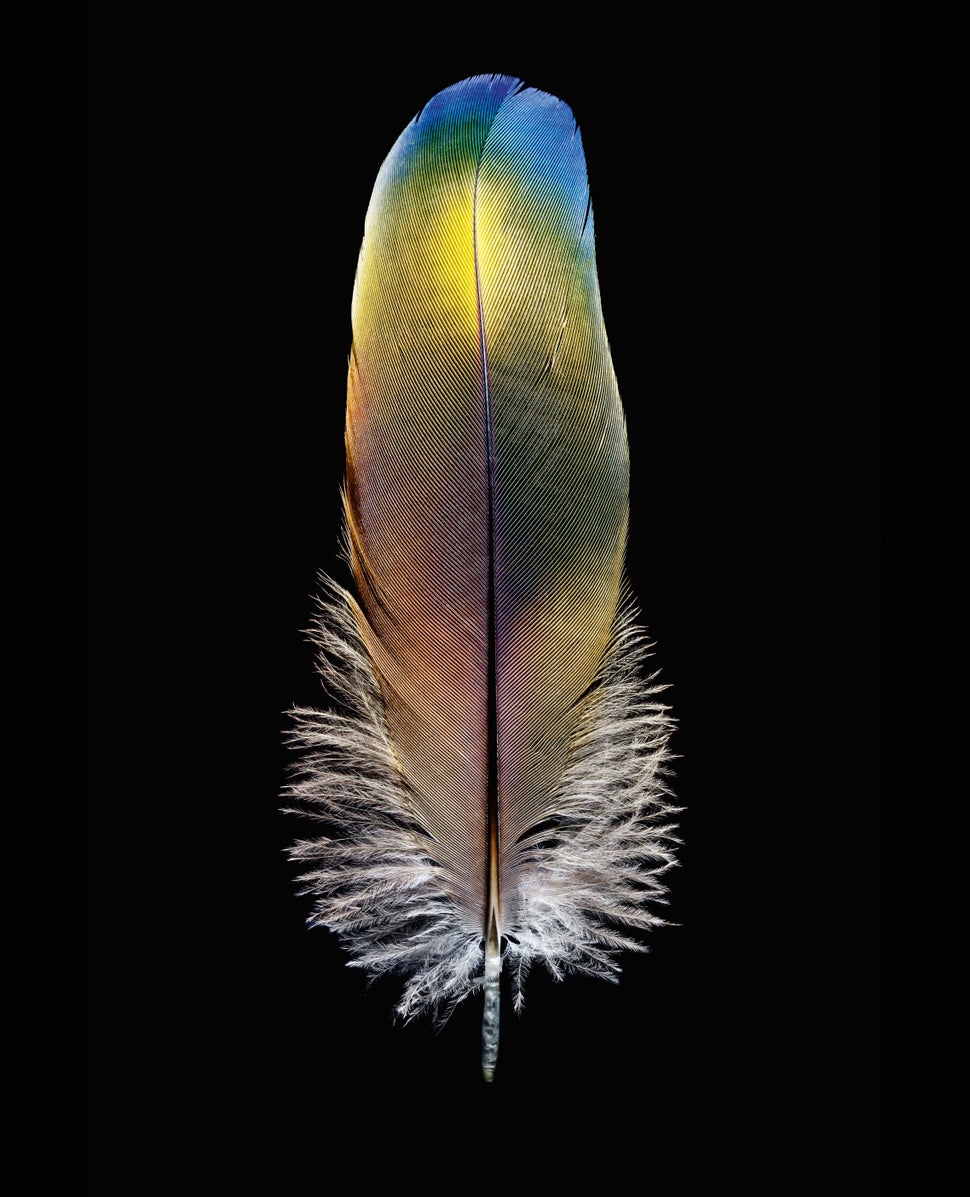 A riddle: What's as intricate as a thumbprint, but as bright as an emerald?
You might've guessed a pair of gleaming green eyes, or a leaf in early spring. But you probably didn't guess another product of nature that's less often the subject of poetic musings: a bird's feather.
Calling attention to the singular beauty of the functional objects, National Geographic photographer Robert Clark took intimate portraits of feathers and collected them in a new book, Feathers: Displays of Brilliant Plumage, treating them as subjects worthy of closer examination. 
In one of his feather portraits, a fluffy, brown object is topped by a sharp green peak. It's a blood pheasant's feather, and, as Clark described, it's designed not for flying, but for squeezing through tight spaces. In another image, rows of clashing patterns make for a dizzying sight -- leopard-like spots are topped off by a starry expanse and a ribbon-like row of deep, velvety blue. The great argus's feathers are quite the production; that's why they're used to attract mates. As is the King bird-of-paradise's plumage, which looks more like a copper-and-gem sculpture than something that could occur in nature, and indeed, Clark writes that its feather "serves non-mechanical purposes."
While the descriptions of the feathers are informative, gazing at the abstract compositions of each palette is a joy in its own right; it's enough to make you wonder why sunsets get all the credit when it comes to romantic natural phenomena.
REAL LIFE. REAL NEWS. REAL VOICES.
Help us tell more of the stories that matter from voices that too often remain unheard.