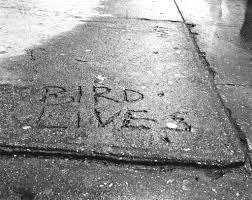 By Dan Ouellette, ZEALnyc Senior Editor, August 24, 2016
Modern graffiti was born when bebop king Charlie Parker tragically died at the age of 34 on March 12, 1955.
While the jazz saxophonist nicknamed Yardbird (or Bird for short) lived a relatively brief life, his legacy as the co-founder of a newfangled take on jazz loomed large in his shadow. He was heralded as a genius hero who brought jazz into the vanguard after being trapped in the swing era. Velocity and revolutionary harmonic ideas hit at the heart of Bird's astounding improvisation. He was freedom fighter for the music, paying the price of being an impoverished contrarian who became overcome by substance abuse.
Certainly Parker influenced and inspired future generations of jazz players. Miles Davis told Time magazine in 1973 that the "history of jazz can be told in four words: Louis Armstrong, Charlie Parker." Last year recorded tributes to Bird came from many important figures, including two Yardbird saxophone aficionados, Rudresh Mahanthappa with his Bird Calls album) and Joe Lovano with his Bird Songs recording--both widely recognized among the jazz cognoscente.
And earlier this year the Apollo Theater in Harlem staged its very first opera, Charlie Parker's Yardbird, for its New York premiere. The opera, with music composed by Daniel Schnyder and the libretto by Bridgette A. Wimberly, had debuted at the Kimmel Center in Philadelphia in June 2015. The show at the Apollo--only its second staging--featured renowned opera star Lawrence Brownlee who played the part of Charlie Parker.
This being his season (he was born on August 29, 1920), Bird's disciples still keep the flame blazing. Most noteworthy in New York is the newly expanded five-day celebration, City Parks Foundation's Charlie Parker Jazz Festival (Aug. 24-28). It features an array of artists some of who were contemporaries but more so younger artists exercising their musical right to break rules like their forefather did. Two days of free, rousing music takes place at Harlem's Marcus Garvey Park and one day at the East Village's Tomkins Square Park (click here for more details). Plus, the celebrated Birdland jazz club pays homage to its namesake with four evenings (Aug. 30-Sept.3) of music inspired by the iconic saxophonist (click here for more information). The featured artists include saxophonists Vincent Herring, Greg Osby and Eric Alexander, pianist Helen Sung, bassist Lonnie Plaxico, drummer Billy Drummond and vocalist Sheila Jordan who was a Bird groupie and friend back in the '50s.
So the music world was inspirited and continues to find a provocative vein in his innovations over a half-century later. But back when Parker was still alive, the greater arts community in New York also revered him, especially the avant-garde Beat generation poets, who gravitated to his breaking-rules jazz. Here's where the graffiti headline and leading graf come to play.
While the likes of Allen Ginsberg, Gary Snyder, Lawrence Ferlinghetti and Gregory Corso were the big names of the movement that questioned mainstream culture, there was a lesser-known Beat who loved Parker and believed in his swing away from the mainstream. His name was Ted Joans, whose work was steeped in the African-American oral tradition. He used to throw elaborate costume parties in the mid '50s which Parker attended. Soon after, Joans and his roommate took in Parker after they found him sprawled on a sidewalk outside a Village club. He lived there for the last few months of his life, finally succumbing in the Hotel Stanhope apartment of jazz philanthropist and patron Baroness de Koenigswarter (famous years later as Thelonious Monk's backer and confidant) one evening after being persuaded that he was too sick to travel to Boston to play a gig.
When his jazz hero died, Joans succinctly expressed that Parker was still breathing. He began a campaign of writing in chalk on streets and sidewalks and walls, "Bird Lives." Even though he was prolific in personally spreading the word, hundreds of more people took charge too. Bird Lives appeared everywhere in the city, from subway platforms to brownstone walls, in chalk, black crayon and even pressurized paint cans.
It wasn't until the '60s and into the '70s that graffiti took off and became an art form in itself--with its modern beginnings traced back to the iconoclastic Charlie Parker. A fitting tribute. Now occasionally a Bird Lives tag will show up, yet only rarely. But, with the prospects of a cultural and political and social clampdown looming on the horizon, don't be surprised by the reappearance of the two-word call to freedom.
__________________________________
Read more of Dan Ouellette through his features on Bobby Hutcherson and Top Jazz Festivals:
For all the news on New York City arts and culture, visit ZEALnyc Front Page.
Calling all HuffPost superfans!
Sign up for membership to become a founding member and help shape HuffPost's next chapter