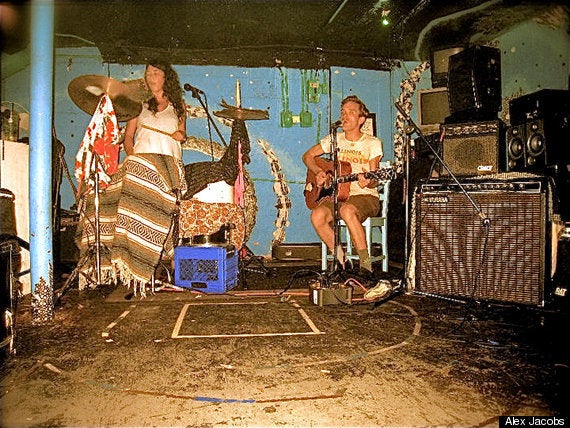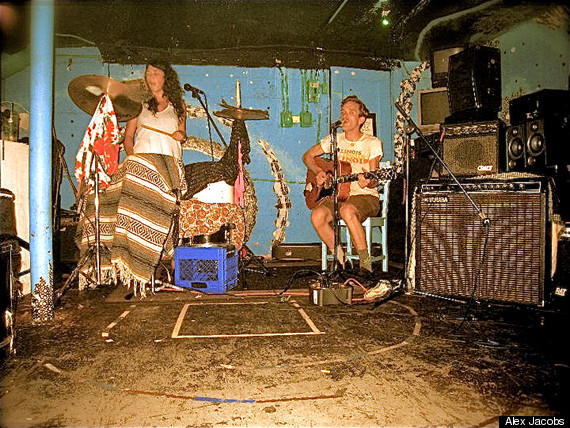 Chicago's Bird Names is the kind of band you want to love. Their sound is original, they've got sunny a disposition, and they play small, personal shows in basements, attics and garages across the country. The duo consists of drummer Phelan La Velle and guitarist David Lineal, both of whom sing, shout and yelp with an exuberance rarely witnessed amongst their peers.
Their set, though charming, wasn't much to write home about. I don't mean to suggest that the band was boring: they played their ramshackle pop songs capably and energetically. With the help of their DIY approach, they won the hearts and minds of the small audience within a matter of minutes. However, they failed to recreate the tonal character of their recorded material, which benefits from low fidelity recording and strange mixing techniques. I went in expecting the anachronistic feel that their albums convey, but it's hard to sound like you're coming out of an old phonograph when playing live. They didn't quite sound like a band from a land that doesn't exist playing in a decade that never happened (they do on record). Their songs were enjoyable, but ultimately underwhelming in a live setting.
The same held true for New Haven three-piece Procedure Club. Their debut album, Doomed Forever, should have been this summer's hit indie record. It has all the elements (fuzzy surf guitar, lazy female vocals and catchy melodies) that propelled Best Coast to relative fame and success. Despite the great songs, the band sounded scattered and disconnected on stage. Like Bird Names, they had trouble reproducing the pop genius they exhibit on record in their live show.
The real star of the show was the venue itself: the Silent Barn. Nestled on the border between Bushwick and Ridgewood, the three-floor space doubles as living quarters for the shows' organizers (literally, some bedrooms share a wall or two with the performance space). It boasts a rooftop kiddie pool, some beautifully decorated bathrooms and big, comfy couches right in front of the PA. The Silent Barn is more than a music venue though; they host cookouts, potlucks and art exhibitions too. It is also the base of operations for the bi-weekly publication Showpaper, which lists New York concerts more comprehensively than any website or magazine out there. Venture to the back room and you'll find Babycastles, an ornately decorated showcase of arcade games created by amateur video game developers. It even houses the Ditko zine library, which stocks over four hundred underground music, art and comic publications.
The Silent Barn provided the perfect backdrop to Bird Names' imperfect pop. Because the majority of the audience consisted of other bands from the roster, it felt more like they were playing to their community than to a crowd. This kind of show is a different experience than a concert at a Manhattan or Williamsburg venue. If you go in with an open mind though, it will end up being a rewarding one.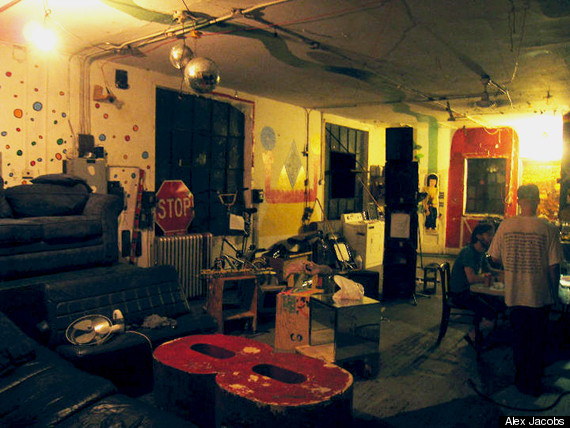 REAL LIFE. REAL NEWS. REAL VOICES.
Help us tell more of the stories that matter from voices that too often remain unheard.