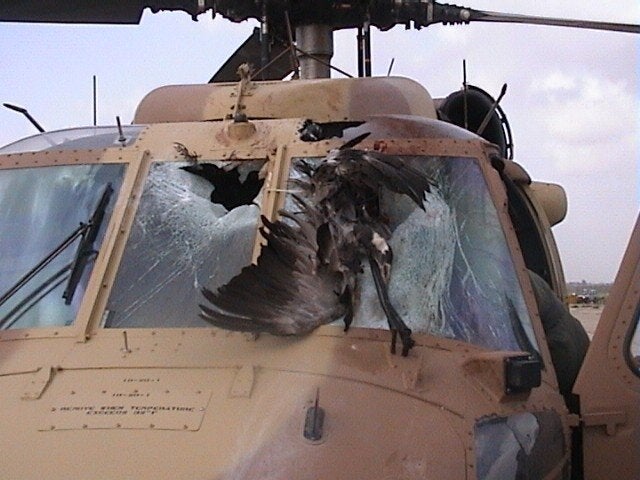 MSNBC is reporting that US Air Flight 1549, which has crashed into New York's Hudson River en route from LaGuardia Airport to Charlotte, NC, may have been felled by a flock of geese in what is known as a bird strike.
While it sounds absurd, the bird strike is a dangerous phenomenon well known to pilots and aviation enthusiasts alike.
Wikipedia says that bird strikes happen most often during take-off or landing, or during a low altitude flight. One potentially serious danger is jet engine ingestion, where the flock of birds is ingested into the engine:
Jet engine ingestion is extremely serious due to the rotation speed of the engine fan and engine design. As the bird strikes a fan blade, that blade can be displaced into another blade and so forth, causing a cascading failure. Jet engines are particularly vulnerable during the takeoff phase when the engine is turning at a very high speed.
As Wikipedia says, and as below photos demonstrate, bird strikes can cause serious danger to aircraft:
Bird strikes can damage vehicle components, or injure passengers. Flocks of birds are especially dangerous, and can lead to multiple strikes, and damage. Depending on the damage, aircraft at low altitudes or during take off and landing often cannot recover in time, and thus crash.
The Bird Strike Committe USA says that bird strikes cause over $600 million in damage in the US each year:
Bird and other wildlife strikes to aircraft annually cause well over $600 million in damage to U.S. civil and military aviation. Furthermore, these strikes put the lives of aircraft crew members and their passengers at risk: over 219 people have been killed worldwide as a result of wildlife strikes since 1988. Within the United States there was no one forum where information or concerns dealing with this problem could be addressed. Bird Strike Committee USA was formed in 1991 to facilitate the exchange of information, promote the collection and analysis of accurate wildlife strike data, promote the development of new technologies for reducing wildlife hazards, promote professionalism in wildlife management programs on airports through training and advocacy of high standards of conduct for airport biologists and bird patrol personnel, and be a liaison to similar organizations in other countries.
Bird strikes do have historical precedence in the United States. The Bird Strike Committee says that five large jet airlines have been brought down by birdstrike since 1975. Here is a list of bird strike occurrences.
Wikipedia also lists various bird strike incidents in the last few years:
In the summer of 2007, Delta Air Lines suffered an incident in Rome, Italy, as one of its B-767 aircraft, on takeoff, ingested yellow legged gulls into both engines. Although the aircraft returned to Rome safely, both engines were damaged and had to be changed. United Air Lines suffered a twin engine bird ingestion by a B-767 on departure from Chicago's O'Hare Field in the spring of 2007. One engine caught fire and bird remains were found in the other engine.

Virgin America Flight 837 performed an emergency landing at San Francisco International Airport on September 3 2007 due to a bird strike. The plane involved was "Air Colbert", named for host of The Colbert Report Stephen Colbert.

On April 29, 2007, a Thomsonfly Boeing 757 from Manchester Airport, UK to Lanzarote Airport, Spain suffered a bird strike when at least one bird, supposedly a heron, was ingested by the starboard engine. The plane landed safely back at Manchester Airport a while later. The incident was captured by a plane spotter, as well as the emergency call picked up by a plane spotter's radio. The video was later published.

On November 10, 2008, a Ryanair flight FR4102 Boeing 737 from Frankfurt to Rome made an emergency landing at Ciampino Airport after multiple bird strikes put both engines out of commission. After touchdown, the left main landing gear collapsed, and the aircraft briefly veered off the runway before the crew regained control. Passengers and crew were evacuated through the starboard emergency exits. Three passengers and two crew members were injured, none seriously.

On January 15, 2009, US Airways Flight 1549, headed from New York's LaGuardia Airport to North Carolina, was down in the river after a failed takeoff. A police source said the pilot radioed that he had experienced a bird strike.
See a slideshow of bird strike photos from around the web (WARNING: may be graphic photos):
Watch various Bird Strike Videos:
"Birds and planes are just incompatible," Ed Abrams, a supervisor with John F. Kennedy Airport's Bird Hazard Management Program, told Charles Siebert in 1993. (The plane that crashed today left from La Guardia.)

Siebert wrote in The Talk of the Town that J.F.K. implemented "bird sweeps" after a flock of gulls downed a DC-10 in 1975. Abrams rode around the runways with a megaphone, a horn, a starter pistol, and a shotgun. When the thermometer drops, Abrams said, birds flock to the busy runways, which are heated by the warmth of the engines.
Popular in the Community