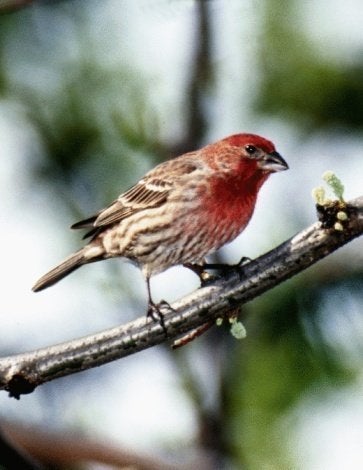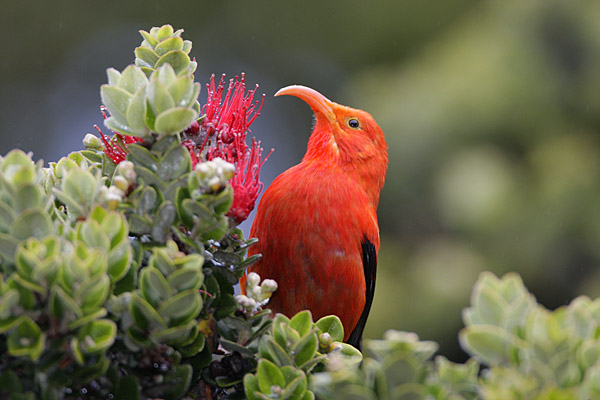 The results of last month's annual Hakalau Forest National Wildlife Refuge Bird Survey indicate that birds may colonize reforested areas much faster than experts had predicted. This year's surveyors spotted all five of the common native forest birds and four endangered forest birds within sections of the refuge that two short decades ago had been treeless areas dominated by non-native plants and animals. "I never thought I'd live to see this," said Jack Jeffrey, who coordinated this bird survey and was the refuge biologist from 1990-2008.
Hawaii's Hakalau (Hawaiian for "place of many perches") Forest Refuge was explicitly created in 1985 to preserve native forest birds and their habitat. Today the Hakalau NWR comprises almost 33,000 acres between 2,500 and 6,600 feet. By the time the refuge was established, however, more than 200 years' worth of damage from cattle, feral pigs, logging, fires, and noxious weeds had converted much of what had been a magnificent high elevation native rain forest into a vast ecological wasteland.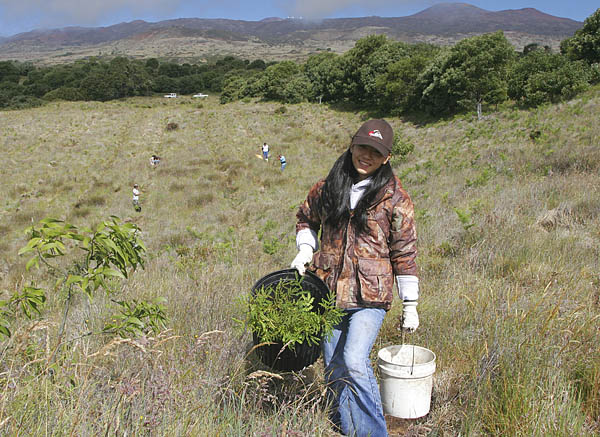 Hakalau Forest high elevation site before reforestation
Shortly after its creation, Hakalau's staff decided to try and restore that wasteland and reconnect it to the relatively pristine surviving rain forests below the refuge. "We wanted to create higher-elevation, high quality habitat for the native birds as quickly as possible," Jeffrey explained, "because we knew that the birds wouldn't leave the existing intact forest and fly out over those open pastures." (If global warming results in mosquitoes surviving at higher elevations, the birds will also need to keep moving upward to escape avian malaria.)
In 1989, the refuge staff and a band of dedicated volunteers began planting long strips of native, fast-growing Acacia koa trees up and down the pastures. Over time, they also planted a diverse assortment of other native species beneath the protective cover of their establishing koa canopies. Today these "koa corridors" stretch across the entire refuge and include over half a million native trees and thousands of endangered plants.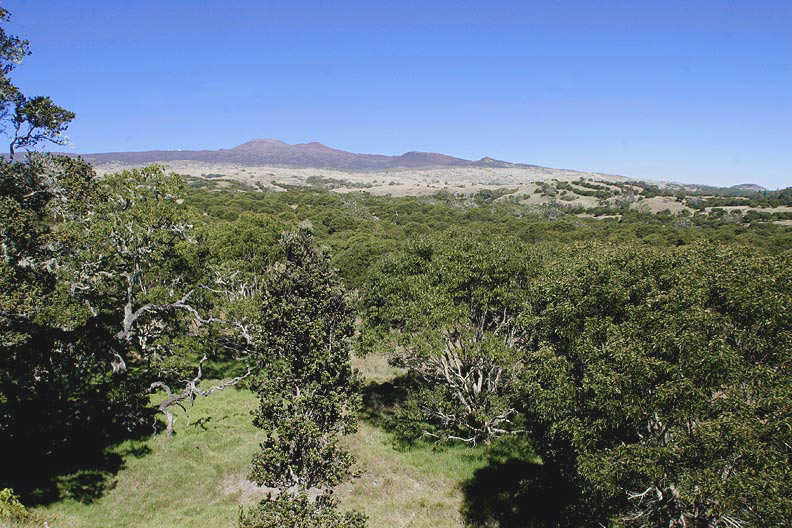 Hakalau Forest high elevation site after reforestation
Jeffrey stressed that with the refuge's tiny staff, modest operating budget, and myriad other responsibilities, there was no way they could have even attempted such an ambitious restoration project without their extensive volunteer program. In addition to their brute-force labor, these volunteers generated a tremendous amount of public education and outreach, which in turn provided critical support for their restoration program.
As demonstrated at Hakalau and in countless other projects, saving what remains of the world's natural areas and biological diversity now increasingly requires embracing the emerging paradigm of ecological restoration, which involves both assisting the recovery of degraded ecosystems and establishing healthy relationships between humans and nature. One of the most powerful and inspiring aspects of this approach to conservation is that its practitioners usually get to enjoy the sweet satisfaction of seeing degraded ecosystems and species reverse course and get better.
"In the beginning," Jeffrey recalled, "I was pessimistic because I was going to areas where birds that had been there in the not too distant past were now effectively gone. I even saw or heard what proved to be the last individuals of some bird species that are now extinct. But when I got into restoration, I started to realize that we can do things that make a big difference, and we can turn this whole thing around. The success we're having at places like Hakalau is very encouraging. Of course, the best part is that the birds have come back faster than I ever dreamed was possible -- that's the real proof that we're doing something right."
To learn more about the Hakalau Forest National Wildlife Refuge and how you can help sustain this restoration program, please visit Friends of Hakalau Forest .
Calling all HuffPost superfans!
Sign up for membership to become a founding member and help shape HuffPost's next chapter