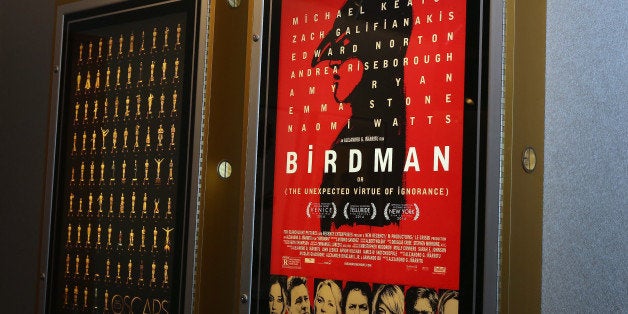 Antonio Sanchez is undoubtedly one of the world's best drummers. Although most recognized for his work with guitarist Pat Metheny, his fourth album as a leader, Three Times Three, will be released in March. He teaches around the globe, has won four Grammy awards, received damn near every degree in music and has his own signature stick. He's also created the most captivating score of 2014, for Alejandro Gonzalez Iñarritu's Birdman, and will not even see his name on an Oscar ballot.
The Academy Awards, like most accolade-based spectacles, is a glorified popularity contest. Though not as mind-numbing as its musical counterpart, the Oscars are more about who you're wearing than what you've brought to the filmmaking conversation. Hollywood is big business, and to ignore the fact that sitting in the dark with strangers, eating hilariously overpriced candy and staring at a screen isn't a product of numbers followed by many zeros would be misguided. I have to believe there is hope for the underdog, though, because when I was 13, Roberto Begnini's golds were more Olympic medal than Oscar statuette.
Mr. Sanchez won't even have the chance to be the underdog due to the Academy's rule stating, "scores diluted by use of tracked themes or other pre-existing music, diminished in impact by the predominant use of songs, or assembled from the music of more than one composer shall not be eligible." With a half hour of Sanchez's tenuous drumkit score and 17 minutes of incidental music by Mahler, Tchaikovsky and others, the fulcrum favors the former. The film, a tumbling yet fluid vignette and a commentary on the balance of life and art, rests solidly on the drums. Naked, acoustic drums. Reminiscent of Ry Cooder's stark guitar landscapes, director Iñarritu says, "the drums for me are the heartbeat of these actors... [they] helped me to get the spine to navigate, to get the flow, to get the rhythm." The score is in the very DNA of the film, which features drummer Nate Smith on camera in place of Sanchez, who was on tour with Metheny during shooting.
While composers have been disqualified in the past due to collaboration, this is a marked aberration in that it is bypassing a non-traditional, even avant garde score. These drums, based on improvisation and re-recorded to sound "a little dirtier, a little greasier... old and rusty and more organic," are quite literally the heartbeat of the film. Most films lack that human quality, that flesh and bloodiness that owes much to the heavy dose of Raymond Carver in the plot and stage management. Iñarritu, best known for his Amores Perros-21 Grams-Babel trilogy, brings these elements to the fore of his films, often focusing on mortality and death. Birdman echoes these themes, but the cinematic mastery on display and the steady crumbling of a few fourth walls adds alternate dimension. A non-innovative score would have felt wrong, especially with the classical pieces that Iñarritu calls, "in a way, great, but honestly if I would have put another good classical piece it would be the same film."
It's impossible to think that this score is not the subject of melodic prejudice. Drums, of course, have tone -- they're not simply pieces of animal skin stretched over hollow objects that were surely humankind's first instrument and the basis of all music in history, ever. My friend Chris, a Bonham-cast beast of a batteur who has broken more drum heads than I can safely count, was delighted when, as a teenager he showed me that his DW kit had tuning notes stamped inside the shells. I don't think he adhered to them, but if he had they were quickly beaten a few semitones flatter. Regardless of melody, the drumkit is a multi-timbral instrument contained in a (hopefully) tight and functional package, much like Birdman itself with its single-shot and theatrical aesthetics. Rarely does a score have its own identity, yet this one is an indispensable actor in an already tight cast.
Antonio Sanchez deserves an Oscar nomination. I know he's got one for the Golden Globes but that's just the Academy's "ruder, cruder, and boozier cousin." If Birdman or its actors are nominated for any Oscars, so should its score. There's even a petition for that. If you can side with the Academy, I salute you, but don't blame it on "jazz" or that it's "just drums." The mechanical facilities necessary for composing and performing the score are on par with anything by Alexandre Desplat or Hans Zimmer, and they best Trent Reznor and Atticus Ross, who apparently hit the "Social Network" button and slept through Gone Girl.
The Academy Awards -- sorry, The Oscars (we must rebrand it, we have the technology) -- should celebrate artistry and Hollywood ingenuity. Sure, this year is special because we saw it bend to the whims of a backward island nation (or was it Anonymous, was it Sony itself?!), but let's acknowledge a truly American story here: the work of a multicultural team spinning our obsession with superheroes on its head, questioning identity, realism and the very craft that the Oscars purport to award. Lest we forget, 2011's throwback pastiche The Artist won Best Original Score after leaning heavily on Bernard Hermann's work in Vertigo.
Films are evolving thanks to visionary artists -- seems like just yesterday Dorothy was stunned by technicolor. Time for the Academy to dust off their bones and realize it.
Popular in the Community