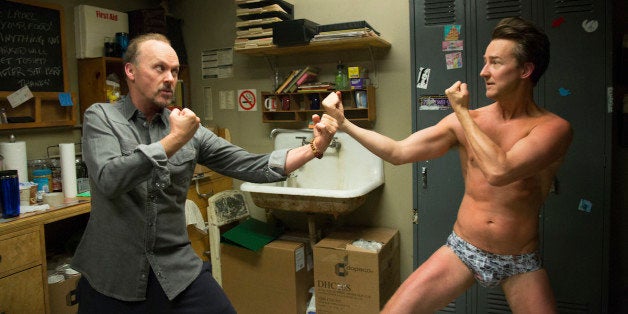 There's a moment in "Birdman" where actor Riggan Thomson (Michael Keaton), performing a preview of his new Broadway play, is desperate for fresh air. Wearing only a bathrobe, he steps through a side exit of Manhattan's St. James Theatre, shuts the door on his robe and discovers he's locked out. Riggan then makes a mad dash through Times Square, leaving the robe behind. A horde of onlookers whip out their phones to shoot viral-ready footage of his underwear-clad blunder, Riggan's folly illuminated by rows of blinding electronic billboards. The camera trails him as he wraps around to the front of the theater and re-enters through the back of the house just in time for his cue.
Keaton didn't make it through Times Square without hearing the word "cut," but we wouldn't know that. In fact, all of "Birdman" employs this continuous-action technique. Try to count the number of visible cuts found in the movie's two-hour running time. You probably won't need one hand.
Many have championed the mode in which "Birdman" is filmed. "For the first half of the movie, the antic motion rarely stops, and the maneuvering around corners and up stairs and between actors gives you a kind of high, like you're at an amusement park," Wesley Morris wrote for Grantland. "The epic steadicam take(s) mimic the way theater operates, with the actors becoming immersed to a degree unobtainable through a standard shot/reverse-shot filming strategy," The A.V. Club's A.A. Dowd wrote.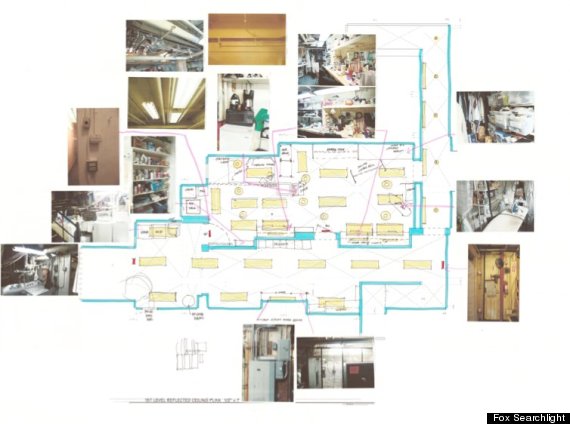 Thompson's sketch of the backstage set design for the St. James Theatre
Shifting from meditative melodramas like "21 Grams" and "Babel" to the biting dark comedy of "Birdman," director Alejandro González Iñárritu incorporates the unconventional editing method seamlessly, hiding cuts between glimpses of darkness. That's made possible by the work of production designer Kevin Thompson, who had to map out scenes that calibrated the heightened reality Iñárritu wanted the film to carry. Thompson told HuffPost Entertainment that he and Iñárritu wanted the backstage corridors and tiny dressing rooms in which much of the action occurs to feel like they were narrowing as the movie progresses. That left them stuffing small spaces with takes that sometimes took more than 10 minutes and required meticulous camera movement. Thompson, whose past production-design credits include "Stranger Than Fiction," "Michael Clayton" and "The Bourne Legacy," said the endeavor was more "liberating" than it was intimidating.
Iñárritu first approached Thompson with what he called a "laboratory experiment." To tell the story of Riggan adapting a Raymond Carver short story in hopes of mounting a career comeback, Thompson and the crew first plotted the set construction using a soundstage in Los Angeles, where the bulk of the "Birdman" cast lives. (The supporting ensemble includes Edward Norton, Emma Stone, Zach Galifianakis, Naomi Watts, Andrea Riseborough, Amy Ryan and Merritt Wever.) They'd rehearse scenes methodically so as to plot specific dimensions of the stage, halls and dressing rooms that house the interior action. Iñárritu knew he wanted to shoot in one of New York City's Broadway venues, but Thompson said it wasn't until about three weeks after rehearsals began that they landed the St. James Theatre.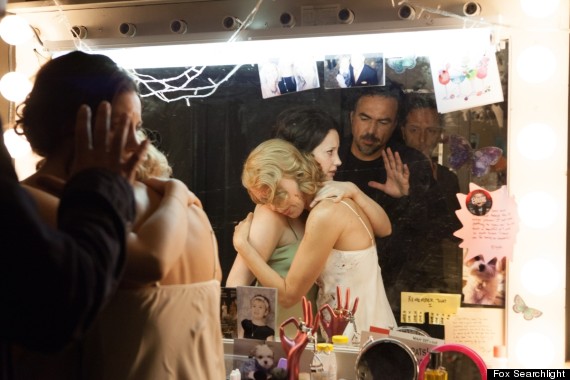 Iñárritu and director of photography Emmanuel Lubezki craft a dressing-room scene with Naomi Watts and Andrea Riseborough
"The L.A. set was just some initial things like putting tape on the floor and having the actors walk through and read through the script to see how big it needed to be and how long it would take to get from point A to point B in a scene," Thompson recalled. "So we took that template in L.A. and then we started building in New York. We didn't actually build anything until the later rehearsals in New York at [Kaufman Astoria Studios] in Queens."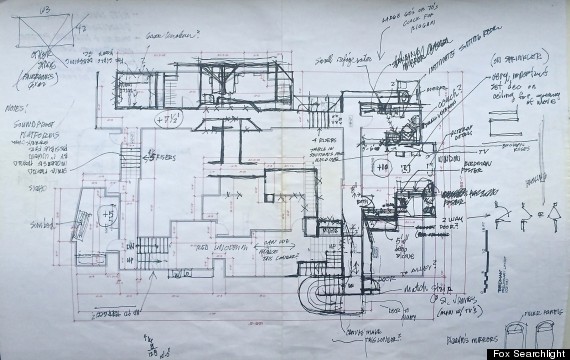 Thompson's sketch of the backstage set design for the St. James Theatre
In order to capture the frenzied feel of a theater production racing toward opening night and the philosophical reckoning that echoes through Riggan's head, Thompson set out to reconstruct the sets on a nightly basis once the shoot began. To emphasize claustrophobia, he and Iñárritu employed a crew that literally rebuilt walls overnight. The cast would return the next morning to find certain rooms 12 to 14 inches narrower. They scenic department would also remove ceilings and build new ones 18 inches lower to the floor.
That may seem like nothing compared to staging a scene in the ever-bustling epicenter of New York City, but Thompson says Riggan beelining through bedlam in his skivvies was a cinch compared to the constant moving parts that came with reshaping the interior sets. In fact, it's the accessibility of Times Square's open space that made the scene easy. It actually wasn't even filmed along one continuous walking path -- Thompson used four different locations about three blocks from one another, incorporating set pieces to carry the action. Keaton would enter through scaffolding in one spot, for example, and exit the same scaffolding in another to give the impression of a seamless trajectory. Instead of needing to dress entire sets (as with the theater, hospital and liquor store), the crew would reposition existing set pieces so as to place the action on "both sides of the cut." (The Daily Mail captured photos of Keaton filming in his underwear in June 2013, and amateur videos of the scene quietly appeared on YouTube around the same time.)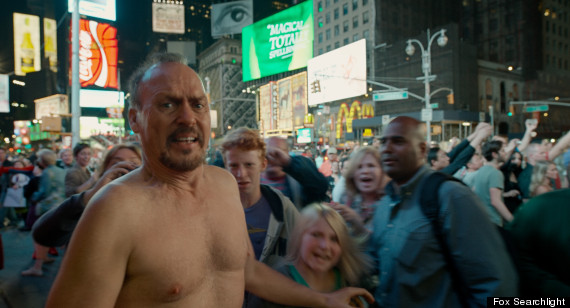 All of that pales in comparison to the movie's metaphysical components. Thompson and Iñárritu aimed to use as few visual effects as possible, so instances of Riggan controlling objects telepathically were accomplished without CGI. They were also often done while surrounded by dressing-room mirrors. Given the constraints of the space, Thompson had to arrange the mise-en-scène so that no cameras appeared in the mirrors and shadows didn't obstruct the lighting.
Those elements combine to form one of the year's strongest Oscar contenders. Already named Best Feature at the Gotham Awards and one of the National Board of Review's 10 best of the year, "Birdman" will likely transfer its tricky tactics to awards glory, including probable nominations for Iñárritu and cinematographer Emmanuel Lubezki, who won last year for "Gravity." Any film project is made up of moving parts, but those moving parts are usually perfected via post-production work. That's no different in "Birdman," except that the entire process had to lend itself to editing tricks that fostered Iñárritu's vision for a single continuous take. Reducing "Birdman" to its odds for winning awards shouldn't detract from what a feat it is. What could have been an overwrought attempt to make a movie unconventionally becomes both a stunning character study and a poignant dissertation on the trials of fame.
"It was really challenging to have all the elements together and to make them work, to make the camera work with it and have the set dressing in the right place at the right time," Thompson said. "A lot of the creative aspect of it behind the scenes -- the finishes, the fixtures, the scenic work, all of the details -- had to smell right and they had to feel right."
"Birdman" is currently in wide release.
Before You Go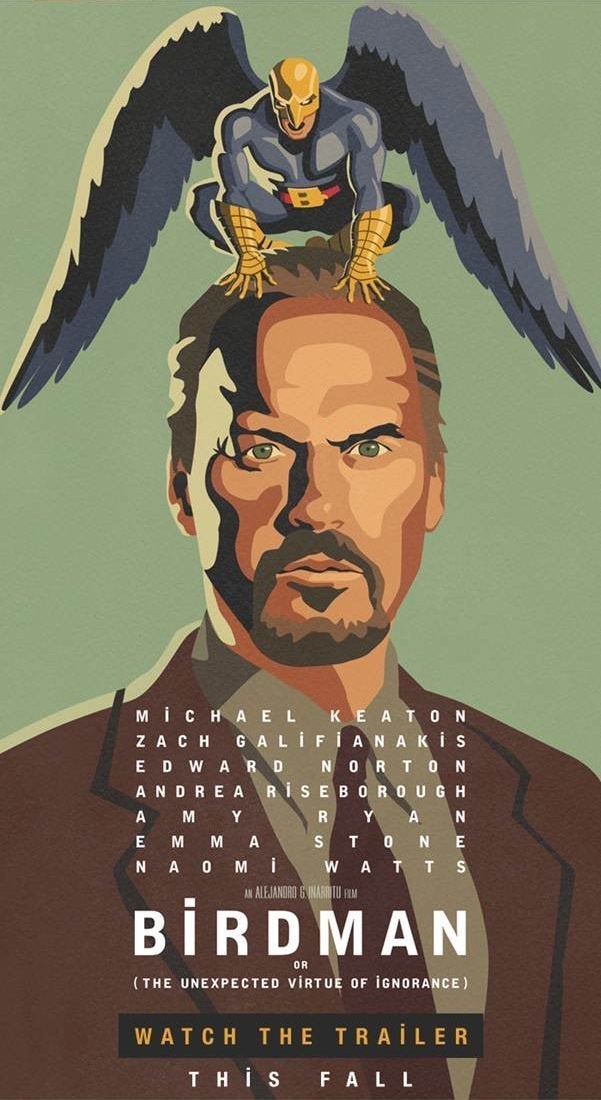 Birdman
Popular in the Community