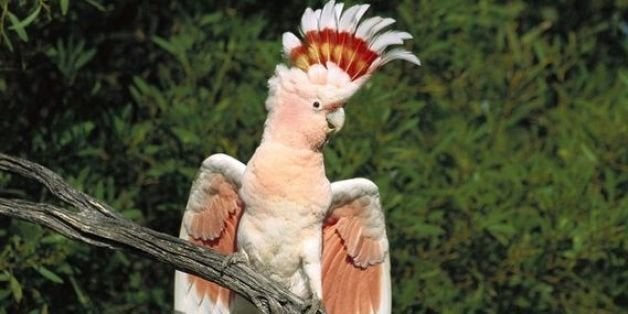 Unless you include Davey (the parakeet who, during his brief tenure in our home, liked to walk across my omelets), my family's fascination with bird life has been more artistic and scientific than pet-oriented. Long before I knew who John James Audobon was (or anything about his contributions to the study of ornithology), I recognized three of his paintings from their place on the wall behind my parents' bed.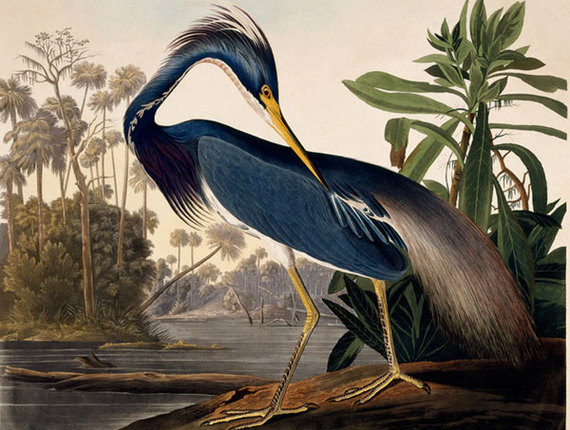 John James Audobon's painting of a Louisiana heron
Initially unaware of the transformation happening in each other's living rooms, my sister and I began decorating our homes with artwork based on owl themes. We currently take great delight in sharing videos and pictures of owls with family and friends on our Facebook feeds.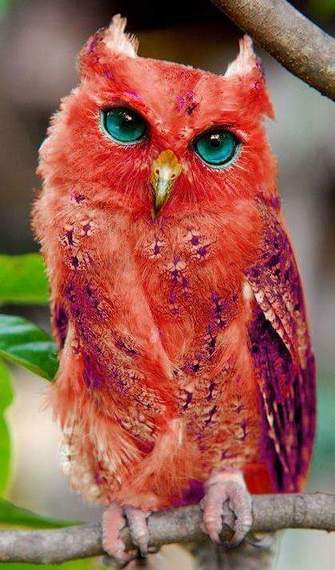 A photo of a rare Madagascar Red Owl
Thanks to the wonder of the Internet and programs like Animal Planet, it is now possible to appreciate nature's beauty through magnificent footage and gorgeous photographs of beautiful birds from around the world.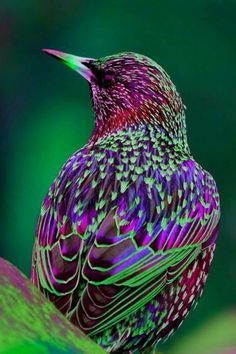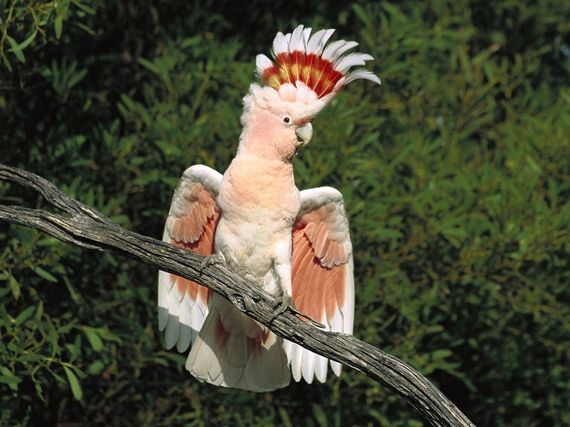 A Major Mitchell's (pink) cockatoo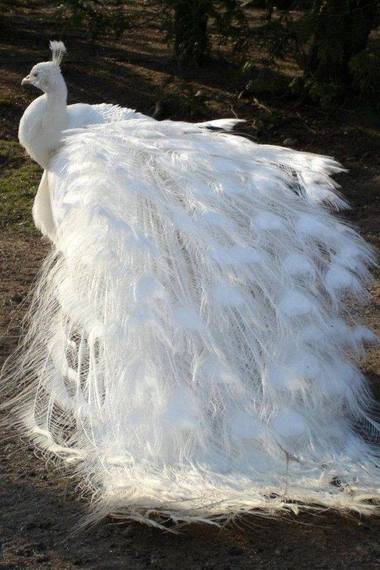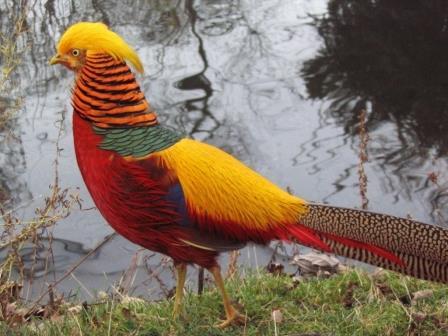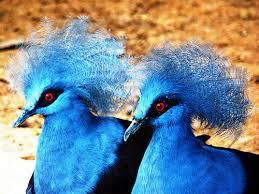 A pair of blue Victoria crowned pigeons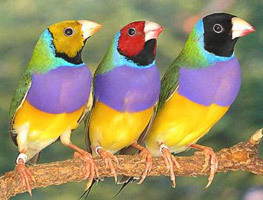 Three Gouldian (rainbow) finches on a branch
Later in life, my parents became avid birdwatchers. Whether watching hummingbirds and sparrows visit our back-yard bird feeder through a kitchen window or taking an Elder Hostel trip devoted to "Birdwatching in Scotland," my father (a high school biology teacher) was fascinated by their colorings and identifiable chirps. Were he still alive today, he would be enchanted by such popular mobile birding apps as BirdsEye, Merlin, National Geographic Birds, The Sibley eGuide to Birds, and Audobon Guides.
Because my father died in 1992, he was never able to watch the mating behaviors of exotic birds that frequently show up on cable television.
While I'm pretty sure he had a chance to witness the murmurations of large flocks of starlings, he missed out on the beauty of Winged Migration, a 2001 documentary that took avian photography to new and breathtaking heights.
Winged Migration was an uplifting experience of nearly hypnotic beauty. A new documentary entitled The Messenger (which was screened during the 2015 Mill Valley Film Festival) offers a sobering followup as it demonstrates how precipitously the population of migrating birds has diminished in recent years. In describing his annual summer trip to a family cabin in northern Idaho during this season's Western wildfires, SFGate columnist Mark Morford noted that:
"Up in Idaho, when the smoke was so thick it turned the sky a pallid urine color, I noticed something else: the birds. They stopped chirping. The air often fell dead still. No bees, no bugs, no osprey, no eagles; the smoke appeared to choke off all normal, life-affirming activity. I heard reports of herds of parched, exhausted, soot-covered elk and deer crossing local highways, seeking water and relief from the fire. That same afternoon, I noticed huge swarms of dead flies (not the usual lake gnats, the no-see-ums and such, but large, black flies by the tens of thousands) covering the surface of lake near our cabin. I skipped my swim."
"This is what we have yet to realize: it's not just about preparing for more severe weather. It's far more about what's about to happen to the experience of life itself, how we navigate our terrifically spoiled, entitled daily lives and with what newfound combination of panic and kindness -- all amplified, to a rather terrifying degree, by the realization that the more we refuse to change our gluttonous ways, the more nature is going to step in and change them."
Su Rynard's documentary uses facts and figures to document the various ways in which bird populations are dying off. Some come as no surprise to bird lovers:
Up in Saskatchewan, Canada, Dr. Christy Morrissey's research reveals that the sharp drop in the population of farmland birds may be due to the same insecticides (neonicotinoids) that have been determined to be killing off large populations of honey bees.
Another segment shows how French hunters are continuing to trap Ortolan buntings (a local delicacy) so that they can fatten the birds before cooking them. Although the bunting may have a long legacy as a culinary delicacy, the fact that it is an endangered species doesn't seem to impress the hunters who savor its taste.
In other situations, industrial noise and light pollution in urban areas can take a deadly toll on avian reproduction and migration.
Nowhere is this better demonstrated than by a segment produced by a group of Toronto volunteers participating in Canada's Fatal Light Awareness Program (FLAP).
Although technology has helped ornithologists and environmentalists to develop a better understanding of the causes of decreasing bird populations, it can't necessarily solve the problem. Dr. Martin Wikelski demonstrates how satellite technology can track individually banded birds over thousands of miles. While his data visualizations offer a glimpse into previously unknown (and unseen) movements of birds, when they are caught and measured, some birds reveal alarmingly low levels of body fat. In her director's statement, Su Rynard writes:
"In recent years I noticed that the birds I used to see and hear were no longer around. I rationalized this thinking that I was too busy or was somehow missing the birds. Then I read Bridget Stutchbury's book (Silence of the Songbirds) and realized that it isn't [just] me. Songbirds are disappearing, and we are losing them faster than any other time in human history. To understand why this is happening and what can be done, we embarked on a journey."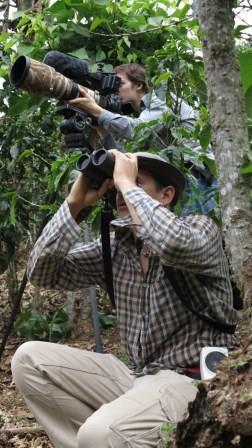 Cinematographer Joshua See with bird guide
Ernesto Carman filming bird life at
Costa Rica's Café Christina coffee farm
"Over the course of a year, following the seasons and the birds, our team filmed on three different continents. We discovered that the causes are many, and each species has a different story to tell. Yet everywhere we went, we met people who are working for change (this is not just about the future of birds, it's about us, too). Humans share an ageless bond with birds, their song, and their persistent presence in our lives. In the past, humans looked to the flights and songs of birds to predict the future. Today once again, the birds have something to tell us."
The Messenger paints a disturbing picture of how man-made climate change is impacting various species of birds while draining migrating populations of their numbers. As news reports continue to focus on melting glaciers, forest fires, and rising sea levels, this time the canary's warning is not coming from the proverbial coal mine. Instead, it's all around us. Here's the trailer:
A new Asian American theatre company is inhabiting NOHspace as it presents the world premiere of J.C Lee's latest drama, Crane. Over the years Lee has proven to be a remarkably prolific writer. I first encountered his work in a 2010 reading of Pookie Goes Grenading presented by Playwrights Foundation as part of its annual Bay Area Playwrights Festival (in November 2012, Pookie received its fully-staged world premiere from the Azuka Theatre in Philadelphia).
San Francisco's Sleepwalkers Theatre produced Lee's ambitiously apocalyptic This World and After trilogy (This World Is Good, Into The Clear Blue Sky, The Nature Line) over the course of several seasons. Following a reading in February 2013 as part of the Aurora Theatre Company's annual Global Age Project, Lee's Luce was staged in New York as part of the Lincoln Center Theatre's enterprising LCT3 program.
Lee (who has received commissions from numerous Bay area theatre companies) has recently been writing for television (Girls, Looking, How to Get Away With Murder) and is currently at work on the screen adaptation of Pippin for The Weinstein Company.
One of J.C.'s strengths is his ability to combine blunt, snarky dialogue with elements of poetry and magical realism. As produced by Ferocious Lotus Theatre Company, his latest work continues down this path. Written for an ensemble of four actors, Crane attempts to update two Japanese myths (the memory of a young girl who folds 1,000 paper cranes to save herself after the Hiroshima bombing and the tale of a crane who weaves her feathers into a stunning cloth to financially save the man she loves).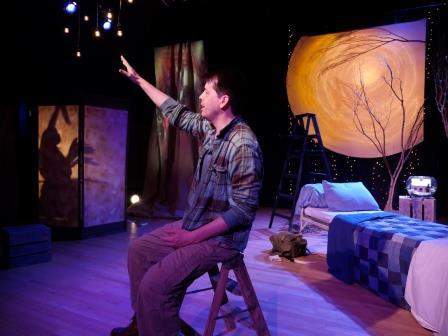 Greg Ayers as Bradley in Crane (Photo by: Adam Tolbert)
Lee's protagonist is Bradley (Greg Ayers), a young, financially insecure artist who has retreated to a cabin in the woods following tremendous acclaim for creating one great work of art. However, once the noise died down and the media spotlight faded, Bradley found himself producing work that was, at best, mediocre. The slick gallery owner (Leon Goertzen) who helped make Bradley successful makes the long trek to inform the starving artist that, unless he starts producing some great work, their business relationship will come to an end.
Geortzen's character is a materialistic, sarcastic, and pushy agent whose cold, clinical approach to the demands of the art market leaves little room for clients who can't generate major sales. With Bradley seemingly uninterested in the kind of commercial success that could bring him substantial material wealth, the gallery owner is ready to abandon one of his pet discoveries.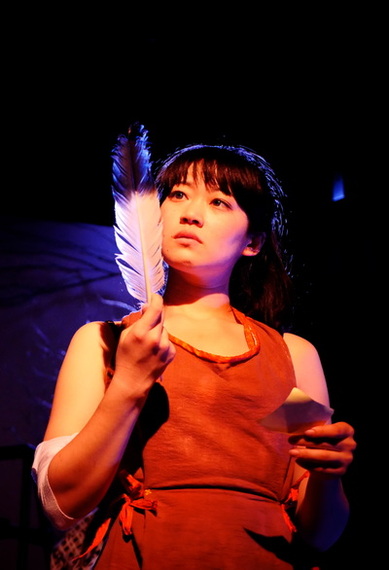 Monica Ho is Sadako in J.C. Lee's Crane
(Photo by: Adam Tolbert)
Meanwhile, in another part of the forest, a young woman named Sadako (Monica Ho) has decided that she can no longer stay with her mother (whose constant attention is stifling her). Whether Sadako's need to "fly from the nest" is real or a literary gimmick remains to be seen. However, after she meets Bradley in the middle of a bitter cold winter and takes shelter in his cabin, Sadako reveals a magical talent that could save Bradley's career as an artist (as long as he can keep it a secret).
Crane's more fanciful notions include flying houses, refrigerators that call you on your cell phone, and a intriguingly telekinetic form of creating art. It deals with age-old questions of art versus commerce, integrity versus greed and, as always, "What I Did For Love." Feathers keep dropping as brilliant new works of art appear until Sadako dies a mysterious death.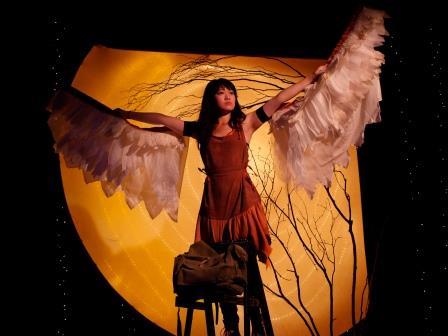 Monica Ho as Sadako in Crane (Photo by: Adam Tolbert)
Working on a unit set by Kuo-Hao Lo (with costumes by Keiko Shimosato Carreiro), the ensemble was directed by Mina Morita. Although Greg Ayers and Monica Ho did their best to sustain an earnest atmosphere of mysterious confusion and artistic "woo-woo" (with Lily Tung Crystal doubling as Sadako's mother and a doctor), there was no avoiding the fact that the play mostly came to life whenever Leon Goertzen's comical villain was front and center. The opening night performance was also hampered by a Bay area heat wave that made NOHspace's auditorium quite uncomfortable.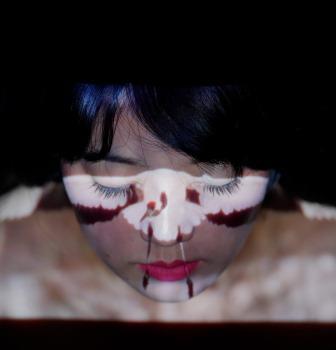 Poster art for Crane (Photo by: Adam Tolbert)
Calling all HuffPost superfans!
Sign up for membership to become a founding member and help shape HuffPost's next chapter