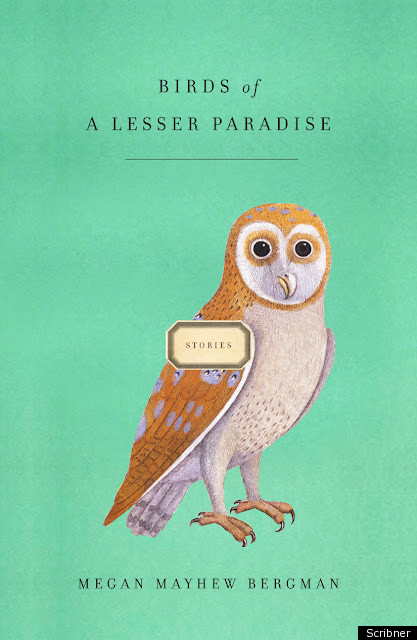 What is it about?
Vermont native Megan Mayhew Bergman catalogs her run-ins with nature in this collection of 12 short stories, which use rare birds, mothering whales and scraggly dogs to talk about the human condition. Her characters are veterinarians, parents and PETA-esque organizers with big hearts and guilty consciences. Some are maimed by animals while others devote their lives to protecting them. The prose is tightly packed and graceful, and the themes are summed up nicely by the Charles Darwin quote Begman uses as an epigraph: "We will now discuss in a little more detail the Struggle for Existence."
Why are we talking about it?
It's a tender collection and an unsurprisingly great debut (all but two of the stories have been published in Ploughshares, Narrative and other literary magazines). Appropriately, the only exceptions Bergman makes to the realist style of her writing are those supernatural and surprising events that can only occur in nature. And these themes, while universal, haven't gotten much attention in fiction recently.
Who wrote it?
Megan Mayhew Bergman was born in the South, but according to her website, "she now lives on a small farm in Shaftsbury, Vermont with her veterinarian husband Bo, two daughters, four dogs, four cats, two goats, a horse, and a handful of chickens." She teaches literature at Bennington College.
Who will read it?
Fans of short story collections or the outdoors.
What's it similar to?
"The Old Man and the Sea" by Ernest Hemingway and "The Tiger's Wife" by Tea Obreht for their animal metaphors (the latter even has a talking parrot, a major character in one of Bergman's stories). "Portlandia!" for its tongue-in-cheek approach to characterizing the self righteousness and irony of modern do-gooders and nature-lovers.
What do the reviews say?
Publisher's Weekly: "In the title story, a young woman who lives with her father in backwoods North Carolina confronts her loneliness and her father's mortality when an attractive stranger engages them to help find a woodpecker believed to be extinct. While Bergman's tone is melancholic, a sense of possibility and rebirth figures prominently."
Kirkus: "The beginning, one suspects, of a fine career."
Impress your friends
Aye-ayes, a type of lemur mentioned in "Another Story She Won't Believe" are the largest nocturnal primates in the world. They have unique, thin middle fingers, "to fill the same ecological niche as a woodpecker."
Opening line
"I am my own housewife, my own breadwinner."
Noteworthy passage
"Your carbon footprint will be hard to live with, he said. Trust me.
His once appealing certitude was ugly, a barrier to my happiness. Malachi cleared his throat and crossed his arms in front of his chest.
I pictured the mother whale, exhausted from labor, pushing her calf up to the skin of the water. The miracle of breath in the face of predation, life in the face of whaling ships.
I know what I want to do, I said. I looked down and saw the hope within my body as I began to explain, my raw and stupid hope."
REAL LIFE. REAL NEWS. REAL VOICES.
Help us tell more of the stories that matter from voices that too often remain unheard.