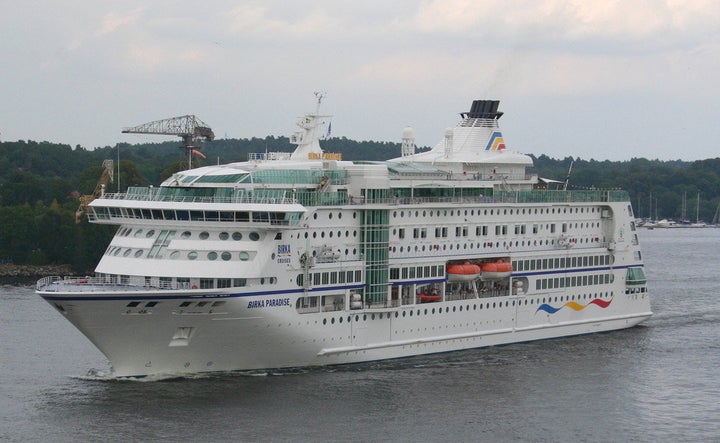 The Birka Paradise is a popular floating resort. The waters are crowded with sea-worthy vessels, so to make planning easier, we've done all the prep work for a cruise vacation. As part of a Huffington Post Travel series on cruise ships, here is a tip sheet offering all the key information one could ever need to know about the Birka Paradise.
Destination
According to
, the
operates daily round-trip cruises from Stockholm, Sweden, to Mariehamn, Aland, a Finnish territory. These trips take 20 to 22 hours.
Traditional Cruiser
The Birka Paradise is a 580-foot-long, 92-foot-wide vessel in the style of a Caribbean luxury cruiser, according to the Maritime Reporter. It is a traditional cruiser in that it lacks car decks.
Special Features
The Birka Paradise features a covered sun deck, complete with artificial suns, according to
. Because of the far-north climate, sun decks are rare on Scandinavian cruise lines. Birka Paradise avoids this problem with a retractable glass roof, artificial palm trees and artificial suns.
Accommodations
All cabins on the Birka Paradise have two beds, a shower, TV, telephone and hair dryer, according to the official English-language website of Birka Cruises. There are options for interior cabins and cabins with sea views. The Quality option adds an in-cabin refrigerator and safe, while the Deluxe option adds a double bed, mini bar and breakfast included in the price. Highest-priced options include the Paradise Suites, which feature separate living and bedrooms, whirlpool baths and room service. The Paradise Suite Etage features two stories, two living areas and all the amenities of regular Paradise Suites.
Cost
Prices for the Birka Paradise vary greatly, depending on number of occupants in a cabin, cabin level, amenities and itinerary prices on
are listed in Swedish kroner.) Sundays through Wednesdays offer the most affordable rates, with Thursdays more expensive and Fridays and Saturdays considerably more. The least expensive options cost less than $20 (not including food), while the most expensive options reach almost $1,150 under current exchange rates. Children between the ages of 6 and 15 pay half-priced fares. Children five and under are free if they share a bed with a paying adult. The median ticket price across all options is about $92. Luxury cruises range from about $200 to $1,150. Use of pools and saunas incurs a per-hour fee.
Artificial Sun
Although the Birka Paradise does not have excursions, as it undertakes very short cruises, passengers such as those in
praise its most unusual feature, the large artificial suns hanging above the pool. This artificial sun allows the Birka to make a "sunshine guarantee" even during the Scandinavian winters.
Dining Experience
There are several dining options available to passengers aboard the Birka Paradise, according to
. There are five restaurants, in addition to 24-hour room service availability for some cruise packages. Choices include more casual a la carte dining in French and Italian styles at Le Bistro and Cafe Brazil, and a buffet with a traditional Swedish smorgasbord. Luxury dining is available at the Four Seasons.
Maiden Voyage
According to the
, the Birka Paradise undertook her maiden voyage from Stockholm to Mariehamn on Nov. 10, 2004. Its principle construction was finished the previous year under an order from owner Birka Lines, with the keel being laid on Oct. 20, 2003.
In The News
Our research revealed no notable news stories or safety concerns regarding the Birka Paradise.
In this charming, high-definition video shot by a passenger, the Birka Paradise is explored, from the cabins to the food courts to the game room to the pool to the exterior decks.
What's your favorite cruise destination?