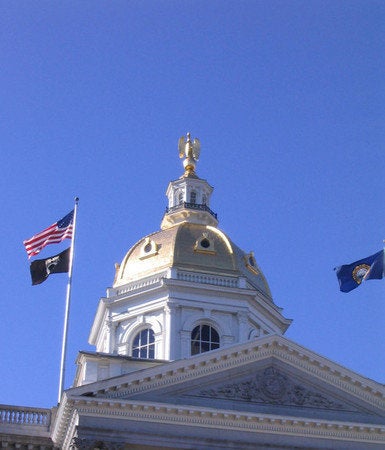 Saying it would reduce health insurance costs, the Tea Party-controlled New Hampshire House of Representatives passed a bill Wednesday afternoon to repeal the state mandate for employers to provide insurance coverage for contraception.
The House vote tacked an amendment to a seemingly minor bill related to the governance of religious societies to allow for employers to opt-out of the state mandate for contraception coverage if the employer has a religious objection to contraception. The amendment -- which was sponsored by the House's GOP leadership -- is being called a way to reduce health insurance costs for Granite State businesses.
"It is not about whether insurers choose to offer coverage for these services in their policies. This stands up for our religious institutions that have long-held principles and teachings under assault and for their religious liberties," Deputy House Speaker Pamela Tucker (R-Greenland) said in a statement. "Imposing anti-religious regulations on churches achieves no reduction of costs or availability of services, it only serves to please those pushing a political agenda."
"Health insurance costs in New Hampshire are increasing at dramatic rates. New Hampshire businesses are seeing 60 percent premium increases. A considerable portion of those increases can be chalked up to state health insurance mandates implemented during the prior four years' Democrat legislatures and those need to be repealed."
Tucker stressed that the amendment was not to debate the merits of contraception, but rather to discuss the mandate in terms of religious organizations. The wording of the amendment extends to all businesses in the state.
The amendment was not entirely surprising as Republican legislators have been discussing bringing up a way to end the 12-year-old law since last month. The New Hampshire House has been discussing the topic in relation to President Barack Obama's policy to require religious organizations to provide contraception coverage for employees.
House Majority Leader D.J. Bettencourt (R-Salem) said in a statement that the topic came up in the context of the federal health care reform law and a need for the state to promote "religious tolerance."
"This bill has sent a clear message that here in New Hampshire we value our citizens and employers right to religious liberties. New Hampshire has a long and proud history of religious tolerance, and with the passage of this bill we will continue to support and preserve that proud history."
Democrats immediately denounced the measure, noting that it would allow employers to decide medical care. Legislative Democrats were quick to point out that the mandate originally passed in 2000 under a Republican-controlled Legislature with the signature of then Gov. Jeanne Shaheen (D).
"My Republicans colleagues are using the banner of religious freedom as a way to mask their blatant attacks on women's health rights," state Rep. Chris Serlin (D-Portsmouth) said in a statement. "No entity or individual faces a restriction of their religious liberty under current insurance law. This bill would prevent women from making their own decisions about contraception."
The bill now moves to the state's GOP-controlled Senate, where it is expected to be considered in April. It is unclear if the Senate will follow the House in passage. Gov. John Lynch (D) is expected to veto the measure. While today's House vote does not have enough votes to override a Lynch veto -- with 59 GOP lawmakers voting against the measure, the House has had history of vote switching to override a Lynch veto.
"I never thought that in 2012 the New Hampshire Legislature would be debating the use of contraceptives. This issue is settled for Granite Staters," House Minority Leader Terie Norelli (D-Portsmouth) said in a statement.
"This out of touch agenda only goes to show that House Republicans are focused like a laser on social issues while jobs and the economy are left on the back burner. Unfortunately, this has been the story at the State House for the past fourteen months. Bills that would be laughed out of any living room in New Hampshire have strong support among Republicans in the State House."
REAL LIFE. REAL NEWS. REAL VOICES.
Help us tell more of the stories that matter from voices that too often remain unheard.
BEFORE YOU GO