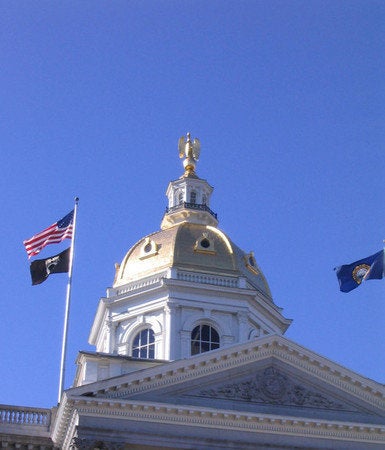 A Republican lawmaker in New Hampshire has proposed repealing the state's requirement to provide insurance coverage for birth control by attaching the measure to a bill aimed to repeal "obsolete and outdated" laws.
State Rep. Andrew Manuse (R-Derry) has proposed the amendment to end the contraception law to a piece of routine legislation clearing older laws off the books, the Concord Monitor reports. Manuse's amendment, first proposed Tuesday as the routine legislation was being heard by a legislative committee, would exclude both religious organizations, along with private companies that have religious objections, from the requirement to provide birth control.
Current state law, passed in 1999 with bipartisan support and no objection from the Diocese of Manchester, requires insurance companies to cover contraceptive care. Employers, including churches, can bypass the requirement by self-insuring, and that is what the diocese does.

Manuse's repeal of that mandate surfaced publicly for the first time yesterday as an amendment to an unrelated bill that eliminates "obsolete or outdated" provisions from various state laws. The housekeeping bill Manuse chose -- which does not deal with insurance, contraception or religious exemptions -- was scheduled for a public hearing and a vote yesterday by the recodification committee.
Manuse's proposal, which is co-sponsored by House Speaker Bill O'Brien (R-Mont Vernon), did not surprise legislative Democrats who are planning a floor fight to stop the bill. Senate Minority Leader Sylvia Larsen (D-Concord) said that Manuse had stated his desire to repeal the provision, but they were surprised with the bill he choose. Larsen said the original law passed a Republican-controlled legislature before being signed by then Gov. Jeanne Shaheen (D).
"He's tacked it on to a deadwood bill," Larsen told HuffPost. "It was meant to be an uncontroversial housekeeping bill. Now it's a nightmare bill."
Larsen said that O'Brien has already ruled the amendment -- which will be heard by a state House committee later this week -- as germaine. The "obsolete and outdated" bill that would be amended contains repeals of a variety of laws that state officials have deemed ready to take off the books. Among the two dozen measures contained in the bill are the repeal of laws relating to the training of campus security officers, a report on school accounting standards, a certificate of need for a Strafford County nursing home and the retirement age of probate court judges. No contraception or abortion related legislation is in the bill.
Manuse and O'Brien's spokeswoman did not return calls for comment.
Kevin Donovan, a spokesman for the Roman Catholic Diocese of Manchester, told HuffPost that the diocese did not have a position on the amendment but confirmed that an attorney who worked with the diocese did provide advice to Manuse on the drafting of the amendment. He said the advice was limited to providing wording from a similar proposal in Missouri.
Larsen said that she believes Manuse's amendment can fail in the Republican-controlled state Senate, which she said is not as conservative as the House. She noted it is likely Gov. John Lynch (D) will veto the bill if it contains the amendment. She also had an opinion on Manuse wanting to call the law "obsolete and outdated."
"If they consider that outdated," she said, "I would consider them outdated."
Calling all HuffPost superfans!
Sign up for membership to become a founding member and help shape HuffPost's next chapter
BEFORE YOU GO