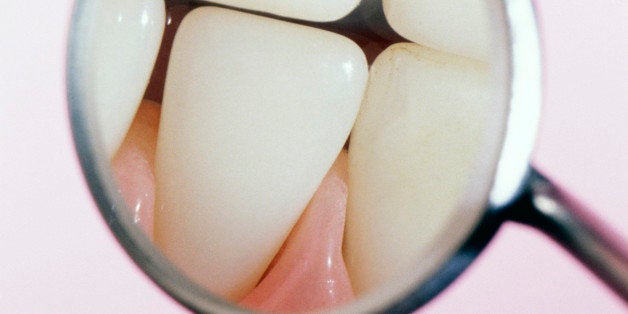 Seventy-five percent of Americans have some form of gum disease, according to The New York Times.
Former president of the American Association for Dental Research, Dr. Robert Genco, calls periodontal disease -- an advanced form of gum disease that affects half of Americans -- a public health concern. "[It] is one of the most prevalent non-communicable chronic diseases in our population."
While gum disease can cause bad breath, inflammation, infection and tooth loss, studies suggest that it affects the rest of your body as well. Chief Executive of the British Dental Health Foundation, Dr. Nigel Carter, explains, "The link between oral health and overall body health is well documented and backed by robust scientific evidence." Periodontitis is associated with osteoporosis, stroke, diabetes, heart disease and low-birth-weight infants.
There are obvious and heavily reported culprits of gum disease, including smoking, consuming sugary or acidic foods, poor oral hygiene and stress. But an increasing body of evidence points to fluctuations in hormones as an additional cause. The American Academy of Periodontology concedes, "Some drugs, such as oral contraceptives, antidepressants, and certain heart medicines, can affect your oral health."
Indeed, the connection between dental health and sex hormones is well established (Miyagi et al., Jitprasertwong et al., Patil et al.). Increased estrogen levels, particularly during puberty and pregnancy, stimulate blood flow in the mouth and change the way gum tissue reacts to irritants in plaque, causing gums to become red, tender, swollen and more likely to bleed -- ripe conditions for gum disease. Periodontitis prior to puberty is, therefore, very rare. In both cases, "the elevation of female hormones (estrogens) causes blog vessel changes in their gums, making them more susceptible to the effects of bacteria," says President Elect of the American Academy of Periodontics, Dr. Susan Karabin, DDS.
A recent analysis by researchers at Case Western Reserve University, which reviewed 61 journal articles with nearly 100 studies for a collective answer on "whether hormones have a relationship to gum disease and specific women's health issues", predictably found that women are at greater risk for dental problems -- and the conditions associated with them -- because of their hormones.
So it's no surprise that oral contraceptives, which increase estrogen and/or progesterone levels in the body to prevent pregnancy, impact dental health, too.
In one study, current pill users ages 20-35 had deeper gum gaps, more severe tooth attachment loss and more bleeding sites upon probing than non-users. The study concluded decisively that "current users of oral contraceptives had poorer periodontal health."
In another study, the mean amount of gum destruction was significantly higher in women on oral contraceptives compared with those using other forms of birth control. The longer users had been on birth control, the worse their gums were.
In yet another study, women using oral contraceptives had 16-fold higher levels of certain mouth bacteria and two-to-three times more tooth bone inflammation than women on other forms of birth control. Likewise, women on the pill experience "a statistically significant increase in gingival inflammation."
For one, some assert that it's not as bad as we think. Cleveland Dental Clinic notes: "The most profound changes in the gums are seen in the first few months after starting the birth control pills"; and, because newer birth control pills have lower concentrations of hormones, inflammatory responses may be less than what they once were -- though the studies I cite are recent. One UK site recommends changing to a pill with a lower concentration of progesterone, though no research has been conducted on this specific proposal.
Dr. Angela Evanson, DDS, of Parker, Colo. emphasizes that there's often no one factor contributing to gum disease. For this reason, dentists need to closely examine their patients' history and habits, not just their teeth. Dentists should know if their patients are on the pill not only to help them take additional steps to prevent gum disease but also because oral contraceptives can lower the effectiveness of certain antibiotics used to treat it.
But dentists can only do so much. Patients are ultimately responsible for their own health, from their prescription choices to how much they floss.
In the end, timely, thorough treatment is most important. Evanson told me:

I see [patients with] gum disease from all sorts of things, but the solution is usually the same: minimize plaque by using an antimicrobial mouthwash, floss, don't smoke, avoid sugar and soda, reduce stress. These simple measures can prevent--and even resolve--gum disease when practiced consistently.
Related