Birthday Cake Muffins are the perfect breakfast! Packed with sprinkles, they are a colorful and sweet start to your day.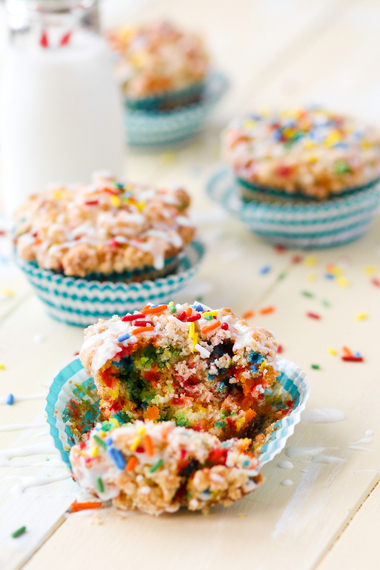 Oh hi. Nothing to see here, folks: just a cupcake pretending to be a muffin that is absolutely suitable for breakfast.
Have you ever noticed that the line between breakfast and dessert is pretty darn precarious? Cream filled doughnuts? A go. Baked French toast? Have at it.
Chocolate lava cake? People look at you like you've lost your darn mind. What is the darn difference, that's what I'd like to know.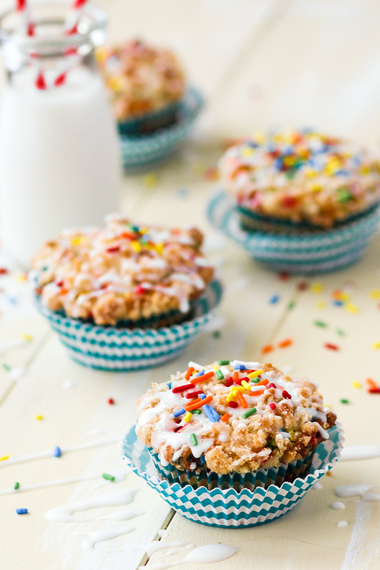 It's all politics, is what. Politics pure and simple. And I'd know, I'm neck-deep in House of Cards right now. And not to brag, but I'm basically a member of the Senate, thanks to Netflix.
Also? Can we all agree that there needs to be a show where Frank Underwood does nothing but read us soothing bedtime stories? The fact that this isn't a thing yet truly confounds me. Breakfast lava cake and Frank Underwood reading Goodnight Moon. It's like I have to solve all the world's problems myself or something, gosh.
These birthday cake muffins are not only the perfect birthday breakfast, but they are so pretty for spring. I'm pretty sure I know a teacher or fifty thousand who would appreciate a couple of these gorgeous treats in the morning.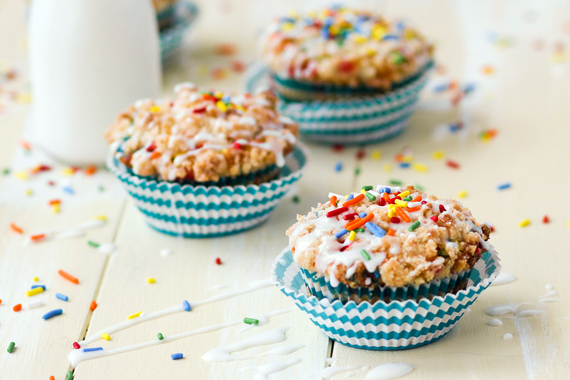 Trust me, I am still recovering from Spring Break. Teachers deserve all the muffins. Maybe even give them some money, or a foot rub while you're at it. Wait – maybe not the foot rub thing. That could get you arrested.
But seriously - when you don't have one (or all) of your kids home all day most of the time, and then all of a sudden they're there for an entire week - just Oh. Em. Gee. Don't get me wrong, I adore my kids, but for the love, I'd like to wake up without Cheez-It scented breath three centimeters from my face. When the kid's in school? I'm up long before he's gone, so he doesn't get the chance to creep me out.
Back to this breakfast of champions. These muffins have the perfect sweet vanilla flavor and the crumb topping and glaze pushes them right over the top.
Confetti muffins for all the breakfasts!! What on earth are you waiting for?