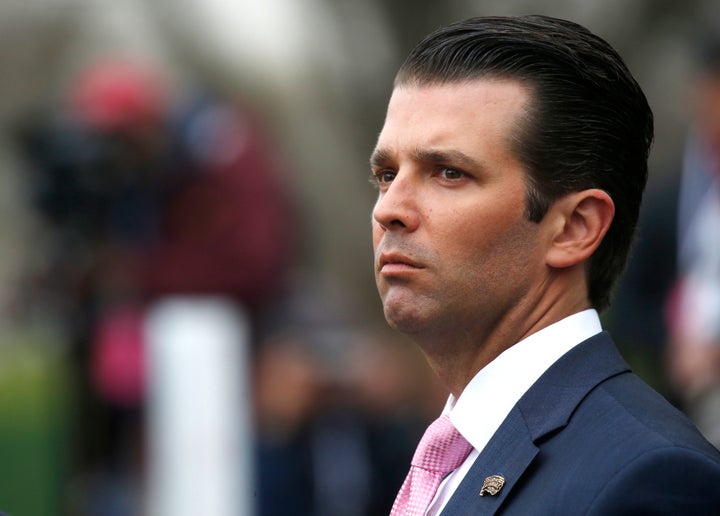 For most people, birthdays are an annual excuse to be a little egotistical and bask in the fawning embrace of friends, family and colleagues, whether during the perfunctory presentation of a Carvel cake in one's company's break room or trolling one's Facebook feed to see which estranged friend has posted well-wishes.
Yet for President Donald Trump, who celebrated his 72nd birthday on Thursday and whose solipsism knows no bounds, a birthday is yet one more opportunity for renewed vows of fealty and a sad kind of scrambling among friends and foes alike to stroke the commander in chief's fragile ego.
With that said, here are this week's most soul-sucking, heart-wrenching birthday felicitations directed at the president.
Paul Ryan
The Republican House speaker has spent much of the week trying to mitigate the political fallout of the president's "zero tolerance" deportation policy that is separating families at the U.S.-Mexico border. The policy has created a humanitarian crisis, and also something of a political headache for Ryan, who must balance the xenophobic political views of his far-right flank with the growing alarm of his more moderate members.
Complicating matters, to put it mildly: Trump doesn't really seem to understand what the House is doing, despite his public comments about it, as Politico's Jake Sherman pointed out.
Into this goat rodeo come the speaker's well-wishes to the president on Twitter, which, perhaps more than any social media posting to date, remind us that society would be well-served by a "gritted teeth emoji" (or perhaps it's high time we reinterpret the grimacing face emoji).

Ivanka Trump
The universe got the president's daughter a real doozy of a party favor for her dad's birthday: a lawsuit from the New York state attorney general accusing the Trump Foundation of violating campaign finance laws and engaging in all manner of self-dealing.
Ivanka Trump served on the foundation's board until her father's election as president, and if the lawsuit succeeds, she would be barred from serving on nonprofit organizations and face a steep fine. The first daughter's birthday tweet landed before news of the lawsuit, making it the least existentially painful of the birthday wishes from the president's children.
Eric Trump
Unlike his sister, the president's third child, Eric Trump, delivered his birthday wishes to his dad after news about a lawsuit targeting the Trump Foundation board broke.
"We are very proud of you and everything you have accomplished!" wrote the younger Trump of his father, whose flimsy relationship with the norms of ethical behavior prompted a lawsuit that could cause irreparable damage to his family's reputation. A touching reminder that we are but caretakers for our children's futures.
Donald Trump Jr.
Of Trump's three politically active children, Donald Trump Jr. undoubtedly had the most heart-wrenching birthday week. Not only did the 45th president's oldest son publicly express birthday wishes to a father whose behavior could land him in a world of trouble, but he did so on "Fox & Friends," the chief platform for presidential hangers-on straining to gain the commander in chief's attention. That the president's son felt he had to get his dad's attention by employing the same tactics as Sebastian Gorka is … devastating.
"Hopefully he's watching … I imagine he is," the younger Trump said over the sound of thousands of hearts across the country breaking. "Happy birthday Dad, I love you very much."
He added, "I look forward to seeing you soon, because I don't get to see him that much anymore."
How did the president repay his son's well wishes? On Friday morning, while taking questions from the press, he effectively confirmed that he'd dictated a statement that Donald Trump Jr. released regarding his 2016 meeting with Russian nationals, calling his son's actions "irrelevant."
"It's irrelevant. It's a statement to The New York Times. The phony, failing New York Times," the president said.
It felt like a twisted version of the classic scene of paternal neglect wherein a child waits expectantly on his front steps with a fishing pole for his absentee father to arrive … only in this version, the father shows up and implicates the son in a criminal conspiracy.
Lindsey Graham
It wouldn't be a roundup of cloying attempts to appeal to Trump's ego without Lindsey Graham.
Melania Trump Public birthday wishes from a first spouse to the president are as predictable as pardons for turkeys on Thanksgiving and pardons for donors on Jan. 20. In addition to the first lady's own familiarity with the date of her husband's birthday (one hopes), she benefits from a team of political strategists and communications experts, each paid to obsess over making sure their boss expresses all manner of public niceties, whether to her spouse or visiting dignitaries.  
Yet first lady Melania Trump made no public remarks about her husband's birthday on Thursday, an odd development considering the first lady and president's staff found time to issue a statement observing Eid al-Fitr.
During a Friday morning appearance on "Fox & Friends," Trump insisted that his wife had showered him with "a lot of good kisses" for his birthday. However, given the president's penchant for mistruths and exaggeration, HuffPost could not take such a banal statement at face value. We reached out to the White House to confirm whether or not the first lady had provided the commander in chief with birthday kisses and just how many birthday kisses were doled out. Our request for comment was not returned.
REAL LIFE. REAL NEWS. REAL VOICES.
Help us tell more of the stories that matter from voices that too often remain unheard.