 I'm doing something radical, rebellious and perhaps even ridiculous. At the age of 47, I'm throwing myself a birthday party.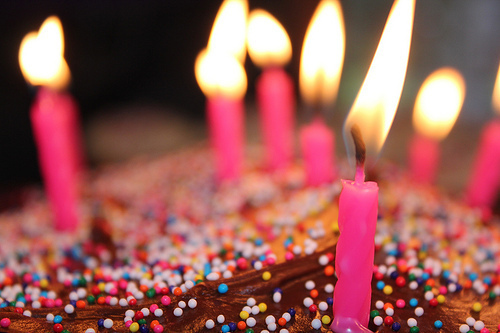 Face it, Moms: somehow we've lost our grip on our birthright. In the delivery room, without even realizing, we pass the celebration baton immediately to our young.
And celebrate our darlings, we do. It starts with catered brunches for 1 and 2-year-olds and the bacchanalia escalates from there. Unlike my Carvel cake and pin-the-tail-on-the donkey birthday parties, these fetes have become as elaborate as off-Broadway plays with petting zoos, moon bounces, surprise appearances by Disney princesses, book-way-in-advance magicians with names like The Great Zucchini and helium balloons and goodie bags stuffed with loot.
Meanwhile, gone are our girls' nights out, the theme dinner parties -- not to mention all of the thoughtful little gifts and laugh-out-loud cards we keep for rainy days. Our birthdays are more like a... concession. A long, deep sigh accompanied by an annual scrutiny of new wrinkles and saggy body parts and the comparison of this year's happiness to last. No matter what we find in the bittersweetness of our brain's clutter drawer, last year's age sounds dog years younger than our new one.
Well, I say break out the bubbles! Inspired by my favorite painting, Botticelli's Venus, I'm throwing myself a Goddess Party. All girls. My house. Après dinner for pink champagne and stinky cheese. Immediately I come up with a list of 30 friends.
"No way," says my friend Tricia when I tell her my plan at school drop-off. "You will not enjoy yourself with that many people."
Not only is she right, but she's also a good friend.
Brutally, I slash the list to eight. It's an eclectic mix of women from work, the neighborhood and the school black top. Some know each other, but many do not. I'm a little nervous to mix and match -- it would be much easier to settle on one group than a "best of" collection. But these are the women I love, so I go for it.
I vigorously clean my house (for myself, not one friend would notice, let alone care), and go for broke in the Whole Foods cheese section. Epoisses, Humbolt Farm goat, aged Gouda, creamy Brie-o-rama and more. When I open the fridge the next morning I'm smacked in the face with the pungency of a barnyard.
I smile. It's so fun to look forward to something.
Birthday morning: I nearly take out my bike-riding boss, Tim, on our way into the parking garage.
"It's not fun to almost kill someone on my birthday!" I say, scolding him.
"What are you doing to celebrate tonight?" he says, smiling.
When I tell him, his grin deepens. "I'm going to come to your party tonight in drag," he says in retaliation.
That evening, I tuck in my kids and greet my first guests. We pour the pink and decide to enjoy our first flute on the front porch -- either despite, or because of the light rain. The air is warm but not yet buggy, a rare treat in my swampy Washington D.C. neighborhood.
Then something magical happens. Spontaneity crashes the party! The platters of Asian-infused tuna tartare, cheeses and charcuterie, the flowers, the candles, all of it -- is inside my very, very clean house. But none of the guests seem to make it past the front door. The action is clearly outside. Fifteen of us (Note: Tricia and I later compromised on the number) squish together to take shelter from the rain. We drag out the living room chairs, the food and the booze. With nowhere to set the platters, they are passed around in slow, languorous laps. Although unintentionally, I've fulfilled an Ina Garten party suggestion: "surprise your guests."
Because there is no other choice, everyone gets cozy. The stories start, the laughter is infectious, and so is the generosity of spirit. Everyone goes out of their way to introduce themselves to an unfamiliar face. After many rounds of cheese and bubbles, Barbara and Cynthia appear with a candlelit plate of gluten-free peanut butter and chocolate cookies.
"I hereby proclaim you Goddess in Chief," Barbara declares.
Everyone laughs and claps.
I'm proud. Not that my soiree took off, but of my friends. They look like an animated bouquet of flowers -- and it's not just the ordinance of this summer's aggressive color trend. It's the combination of the energy and their happy, open faces. As worried as I was about mixing my different worlds, I can see new friendships being made, right before my eyes. I'm also proud of myself: I'm a Girl Magnet. One of my greatest talents is my ability to find special women, create strong bonds, and develop friendships that last a lifetime. I don't know where I would be without my reality checkers.
A friend is the best gift you can give yourself. I take a mental snapshot of the moment (my iPhone is busy playing Adele) as a thank you note to myself.
I make a wish for all of the goddesses out there and blow. As the candle goes out, I spot the first firefly of the season. It must be a girl.