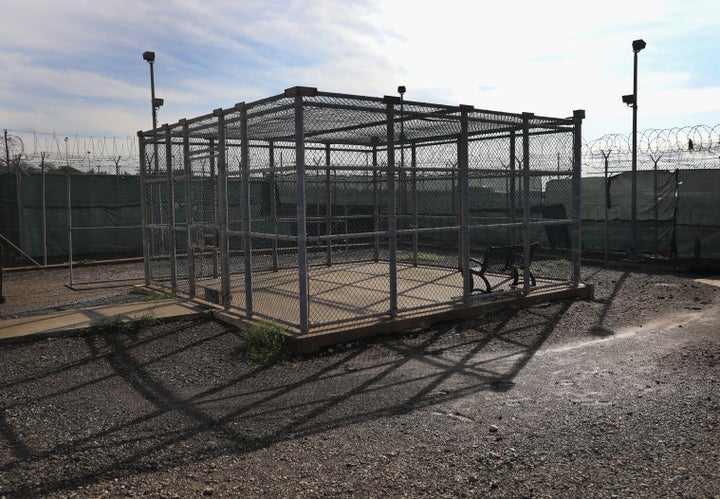 It's easy to imagine a Guantanamo Bay word association resulting in reactions of "terrorism", "Middle East", and maybe "torture", or "Muslim." Talking about Guantanamo with numbers and national security banalities doesn't leave a crack to shine a light on the other word associations that can be made – "refugee", "isolated", "son", "artist." Six Uighur refugees turned released Guantanamo Bay detainees were dropped into the Pacific Ocean, on the island of Palau. They were trusted enough to work as security guards, and human enough to suffer losses like the death of a toddler.
Even after detention, the justice provided to the innocent is dehumanizing. How does a Uighur refugee from China end up stateless in Bermuda after a seven-year stint in Guantanamo? This is the twisted trail of transitional justice for Khalili Mamut. He was swept up in a manhunt motivated by financial gain (American bounties for suspected terrorists ranged from $3,000 - $25,000) rather than any actual evidence of terrorist activity. After he was found innocent, Khalili was transferred to Bermuda. There, he was denied citizenship by a country he did not choose to reside in. Khalili is a husband with two children, a 5-year old and a 2 year-old, and is working in construction. He was never charged with a crime.
Meanwhile, far from plotting revenge for America's illegal (mistakes), a man in a sleepy Slovak town takes care of a pet finch. After 12 years in Guantanamo Bay, Hussein al-Merfedy left with a permanent headache and insomnia, "plagued by memories of dogs inside a blackened jail." Hussein is less the hardened, sadistic terrorist, than a displaced person who has suffered grave human rights abuse. He speaks Arabic – not Slovak or English – and is a Muslim forced to live in the only European Union country without a registered mosque. He was never charged with a crime.
The path to freedom for six other men for whom the United States government has admitted there is "no information [they] were involved in conducting or facilitating terrorist activities", ends in: three tents outside the American embassy in Uruguay and one man, Abu Wael Dhiab, in a coma from hunger strike. The men have been protesting their denial of rehabilitation after 13 years in Guantanamo Bay, and ongoing separation from their families.
In a photograph, a bespectacled young man stands next to a tower of books, the ultimate bookworm. He is Mohammed el Gharani, held at Guantanamo Bay for seven years from the time he was 14 years old. While incarcerated, his head was smashed, he lost his teeth, and he learned the "F" word and the "N" word, "because that's what the Americans called me." Twice, Mohammed tried to commit suicide. He was never charged with a crime. The void in American reparations has been partially filled by Reprieve's Life After Guantanamo Bay program, which has provided support to Mohammed. In the pages of the Department of Defense's Periodic Review Board, the program is mentioned as providing everything from "job placement to mental health care". "Care packages" are sent to former detainees. One includes a copy of 'Just Mercy', Bryan Stevenson's renowned account of the inequitable and inhumane use of the death penalty in America.
In 1983, the Commission on Wartime Relocation and Interment of Civilians, created by Congress to investigate Japanese internment, issued its report Personal Justice Denied, "The belief that we Americans are exceptional often threatens our freedom by allowing us to look complacently at evil-doing elsewhere and to insist that 'It can't happen here.' ... 'It did happen here' is a message that must be transmitted, not as an exercise in self-laceration but as an admonition for the future. Among our strengths as a nation is our willingness to acknowledge imperfection as well as to struggle for a more just society." These are the birthday wishes (and maybe the last rites) most befitting Guantanamo – this year, and every year.
Calling all HuffPost superfans!
Sign up for membership to become a founding member and help shape HuffPost's next chapter
BEFORE YOU GO