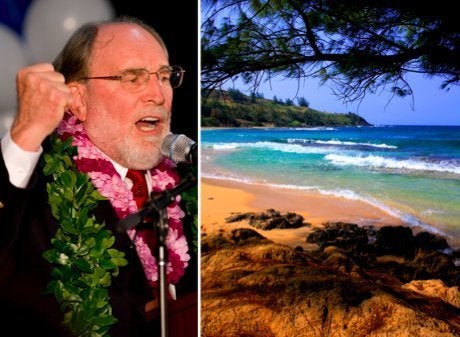 A battle is brewing in Hawaii over a push from the "birther" movement aiming to obtain proof that President Obama was born in the Aloha State.
Governor Neil Abercrombie, a Democrat, spoke about the widely discredited eligibility matter in an interview with CNN on Monday. The network reports:
Abercrombie, in his first on-camera comments on the matter, said that he has his attorney general and the state's Health Department director looking at what legal avenues can they follow to release more documentation of Obama's birth in 1961.

"As quick as we can we will," Abercrombie said. "This is a transparent state in terms of our communication with one another. This is the Aloha State. We care for each other, we look out for each other, we're family."
Abercrombie said that his quest to put the matter to rest is a "matter of principle." He called the ordeal an "insult" to the president's parents and one that "has nothing to do with a political agenda."
The Honolulu Star Advertiser reported over the weekend:
People who do not believe President Barack Obama was born in Honolulu in 1961 have stepped up their requests for proof of his birth this month, in the hopes that the new gubernatorial administration will offer more information.

The state Department of Health says it has received 27 requests for information about Obama's birth certificate this month, compared with 16 in November. There were 16 requests alone in the first half of this week, although most came from a single person.

Since 2008, "birthers," who believe Obama was born in Kenya and thus ineligible to be president, have been requesting information from the state about his birth. The requests continued despite Obama's camp releasing a copy of his certificate of live birth and reports of Obama's birth announcements published in 1961 in the Honolulu Star-Bulletin and The Honolulu Advertiser.
In a recent interview with the New York Times, Abercrombie said that he intends to "take care" of the controversy. "He's a big boy; he can take sticks and stones," he said of the president. "But there's no reason on earth to have the memory of his parents insulted by people whose motivation is solely political."
The White House declined to comment on the matter to both the Times and CNN.
In Hawaii, the efforts to challenge Obama's birthplace still burden the state government with endless requests for further documentation, officials have said. Abercrombie's predecessor, Republican Linda Lingle, in May signed legislation that allowed the state to ignore repeated nuisance inquiries.
Orly Taitz, who has emerged a prominent face of the birther movement, shared with the Tribune her side of the story.
"When you look at the certification of live birth ... you don't find the name of the doctor, hospital or signature," she explained. "We've asked to see the original one that is still sealed."
Taitz signaled her willingness to even go head-to-head with Abercrombie over the matter in a nationally-televised debate. "Let the American people decide," she said.
Abercrombie explained to the Tribune, "What bothers me is that some people who should know better are trying to use this for political reasons." He added, "Maybe I'm the only one in the country that could look you right in the eye right now and tell you, 'I was here when that baby was born.' "
Popular in the Community