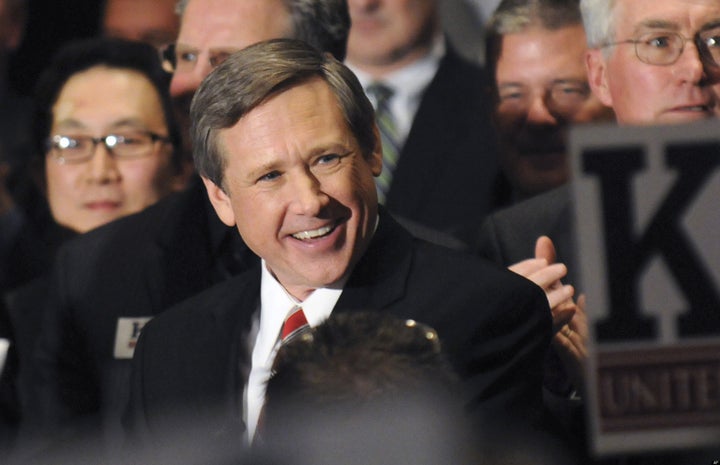 On Tuesday night, Republican Senate candidate Mark Kirk and his Democratic opponent Alexi Giannoulias faced off in a televised debate. Of course, the two attempted to embarrass one another on a variety of issues, but one particularly awkward exchange stood out.
Two weeks ago, audio surfaced from a conference call Mark Kirk had with local GOP leadership. Kirk was explaining the need for a voter integrity squad--people to watch the polls in certain parts of the state.
"These are lawyers and other people that will be deployed in key, vulnerable precincts, for example, South and West sides of Chicago, Rockford, Metro East, where the other side might be tempted to jigger the numbers somewhat," Kirk says on the tape.
Just one day later, Mother Jones released a story linking another unsavory character to Kirk's "voter integrity squad"-- anti-Obama birther Sharon Meroni. Aside from demanding that President Obama resign for committing "high crimes and misdemeanors," Meroni has also filed objections against 32 Illinois candidates for failing to provide adequate documentation of their citizenship, Mother Jones reports.
"We have a lot of people working on ballot intergrity," Illinois Republican Party Chairman Pat Brady told HuffPost Chicago. "[There are] hundreds of people helping."
Brady downplayed Meroni's role in the process, saying that she was never on the state GOP's payroll, and that many people have come forward this year offering to help recruit poll watchers. He said allegations of voter suppression attempts are completely untrue.
"We're not that sophisticated," Brady said. "We do this every [election]. . . make it easy for everybody to vote, hard for anybody to cheat."
But, as Talking Points Memo reports, the actual poll watchers might have their own agendas. There have already been reports of voter intimidation in Texas, where members of True the Vote, a Tea Party affiliated organization, were allegedly "hovering over" voters, "getting into election workers' faces" and blocking or disrupting lines of voters waiting to cast their ballots.
The organization issued a statement saying they could not be held responsible for the actions of individuals, who were properly trained.
Brady, however, said that the voter integrity effort was not a "grand conspiracy" as some would like to believe. He said the increased interest from the public in poll watching is coupled with increased "get out the vote" efforts--and the biggest interest in Republican candidates Illinois has seen in years.
"I wish we were as sophisticated as the tinfoil hat people think," Brady said.
WATCH Rachel Maddow's coverage of the voter integrity strategies in Illinois and in Texas here:
Calling all HuffPost superfans!
Sign up for membership to become a founding member and help shape HuffPost's next chapter