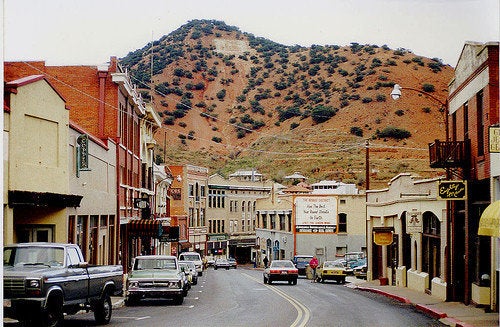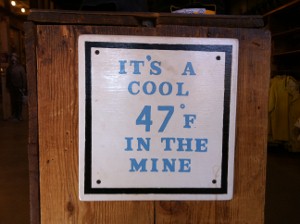 During my 5 months driving aimlessly yet purposefully around the country, I had but one rule: create new daily experiences. This means that I traveled to places I've never been and avoided the places where I've spent time in the past. Before I left on my trip, I felt bored, depressed and basically "stuck" with the way I was living my life. I had become a slave to my daily routine.
Study after study shows that mentally stimulating activities boost brain power and help keep our brains sharp as we age. An example often given is how learning a new language will forge new neural pathways in the brain. Applying this theory to my life, I hoped that by hitting the road and challenging myself daily with something new, I'd kickstart some much needed happiness by creating new ways of thinking about how I want to live my life. In short, I wanted to feel alive again.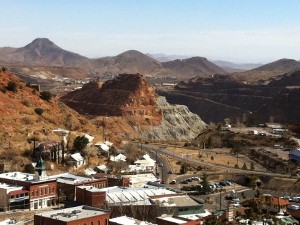 All this said, there is one destination that I intentionally revisited two years after first discovering it: Bisbee, Arizona. Bisbee is an old copper mining town nestled a mile up in southeastern Arizona's Mule Mountains about 90 miles southeast of Tucson. Today, Bisbee's Historic District, a Registered National Historic Landmark, is a funky artists' haven and the town itself has a European feel, with its hilly terrain and steep narrow streets. In fact, many of the mountain colony's eclectic Victorian bungalows can only be reached by trekking up old deteriorating stairways built into the picturesque mountainside. My initial visit in 2009 was for one short day and left me wanting more, so I was drawn back to explore some of Bisbee's old-world charm and new-world personality that I wasn't able to discover the first time around.
Bisbee is filled with a charming collection of antique shops, art galleries, artist studios, restaurants and museums. However, what initially intrigued me about Bisbee was that it is often dubbed the most haunted city in the country. I've always been a sucker for the paranormal, so it was a bit of a thrill when my friends and I first visited in January of 2009 and stumbled upon a national ghost hunter conference taking place in the Copper Queen Hotel. The Copper Queen is Arizona's longest continuously operated hotel and when you step inside you are transported to fantasies of a bygone era of stagecoaches, mine executives, ladies of the evening and territorial governors.
The "ghost journals" at the Copper Queen's front desk log stories of hotel guests' encounters with the claimed 3 resident ghosts. Getting caught up in the ghost-hunting excitement, we took the Old Bisbee Ghost Tour, which led us on a nighttime walking tour through Bisbee's old haunted alleys, stairwells, buildings and hotels to learn about the ghosts that haunt the town. Try as I might, I didn't see a single one.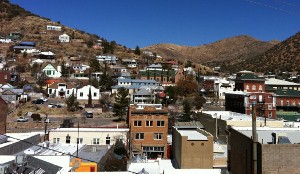 This time around, I decided to forgo the ghostly spirit hunt and instead explore some of Bisbee's other unique offerings. First up, a Lavender Jeep Tour of the city. Even the most fit of persons would be hard-pressed to explore beyond the downtown area of Old Bisbee by foot, given most of the area is accessible only by near-vertical stairs (the city has over 1000 stairs,) or narrow, winding steep roads with a rock ledge on one side and a precipice on the other. Many of the two-way roads are so tight that there is scarcely room for one car, and you are left hoping that you don't encounter a car going in the opposite direction. I was happy to leave the driving to my tour guide, which let me and my dog Yoda enjoy the sweeping views of the town from above, relishing in the delightful mix of colorful hillside cottages and bungalows that embrace architectural trends of the 19th and 20th centuries.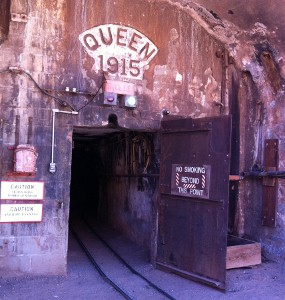 Next, I couldn't resist donning a yellow slicker, hard hat and miner's headlamp for a train ride tour of the Queen Mine. After operating for almost 100 continuous years and producing nearly eight billion pounds of copper, the Queen Mine closed in 1975. Less than a year later, the Queen Mine Tours opened to the public. The tours are conducted by former Queen Mine miners who take visitors deep into the workings of the famous mine. For those interested in learning more about the colorful life of the Bisbee miner, visit the Smithsonian-affiliated Bisbee Mining & Historical Museum.
Bisbee is home to a lot of unique lodging. In addition to the Copper Queen Hotel, people can get their fix of resident ghosts at the Bisbee Grand Hotel, where each room has a theme such as the Old Western Suite, where the bed is in the back of a covered wagon. Another quirky option may be to stay at the High Desert Inn, a turn-of-the-century jailhouse which now functions as a B&B. During my first trip to Bisbee I stayed at the Shady Dell, where the accommodations are kitschy vintage fun and consist of 1950s aluminum travel trailers, a 1947 Chris-Craft yacht and a 1947 bus decorated as a tiki lounge.
This time around Yoda and I chose to stay in the pet friendly Calumet & Arizona Guest House, a restored 1906 home furnished in a Victorian style with many antiques originally owned by the grandmother of the inn-keeper, Joy Timbers. My favorite part of staying at this B&B was listening to Joy talk about Bisbee's rich history while I devoured a made-to-order gourmet breakfast served in the elegant dining room.
The remainder of my time in Bisbee included visiting galleries, artist studios and coffee shops. For those interested in jewelry, Bisbee is home to Bisbee blue turquoise, a high quality brilliant blue stone unlike any turquoise I've ever seen. I was in my tight budget road trip mode so I reluctantly didn't bring any home with me. But what I did bring home was a handful of new memories and a mental recharge that left me feeling more alive than when I arrived. My revisit to Bisbee accomplished just what I had hoped it would.