UPDATE: 11:16 a.m. -- Arizona Attorney General Tom Horne and attorneys for Bisbee have agreed to wording in a new civil union ordinance. Horne has withdrawn his lawsuit, and the Bisbee city council will vote on the new language sometime this summer. The new law doesn't go quite as far as the original, but could be a blueprint for other Arizona municipalities to follow should they wish to show support for same-sex unions without provoking a lawsuit from the state government.
BISBEE, Ariz. -- During a session of afternoon cocktails around the patio table in the brightly painted backyard of notorious stand-up comedian Doug Stanhope, Melissa Reaves begins to strum an acoustic guitar. She fiddles a bit, settles into a bluesy groove, then starts to sing. In a throaty wail, she belts out lyrics that, it turns out, she's making up on the spot. It's a bit of party trick, writing songs as she's performing them. And so she sings about this reporter, in town to write about her; about her partner, Jennifer Garland, who is sitting next to her; and about the gay marriage debate that's broken out in this quirky little town of 5,500 people about 10 miles from the Mexican border.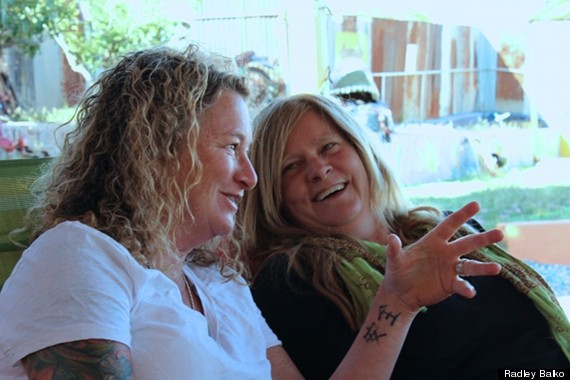 Jennifer Garland (left) and Melissa Reaves
Reaves and Garland have been together for 13 years. They moved to Bisbee from Asheville, N.C., in 2011 after hearing the band Calexico rave about the place. (The band's song "Bisbee Blue" is about a variety of turquoise named for the town, a byproduct of the area's copper mines.) If Bisbee's city council passes a resolution to officially recognize civil unions, as it's expected to do next month, it will be the first city in Arizona to do so. And Reaves and Garland will be the first gay couple in the state to be "civilly unioned."
"It isn't something we ever expected after moving here," says Garland, who paints and works as a server at a local restaurant. "We were just tickled when we heard it might happen," Reaves chimes in.
This all began in March, when recently elected Councilman Gene Conners was talking to a gay friend at a hardware store. "She said, 'Wouldn't it be great if Bisbee could find a way to welcome gay couples to town to get civil unions?' I had the mayor's ear a couple weeks later, and we started trying to figure out if there was a way we could do it," Conners says.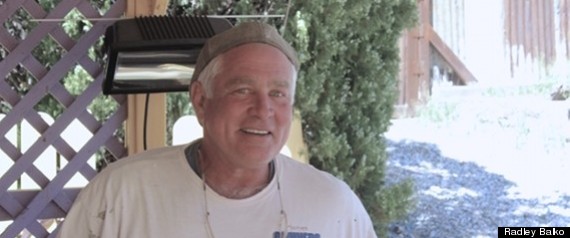 Gene Conners
"Both Councilman Conners and I live in the ward with the highest LGBT population," says Bisbee Mayor Adriana Badal. "And proportionally, Bisbee itself has one of the highest gay and lesbian populations in the state. We decided we wanted to do something real. Not a resolution, but something that carries the force of law."
The problem is that in the U.S., most legal protections for marriage are codified at the state level. Conners and Badal knew they couldn't grant rights to same-sex couples that the state wouldn't enforce, but they did come up with an ordinance that granted as many legal protections as a small town could. Bisbee, for example, owns a cemetery, so the ordinance granted the same interment rights to same-sex couples and their families that the town gives to heterosexual families. The ordinance also granted same-sex families the right to get family passes at the public swimming pool, the right to the same land-use permits, and -- perhaps most significantly -- visitation rights and power of attorney to make medical decisions at the local hospital.
Other cities in Arizona have granted certain rights to same-sex couples, but none has gone as far as Bisbee has. The bill passed the city council 5-2. But that vote was only the beginning of a battle that has since put the town in the spotlight.
For years, Bisbee has had a reputation as a gay friendly enclave in largely conservative Arizona. As the state has made national headlines in recent years for its controversial immigration law and Gov. Jan Brewer (R)'s high-profile skirmishes with President Barack Obama, Bisbee has stayed under the radar with a live-and-let-live attitude. Now the gay marriage debate is hotter than Arizona asphalt, and Bisbee is in the thick of all of it.
Bisbee comes into view shortly after you pass through the Route 80 tunnel coming out of Tombstone. You'll find it when you see the enormous "B" looking down from one of the Mule Mountains. Old Bisbee is splayed out in the valley below. Built in the 19th century, well before the onset of the automobile, the historic section of town is a pastiche of Old Europe in the American southwest, with narrow streets, closely bunched houses, and a host of art galleries, coffee shops and restaurants.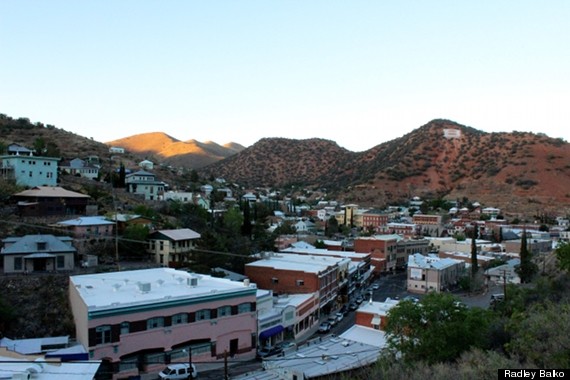 Bisbee, Arizona
Bisbee was built around the Copper Queen copper mine, which for a time was one of the largest such mines in the country. When copper was booming, so was Bisbee. In the early 20th century, the town was the largest city between St. Louis and San Francisco. It even had its own stock exchange -- the former exchange is now a bar.
The mine itself ceased operation in 1975 when falling copper prices made it unprofitable, but its legacy is everywhere. Most notably, there's the 300-acre, 900-foot deep hole in the middle of town, known as the Lavender Pit. It's named after Harry Lavender, the former manager of the Phelps Dodge Corporation, the company that built it. Holes that big don't fill up naturally, and filling it now would be prohibitively expensive. And so it remains.
There are also slag piles scattered around town, you can still take tours of the old mine, and the Copper Queen Hotel is allegedly haunted. The town itself is made up of several smaller jurisdictions bunched together, the product of the various ethnically segregated mining camps that over time congealed into Bisbee proper. The more affluent ward features the mansions where mining executives once lived. The grandest of them -- the former residence of the mining company president -- will soon be converted into a treatment center and residence for wounded veterans and their families.
But by the time the mine closed down in the mid 1970s, Bisbee was already in the process of remaking itself into an enclave for artists, tourists, and retirees. This wasn't an uncommon destiny for America's mining towns. Often isolated from other major population centers, mining and gold rush towns tended to either atrophy into ghost towns or were repopulated by people with habits and lifestyles that, if practiced openly, would have made them outcasts in polite society. Jerome, Ariz., is another example. Jerome, like Bisbee, thrived as a copper town in the early 20th century, then became a hippie enclave in the 1970s and 80s. In 1985, the entire town of Jerome was raided by a team of federal and state drug cops, who arrested the police chief, two city council members, and the former mayor on drug charges.
Today in Bisbee, you'll find live theater, art festivals, an annual parade of "art cars" (functional automobiles that locals turn into rolling works of art), and among other eclectic businesses, Brian "Legz" Tagalog, a tattoo artist who works entirely with his feet (he was born without arms).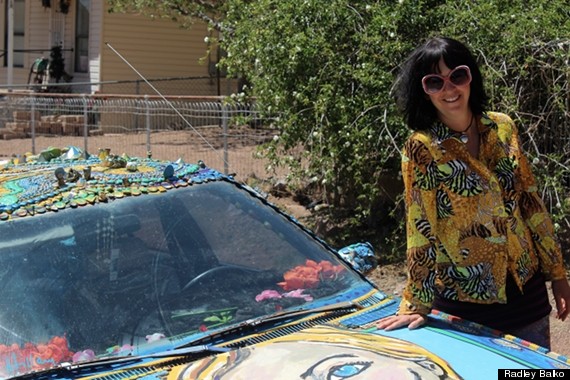 Bisbee resident Gretchen Baer with her "art car"
This confluence of alternative lifestyles has long made Bisbee a welcoming place for gay people. Some businesses here are already planning for what they hope will be an influx of tourism as a result of the town's support for civil unions, and possible new residents should the ordinance finally become law.
One of them is The Shady Dell, a vintage 1950s trailer park that now serves as a quirky motel. The gravel lot features nine faithfully refurbished trailers that tourists can rent for the night, each decked out with authentic 1950s-era televisions, furniture, and decor. It's a campy gay paradise, all the more savory given the irony of gay couples staying in lodging themed to reflect an era when gay couples would have found it difficult to find lodging.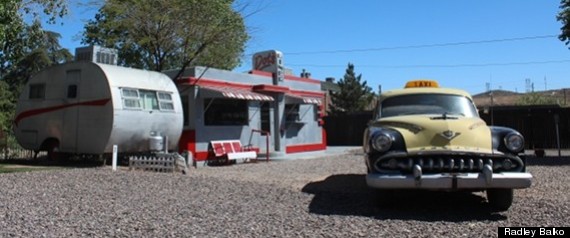 The Shady Dell
Owner Jenn Luria -- who is a little bit Donna Reed, a little bit Suicide Girl -- is more than ready for their patronage. "We already have a lot of gay couples stay here," Luria says. "In fact, we just hosted a lesbian wedding of sorts earlier this year. They called it 'my big, fat, illegal, gay wedding.'"
Stanhope, probably the town's most famous resident, moved to Bisbee after driving through the town on trips between Los Angeles and El Paso, Texas. (Disclosure: Stanhope is a personal friend.) He stopped in once, was charmed by the place, and eventually moved in with his partner Amy "Bingo" Bingaman. "It's really laid back here," Bingaman says. "Very live and let live."
That attitude extends beyond gay marriage. After Arizona voters passed a medical marijuana ballot initiative in 2012, Bisbee became one of the first towns in the state to host a dispensary. The Farmacy opened earlier this year.
The town also passed a resolution denouncing SB 1070, Arizona's controversial anti-immigration law. Mayor Badal herself recently traveled across the border to help a non-profit group stock stations set up to supply migrants who may be planning to cross the border with food, water, and basic supplies. "However you might feel about immigration, the desert is starting to get hot this time of year," Badal says. "This is about preventing deaths."
Badal has also set up a council of border mayors, made up of the heads of towns in Cochise County, Ariz., and towns in Mexico, aimed at promoting tourism, cooperation, and border management. "There's so much history between these towns. And we've found that a lot of times we have more in common with these towns than we do our state capital," Badal says. "So there's a lot to be gained from cooperation, and working together toward economic development."
This all may at first blush sound like a hippie heaven -- or, say, Rush Limbaugh's version of hell -- but the ethos in Bisbee feels more libertarian. Stanhope, who became active in the civil union debate after he'd heard conservative groups were planning to bus protesters in from out of town -- once flirted with running for president as a member of the Libertarian Party. Badal points out that Bisbee doesn't just forge its own path on social issues. The town also recently attempted to opt out of a state water initiative that required towns and cities to pay into a state fund, whether they wanted to or not. Bisbee lost that fight, but it reflects more a spirit of localism than traditional progressivism.
"Phoenix is always saying to D.C., 'Leave us alone,'" Badal says. "But it's a lot of 'Do as I say, not as I do.' I suppose that's just human nature. But so is wanting to go your own way."
When the civil union ordinance passed earlier this month, it made national news, and Badal quickly began to hear from other towns around Arizona -- Jerome, Guadalupe, Tempe, Sedona, and Star Valley -- that wanted to pass something similar. "I had no idea so many other communities would react the way they did," the mayor says. "They wanted to know what they could do -- if they could use our ordinance as a template."
But there was also some resistance. Within 12 hours of the ordinance passing, Arizona Attorney General Tom Horne raised concerns that Bisbee had usurped some of the state's powers, and possibly violated a constitutional amendment passed in 2008 that defined marriage as "only a union of one man and one woman." Horne threatened to sue to have the new policy overturned.
Badal also encountered resistance from unexpected places. "I've lived in Bisbee all my life," she says. "And some people I've known for 40 or 50 years, they just became so hateful. Hate directed at gays and lesbians, and directed at me for doing this. I understand the religious objection to gay marriage. I do. But I just didn't expect so much anger and hate to come from this."
Badal, the city attorney, and the city council are now rewriting the ordinance, not to revoke or soften any of the legal rights the town intends to grant, but to make sure there's no possibility the ordinance could be struck down in court for overreaching. "I don't mind getting sued. I think this is a conversation we need to have. It's about dignity. It's one of the last major civil rights battles. And we've received lots of offers for free legal aid if that happens," Badal says. "But we want to be sure that we're not sued over language in the bill that we didn't intend. We don't want to fight and lose -- to waste time and money -- because of the wrong language. If we're going to get sued, we just want to be sure it's for the right reasons."
Arizona may be home to immigration hawks like Maricopa County Sheriff Joe Arpaio, and its legislature may be among the most conservative in the country, but there's also some evidence that the state is more tolerant on social issues than the reputation of its politicians. Badal has already received support from officials in the cities listed above, as well as from Phoenix Mayor Greg Stanton.
One poll taken in May of last year found that just under 80 percent of Arizonans (including 63 percent of Republicans) support some form of legal recognition for same-sex couples. Another poll taken last month found that 63 percent of the state's residents supported a pathway to citizenship for undocumented immigrants, with just 19 percent supporting deportation.
"Arizonans like to think of themselves as mavericks. We're individualists. We do our own thing, forge our own way," says Gretchen Baer, a local artist and political activist in Bisbee. (One of her projects is "Beadazzle the Border Wall," in which she brings art supplies to Mexican children to paint and decorate the Mexican side of the barrier.) "But you hear that from politicians in Phoenix at the same time they're putting limits on the decisions people make in their personal and social lives."
There is some fear that if Horne sues and Bisbee fights him, state officials might retaliate by withholding funds for other projects, like transportation. But back in Doug Stanhope's backyard, Conners says he'd like to see a fight. "I think this is a battle that needs to be fought. I don't want to back down if the state sues. And we shouldn't," he says. "It isn't going to cost Bisbee any money. We have all the legal help we need."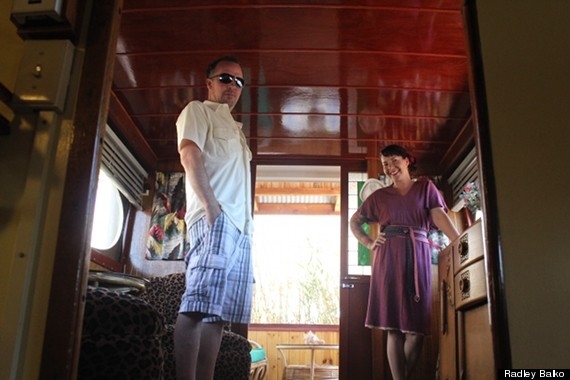 Comedian Doug Stanhope and Jenn Luria, owner of The Shady Dell
"It can really only be good for Bisbee," Stanhope continues. "We'll get some notoriety, publicity and tourism. We'll get goodwill. I don't see a downside to playing this out."
At first blush, Conners seems like an unlikely champion of the gay-rights movement. When he isn't doing city business, he's a painting contractor. He showed up for his interview for this article in paint-splotched work duds. Conners was born in Tucson, but spent nearly a decade in Chicago, where he seemed to pick up some of the bluster the Windy City is known for. "I cannot claim to love Bisbee more than anybody else," he writes on his official website, "but I would go toe to toe with someone claiming they did."
Conners agrees with Stanhope that taking on Horne and Phoenix would be good for Bisbee. But he adds, "It's also just the right thing to do -- to be on the right side of history."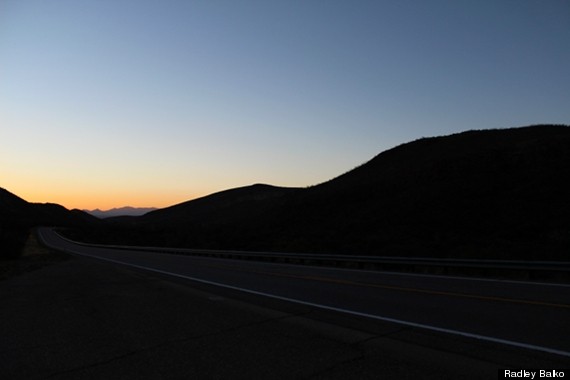 The road to Bisbee, about 80 miles southeast of Tucson.
Correction: This article originally misidentified the name of the highway leading to Bisbee. It is Route 80, not Interstate 90.
This story appears in Issue 49 of our weekly iPad magazine, Huffington, in the iTunes App store, available Friday, May 17.
Before You Go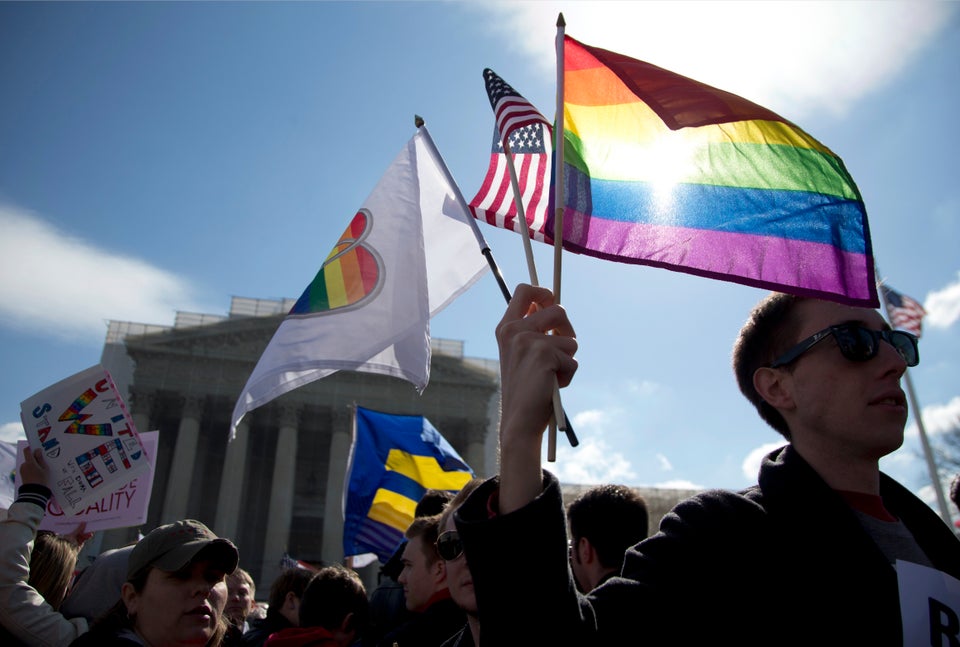 Supreme Court Proposition 8 Case
Popular in the Community