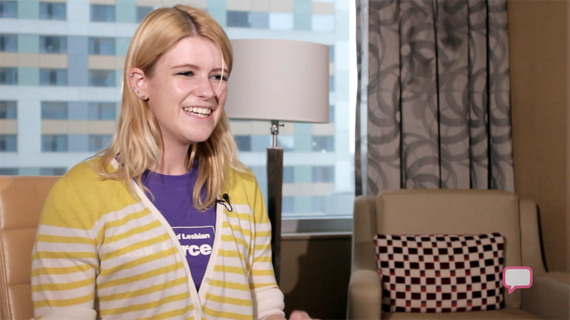 I'm From Driftwood is a 501(c)(3) nonprofit archive for lesbian, gay, bisexual, transgender, and queer stories. New stories are posted on the site every Wednesday.
Rachel is bisexual. Rachel, her boyfriend and a lesbian friend were at a gay bar in Houston. Rachel's lesbian friend saw a girl she had a crush on in high school and was thrilled that she was gay. After some back and forth about whether they should approach the girl, Rachel decided that she would do it. Rachel tells more of the story:
I was like, "OK, OK, I'm gonna do it. I'm gonna be the brave person for you." So we went up to this girl on the dance floor, and I was like, "Can we kiss you?" And she was so flattered, but she was like, "No, I'm here with my girlfriend. I totally would. Thank you." And we were just like, "Aww, no problem!"
Pretty standard teenage-crush anxiety and drama -- but that was before the girl knew that Rachel also likes boys.
[T]his girl who we had approached turns back to us, and she sees me dancing with my boyfriend, and she's like, "You're straight?!" and was so offended, as if it doesn't count that I had wanted to kiss her before. It was ridiculous.
For the first time, Rachel was confronted with an issue that has plagued the LGBTQ community for a long time: biphobia.
I hear that's that's a big problem in the queer community, not accepting bisexuals, but that was the first time I've experienced it. And it didn't hurt my feelings, because I think it's kind of funny that she was so wrong about it, so it's no big deal to me, but I think it's really weird that some people don't think that bisexuals exist, because we do.
Popular in the Community