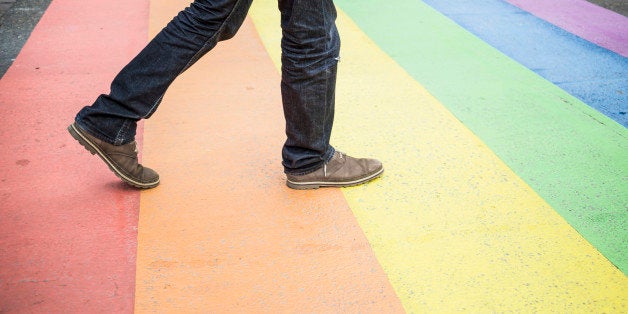 For the past 20 years I've seen "biphobia," or prejudice and hatred against bisexuals, go unchecked by gays and lesbians in spaces where bisexuals should be welcomed as fellow queers. Instead, we are commonly greeted with stereotypes -- told we're "selfish," "greedy," "cheaters," that we're 'in denial,' and really straight or gay, that we "need both to be happy." As a result, when the bisexual/pansexual/queer youth of today bravely venture into their first gay bar, the same thing happens to them that happened to me in 1999 -- they are told they don't exist. They quickly learn, like I did, that many gays and lesbians don't really want to date bisexuals let alone support them.
A December 2015 study in the Journal of Bisexuality found that gays and lesbians had nearly identical prejudice against bisexuals as heterosexuals.1 But most bisexuals don't need a study to affirm that fact, and failure to acknowledge biphobia from within and outside LGBT communities is extremely harmful.
Failure to acknowledge and address biphobia has had a powerful impact on bisexual health, forcing our risk factors to skyrocket past those of gay and lesbian people.
Nearly half of bisexual women have considered or attempted suicide.2 They have higher rates of mood disorders, such as depression and anxiety, compared to lesbians or heterosexual women.3 One in two bisexual women has experienced severe violence by an intimate partner as opposed to one in three lesbians and one in four heterosexual women.4 Bisexual women are more than twice as likely to live in poverty as lesbians,5 are less likely to be out to their doctors,6 and are more likely to smoke and have substance abuse issues.7
The stats for bisexual men aren't much better. One in three bisexual men has considered or attempted suicide.8 They are 50 percent more likely to live in poverty than gay men.9 Nearly half of all bisexual men suffer from mood disorders,10 while one in three has experienced rape, violence, or stalking by an intimate partner as opposed to one in four gay men.11 According to the CDC, half of black bisexual men and a quarter of bisexual Hispanic men will be diagnosed with HIV in their lifetimes -- the same as gay men.
In light of these abysmal statistics, the Bisexual Resource Center created Bisexual Health Awareness Month (BHAM) in 2014 to raise awareness about the bisexual community's social, economic and health disparities and to advocate for actions that can prevent or decrease these disparities. This year, the focus of BHAM is on bi youth, a group that, like its elders, shares worse health statistics than their gay and lesbian peers.
Bi youths have a higher incidence of suicidal thoughts and suicide attempts than gay and lesbian youths as well as a higher risk of truancy and bullying 12. While many bisexual male youths are called "fags" just like their gay counterparts, bisexual female youths experience sexual harassment at a younger age than their heterosexual peers.13
In a 2012 Human Rights Campaign survey of more than 10,000 LGBT teens, bisexual females stated that boys had touched them inappropriately, called them "whores" or "sluts," and asked them to make out with other girls so they could watch.
And when it comes to high school graduation rates, bisexual youths have it worse off as well -- with a whopping 17 to 18 percent failing to graduate from high school as opposed to 4 to 9 percent of gay teens, according to the April 2015 study "Understanding the educational attainment of sexual minority women and men" by Stefanie Mollborna of the University of Colorado and Bethany Everett of the University of Illinois.
Before I was even aware of the abysmal health and economic stats for our community, I had gotten pretty fed up with the lack of progress I had witnessed. So in January 2015, I created the #StillBisexual campaign to try to dispel the one stereotype that erases us the most -- that we don't stay bisexual. I shot confessional-style videos of bisexuals of all ages, races and marital statuses, flipping handwritten cards that told their personal stories of biphobia and how they came to realize their orientation was lifelong and not the fad everyone promised it would be. Suddenly, bisexuals from around the country were sending in their own homemade videos, and others were offering to host their own #StillBisexual video shoots in their cities.
Our campaign now has more than 50 videos and more than 3,500 Twitter followers. We've been featured in publications like Cosmopolitan, HuffPo Live, Bustle, Pride and Towleroad, and garnered support from the Trevor Project, Human Rights Campaign, Evan Rachel Wood, Sara Ramirez and the Los Angeles LGBT Center. But what makes me the proudest is that a resource now exists online for bisexuals who cannot find acceptance at their local gay bar or college LGBT group. They can watch other bisexuals who are experiencing biphobia talk about their struggles and how they overcame them to reach self-acceptance and find love -- and that's something that would have really helped my own mental health as a bi youth.
On April 16, the #StillBisexual campaign will join the Los Angeles LGBT Center's 360, the health and wellness fair for LBTQ women, to help educate attendees about the unique health needs of our community. I hope that through raising awareness about the campaign and the abysmal bisexual health statistics, our community as a whole will finally get funding and policies in place to address our health disparities. But that will only come through raising awareness and empathy about the bisexual experience -- and gaining allies to help us put an end to the prejudice against us.
A community is only as strong as its weakest members. And though it may be hard for gays and lesbians to relate to what it's like to be attracted to more than one gender, it is crucial that they try to accept and support the needs of all LGBT members. For the past 40 years, bisexual people have tried to address the needs of our community on our own. We failed. Why? Because every community needs allies. Without straight allies, the larger LGBT community never would have achieved the right to same-sex marriage and the resources to combat the AIDS crisis. Without LGT allies, the bisexual community will never have the opportunity to face a future without stigma, poverty and illness. And given that bisexuals comprise the largest population within the LGBT community, that right is long overdue.
For more information, visit www.stillbisexual.com. To learn more about Bisexual Health Awareness Month, please visit http://bihealthmonth.org/. To read HRC's groundbreaking report on bisexual youth, click here.
__________________________________________________________
Calling all HuffPost superfans!
Sign up for membership to become a founding member and help shape HuffPost's next chapter