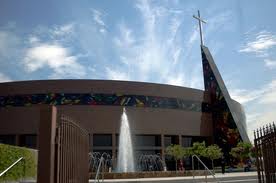 Los Angeles is known around the world as home to the rich and famous. Professional sports fans have no shortage of local teams to cheer on and shoppers enjoy one of the most famous streets in the world, Rodeo Drive, to flex their credit card muscle. The beaches are filled with beautiful people with beautiful bodies and eclectic characters strolling the boardwalks. Los Angeles has become a must stop for presidential candidates looking to raise millions while rubbing elbows with A-List celebrities and deep pocket supporters. In fact, over 27 million visitors stop through Los Angeles annually. Very often, on the list of "things to do" is the name "West Angeles Church of God is Christ."
West Angeles Church of God in Christ (West Angeles) is one of the countries largest mega churches and boasts a membership of over 25,000. Its cathedral is a Sixty-Five Million Dollar ($65,000,000.00) architectural masterpiece with a 5,000 seat sanctuary. It's sometimes called "the church to the stars" because members Denzel and Pauletta Washington, Samuel and LaTanya Jackson, Magic Erving and Cookie Johnson, Courtney Vance & wife, Angela Bassett and Stevie Wonder, are just a few of the famous faces that regularly fill the pews. On Sundays, a Grammy Award winning choir, consisting of over 100 voices, uplifts the congregation with hymns, old popular Gospel songs and new contemporary spiritual hits. The worship is lively and energetic -- typical of a Pentecostal church West Angeles staffs more than 200 paid employees and operates a Community Development Corporation (CDC) that the University of Southern California "designated the #1 CDC Organization in Los Angeles County. Since 1969, West Angeles has been led by Bishop Charles Blake and his wife of 47 years, Mae Lawrence Blake.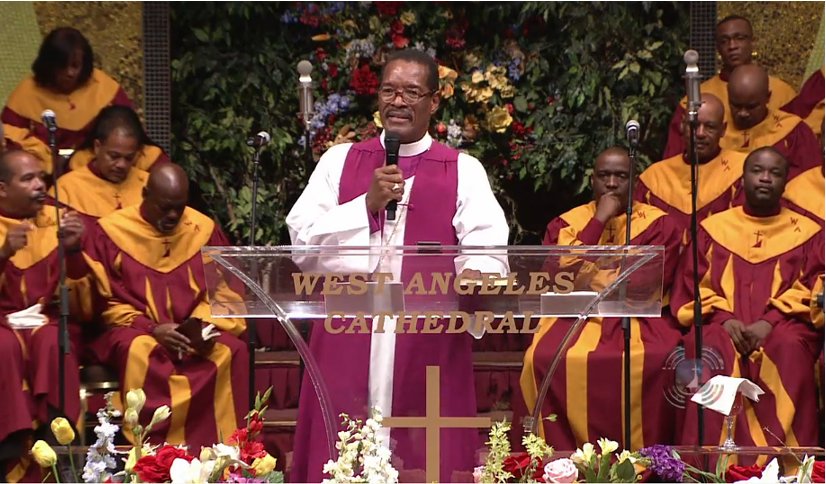 In light of the fact that a mega church is typically a congregational body of over 2,000 members, West Angeles would be considered a mega church on steroids -- a Super Mega Church. The burning debate is whether the mega and Super Mega churches are properly using their power and prestige for the good of their community, or abusing that power and prestige for selfish, personal gains. Bishop Blake professes an agreement with the scripture to " whomsoever much is given, of him shall be much required." Blake states, "The capacity of a mega church, if it is committed to the good and advancement of people, and to its true mandate, it can serve and provide resources and exert positive influence at a level that it could not, if it were not a mega church with a strong structure, and organizational strength."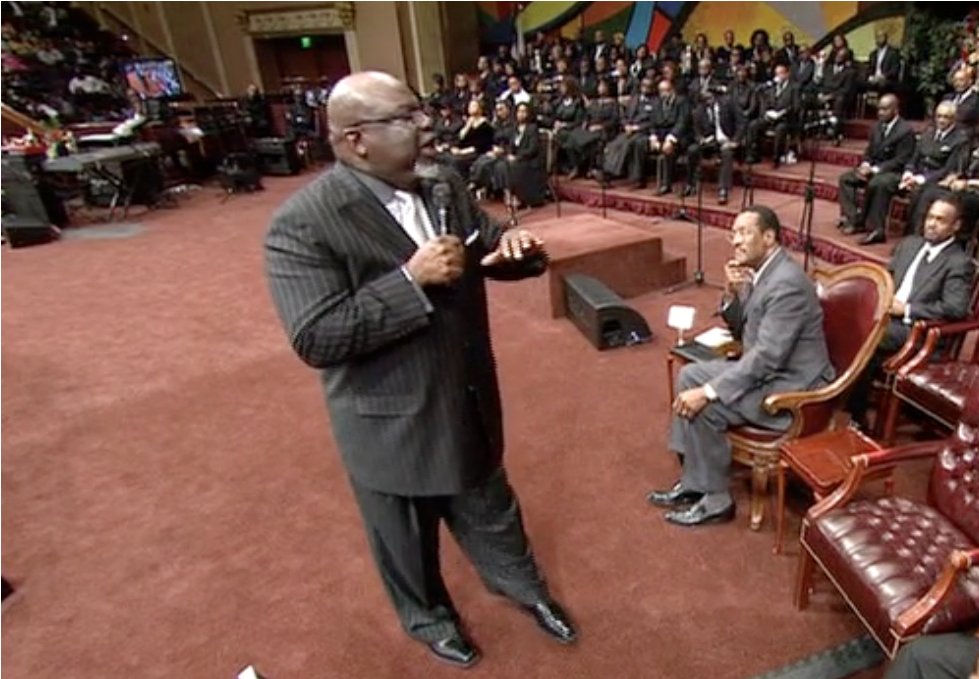 Charles Blake is one of the most influential people in Los Angeles; one of the most prominent pastors in America; and now, the Presiding Bishop of the entire Church of God in Christ (COGIC) denomination, which is estimated at having over seven million members worldwide. He is a very powerful man who appears somewhat oblivious to his domestic and international stature. Blake is a Super Mega pastor with name recognition comparable to recent Oprah Winfrey interviewees, Joel Osteen and T.D. Jakes. Yet, he purposely limits his media exposure except to further a church-based initiative. Denzel Washington once said, "Bishop Charles Blake is my pastor, mentor and a man of great integrity." Having spoken to members, community residents and other pastors, Washington's sentiments are shared by many.
In contrast, some mega pastors egos have grown larger than their congregations. In the '80s, a few Super Mega pastors found themselves in Super Mega trouble. Jimmy Swaggart had a penchant for prostitutes and Jim Bakker was convicted of fraud and spent five years in jail. More recently, Creflo Dollar found himself posing for a mug shot for allegedly abusing his teenage daughter while beating her with a shoe. Even worse, Eddie Long made headlines for allegedly participating in sexual relationships with several young men. Yet, when I sat with Bishop Blake to discuss the power a Super Mega church yields, the upcoming election and the state of religion in American, it was glaringly obvious that he is a man consumed, if not obsessed, with serving his church, denomination and community with intelligence and integrity. I think Hell would freeze over before Bishop Blake was the subject of a salacious headline for doing something unethical, indecent and "unclegy-like."
Blake preached his first sermon while a junior in high school. He's the son of a pastor and therefore, he has been insulated with religious doctrine all of his life. Consequently, his path to pastor a church was almost predestined. However, no one, except the God Blake has preached about for over 50 years, could have known that he would grow the West Angeles congregation from 50 people, with annual revenue of $12,000.00, into a Super Mega Church and the largest COGIC church within the denomination. "A mega church pastor was not always a mega church pastor. But possibly the reason that he became so is because he effectively utilized all resources available to further his community and people and thus, people were drawn to his ministry and vision," said Blake.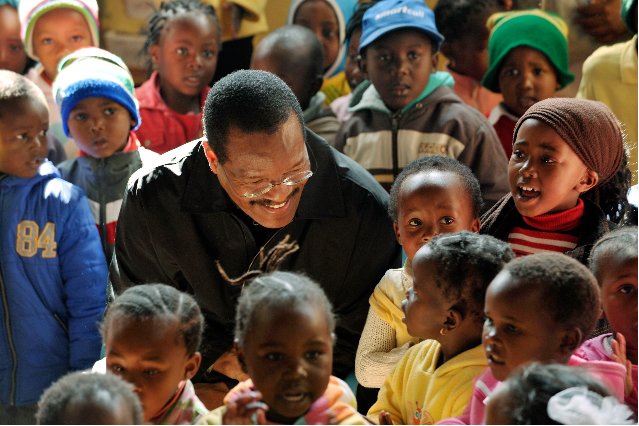 West Angeles has developed over 400 units of housing and commercial property in the inner city of Los Angeles. It has initiated and implemented scores of civic, social, financial and educational programs that have assisted thousands of congregants and Los Angeles County residents. Bishop Blake founded an international outreach ministry called Save Africa's Children, wherein, he is the Chief Executive Officer. Save Africa's Children, with assistance from West Angeles, has provided financial resources, food and housing to over 200,000 children in 400 foster care programs in Africa and Haiti. "The primary benefit of a mega church is that is has resources to initiate programs that are conceived for the work for the advancement of the church."
Every four years, leading up to our country's hotly contested presidential elections, Super Mega pastors could theoretically exert their influence on millions of worshipers. However, due to a 1954 tax reform act, commonly termed the "Johnson amendment," all tax-exempt organizations are banned from supporting or opposing political candidates. This amendment has been challenged as unconstitutional because many argue that it infringes upon a pastor's First Amendment rights of free speech. However, Blake is very comfortable, and agrees with the limited political influence pastors should have.
Legally, constitutionally, the church cannot and should not exert influence over the outcome of elections and individuals involved in elections. Morally and from a humane perspective, the church should take positions on issues the impact people; the poor, disfranchised, those who can not speak loudly for themselves either because of lack of resources or lack of access. We don't take partisan or political positions nor do we endorse individuals. I agree with such a philosophy of operation, in terms of our nation. However, the church can educate people and encourage people, to participate in the electoral process.
In 2009, Blake was asked to serve on President Obama's 25-person White House Advisory Council on Faith-Based and Neighborhood Partnerships. He explained his appointment was "to advise and implement programs that had to do with the ecumenical community regarding churches of every denomination in their relationship with service of our nation as it relates to the White House." He was quick to assert, that despite his being a registered democrat who is pro-life, he would be pleased to serve in a future ecumenical capacity no matter who is in the white house. "If my schedule permitted it, and I felt that it was an opportunity to be of service, I would be overjoyed to serve no matter who was in the white house because I think we should serve" he stated.
With the 25 thousand members and up to 50,000 online weekly participants, it is no surprise that lobbyists, activists, political talking heads and mainstream corporate executives vie for Blake's endorsement of their cause, candidate, initiative or product. However, he does not condone the use of the pulpit as a mega pastor's personal "soapbox." He rarely uses his weekly platform to side with, or oppose stories that race the ticker, lead the evening news or trend on Twitter.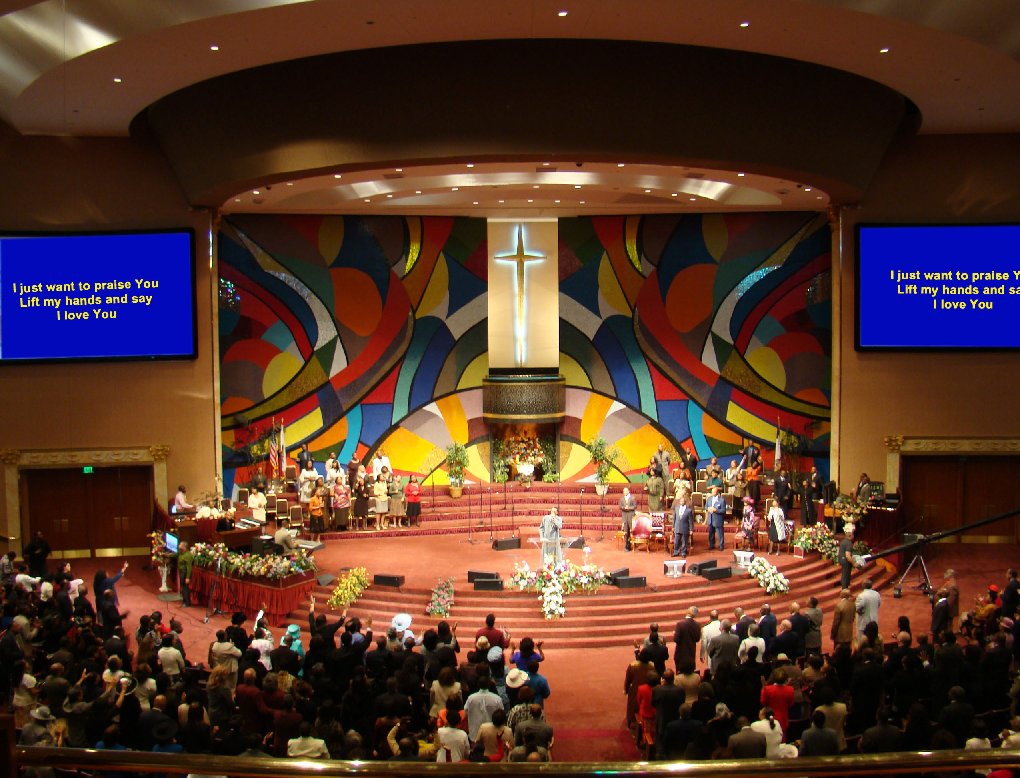 I don't think that the pastor or the church is obligated or responsible for taking a position and articulating a position on every issue. We represent, to the best of our capacity, what we feel that our God would require us to do and say in the context of our community. Yet, every once in awhile an issue rises to the level of potentially contributing to the good or ill of our society; or an issue rises in relationship to, and connection with, those things that are most sacred to us and to what we conceive to be the Will of God. Consequently, on occasion, it is mandatory for the church to speak out and articulate its position on an issue that is before society and before our nation.
Statistics suggest that the American society is moving away from structured religion, yet Blake is optimistic. He states, "As society proceeds -- I can't always say 'progresses' -- there is at many levels, less of a focus on spiritual development, values morals relating towards God. But for those of us who know and feel that God is an unavoidable reality that we cannot conceive or explain life on earth without referencing to a higher being with out reference to God. We feel that it is not a hopeless battle." Many people who believe in God don't believe in attending Church. They opine that churches are filled with hypocrites as members and judgmental leaders who ostracize non-conforming visitors. Blake believes that a mega church, because of its vast outreach, has a responsibility to open its doors and expand its level of acceptance to everyone.
At West Angeles, we love everybody and God loves everybody and to approach anyone from a perspective other than that of love, compassion, concern, desire to lift and desire to help would be an inappropriate approach. Jesus shared wisdom, truth and knowledge. He shared His power, His good influence with everyone He met so the church should do so also...The church joins with all who seek to do good and to help and lift humanity. We are strong in our conviction that Jesus Christ was a unique person on the Earth and because of that we are very faithful and committed to our convictions regarding Him and feel that we found truth within. Nevertheless, that does not mean that we deprive others of what they would think or feel is their truth. That is their privilege.
Mega pastors have become easy targets for opponents who question their financial worth in leading and managing multimillion dollar corporations, albeit, a church. Some Super Mega pastors have personal annual incomes that exceed a million dollars ($1,000,000). Bishop Blake's salary is approximated at $227,750, which is below his corporate counterparts. As the leader of West Angeles, Presiding Bishop of COGIC and CEO of Save Africas Children, Blake works over 80 hours most weeks, including preaching two to three services every Sunday. He receives no compensation for his work with Save Africa's Children.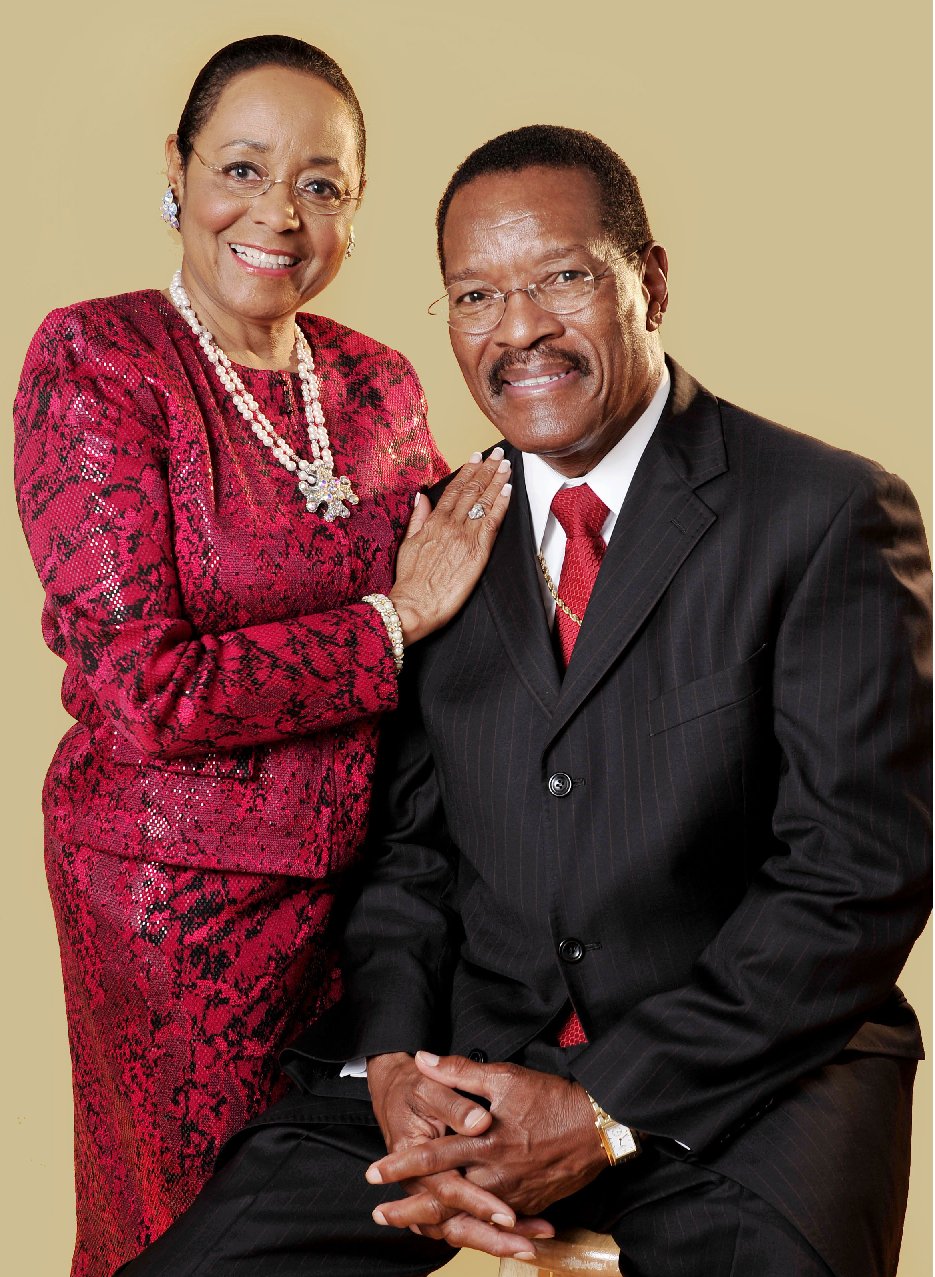 Blake explained that for many years he was grossly underpaid, nevertheless, he and "Lady Mae" worked tirelessly because of their love for God, the church and the community. "More than once I've contributed an entire salary back to the church. As one expected to lead in the giving, whatever the pastor receives, sometimes, a greater portion of it goes back into the church" he declared. In fact, it was only after a bank'stipulation that required Blake to remain as pastor of West Angles during the life of the loan, did Blake receive a significant raise. A CPA firm was retained to valuate an equitable compensation package for an executive with Blake attributes and responsibilities. Consequently, in 2001, Blake accepted a package that was still 1/3 less than was recommended. According to his son, Elder Charles Blake Jr., most years, despite the enormous wealth and generous spirit of some of the members, Bishop Blake is the leading financial contributor to West Angeles. "In order to be credible, the pastor needs to lead the congregation in contributing and thus, must himself be on the frontline and cutting edge in giving."
The jury is still out as to whether mega churches are good for our society or not. As a culture, we have learned that bigger isn't always better and sometimes less is more. Mega churches do have responsibilities to their communities, state and nation. Few would disagree about the super mega work that West Angeles Church of God in Christ has done in the Los Angeles community. Consequently, when mega churches are fulfilling their social responsibilities, Thomas Jefferson's "wall of separation between church and state" should always remained blurred.
Correction: A previous version of this post incorrectly stated that Bishop Blake's salary is approximated at $900,000. It is actually approximated at at $227,750.
Related
Popular in the Community